+6
18V ONE+™ 1 Gallon Chemical Sprayer WITH 1.3AH BATTERY & CHARGER
Model: #P2810
+6
The RYOBI 18V ONE+™ Chemical Sprayer features a pump that is optimized for cordless efficiency and runs off of any RYOBI ONE+™ battery. The adjustable spray nozzle make this the perfect tool for a variety of spraying applications. The cap for the 1 gallon tank can be easily removed for cleaning and the cap of the tank doubles as a mixing cup. Best of all is that there is no manual pumping on this unit, the pump runs off of your 18V battery! This unit is also backed by the RYOBI 3 year warranty!
Features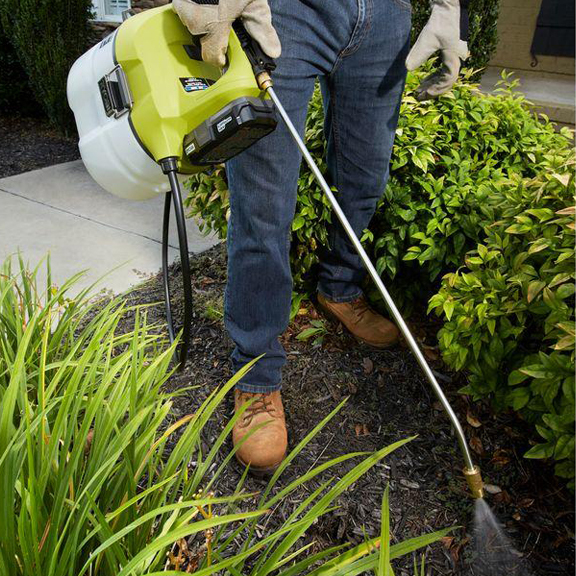 Sprays Up to 30 Tanks Per Charge
No Pumping Required
Translucent 1 Gal. Detachable Tank For Easy Fluid Reference
On-board Measuring Cap
Durable Adjustable Brass Nozzle
Specifications
Power Source: 18V Lithium-Ion Battery
Tank Size: 1 Gallon
Pressure: 45 PSI
Tank Materiel: High Densitisty Polethylene
Hose Length: 4 ft.
Weight: 4.5 lbs.
Includes
18V ONE+™ 1 Gallon Chemical Sprayer
Spray Wand
Replacement Seals
Measuring Cap
Removeable 1 Gallon Tank
18V Lithium-Ion 1.3 Ah Battery
18V Lithium-Ion Battery Charger
Operator's Manual
Reviews
18V ONE+™ 1 Gallon Chemical Sprayer WITH 1.3AH BATTERY & CHARGER
18V ONE+™ 1 Gallon Chemical Sprayer WITH 1.3AH BATTERY & CHARGER
is rated out of
5
by
1275
.
Rated

5

out of

5
by
Farmer Joe
from
Love this sprayer
I've had Ryobi tools for many years and have never had any problems with any of them. When I was shopping for a new sprayer, I fortunately came across this sprayer. I had several Ryobi batteries already, but for $20 more dollars, I opted for the one that came with a battery. This sprayer is easy to fill, spray, adjust and flush out at the end of using chemicals. No more pumping. The wand and nozzle is high quality metal, not some cheap plastic. Uses very little of the battery per spray. Only small complaint is the tank is only 1 gallon, so you have to refill several times if treating a large area. No big deal. I highly recommend this sprayer to anyone.
Date published: 2017-04-22
Rated

5

out of

5
by
RYOBIKIDS
from
Great Applicator
When I purchased the chemical sprayer I did not have high hopes, I did however like the idea of not having to stop spraying constantly to pump up my old sprayer. This tool was a blessing in disguise, not only do I no longer have to stop and pump, I now have even distribution of the fertilizers I use for my garden. The old pump sprayer would work good for a minute and then the spray would become inconsistent as the pressure dropped. This little beast allowed me to keep spraying and focus more on completing the job at hand and making sure that all of my plants received good coverage. I would recommend it to anyone who using a pump style sprayer.
Date published: 2018-06-04
Rated

3

out of

5
by
Sprayer22
from
Decent Sprayer with Two Issues
One of the appeals of this sprayer was the measuring cup/cap that comes with it. Unfortunately and unbelievably, the measuring cup is marked incorrectly! One tablespoon=.5 fluid ounces, so two tablespoons=1 fluid ounce. Unfortunately, two tablespoons of water poured into the measuring cup only come up as .5 fluid ounces using the markings molded into the cup. Inexcusable! Secondly, the battery fit into the tool is way too tight, making it difficult to install and to remove. I realize a tight fit is good, but this is overkill. Overall, the sprayer performed well the one and only time I have used it, having received it just this past week.
Date published: 2018-07-22
Rated

5

out of

5
by
KeggerTx
from
Better than expected!
Bought this to make spraying weed killer alongthe fence of our 1 acre lot. I was concerned that the battery would not last long enough to complete the job, those concerns were laid to rest after the first use! I refilled the tank 3 times and had juice to spare after I was done spraying! This made this chore so much easier and faster to complete! Glad I purchased this and added it to my collection of GREAT Ryobi tools! Love that Ryobi took the initiative to make multiple tools that take the same battery! Others are now copying Ryobi but I'll remain faithful to Ryobi. I haven't purchased a bad tool yet with the Ryobi name on it!
Date published: 2018-05-26
Rated

4

out of

5
by
galetat
from
Great Product!
I have had a flea infestation in my home... after struggling with several types of pump up bottle sprayers... I came upon this at Home Depot... what a Godsend!! No more pumping every two minutes... which is time consuming and tiring... this wonderful device makes it easy to spray the interior and exterior of your home in no time flat! One tiny criticism... the nozzle could be better designed to give more control over the spray pattern... all the control from a stream to a mist happens in the last fraction of a turn of the nozzle. It means you may well end up using more chemical than you actually need to... never-the-less... this is an awesome product!!
Date published: 2017-10-09
Rated

5

out of

5
by
AnnieO2005
from
Great Sprayer
Overall this is a good sprayer especially with the large battery and longer power. But there are a few design features. The on/off switch needs to be on the handle like for a "thumb" on/off. Where the switch is now, you have to put the sprayer down ow use your other hand, (usually holding the wand), to shut-off the unit Which brings me to the second problem. The plastic nuts to tighten the hose connections do not fully tighten or go all the way while threading the hose connections. Because the hose connections do not fully tighten, when you release the wand to shut-off spray, the p[reassure builds up in the hose and the connection leak at the wand and the unit tank.
Date published: 2017-09-02
Rated

5

out of

5
by
Muncie
from
No design flaws
Easy to clean, battery lasts a long time over multiple sprays, pump has good pressure, the on/off button can be controlled using the hand that holds the sprayer, the feed tube almost touches the bottom of the tank so that there is very little wasted chemicals at the end of the gallon spray, the lock feature on the sprayer is good to use, it is very quiet, the gallon tank has volume marks on the side, and the filler cap can be used to measure in chemicals. It is ideal for occasional use and is much easier to use than a hand pump version. The wand is metal and the device comes even with a set of spare seals for critical components!
Date published: 2019-07-21
Rated

5

out of

5
by
theartofmann
from
Awesome Spayer
I bought a gallon of weed killer with a spray nozzle and used for about two minutes before it broke, coming from the farm I was used to using a "bug sprayer" a $20 one gallon manual sprayer, hurts the back and cramps the hand. Work smarter not harder, spending money is for saving time and this battery powered sprayer does it. I already use several RYOBI cordless tools for work and home so this was a no brainer, took about fifteen minutes to complete an hour manual job. Thanks RYOBI and keep up the good work, excellent design team. If you want to save effort and time go ahead and but this cordless chemical sprayer and get on with your life!
Date published: 2019-06-16