REEL-EASY BUMP HEAD WITH SPEED WINDER
Model: #AC04156
Reload your string trimmer in 60 seconds or less with the Reel Easy with Speed Winder. This bump feed string head makes reloading faster and easier. Simply insert line, push line through until there is an equal amount of trimmer line on both sides and use Speed Winder crank to rotate clockwise until there is 6" of line on both sides. This accessory fits RYOBI, Homelite, and Toro Trimmers, and is compatible with 0.080" and 0.095" string trimmer line.
Features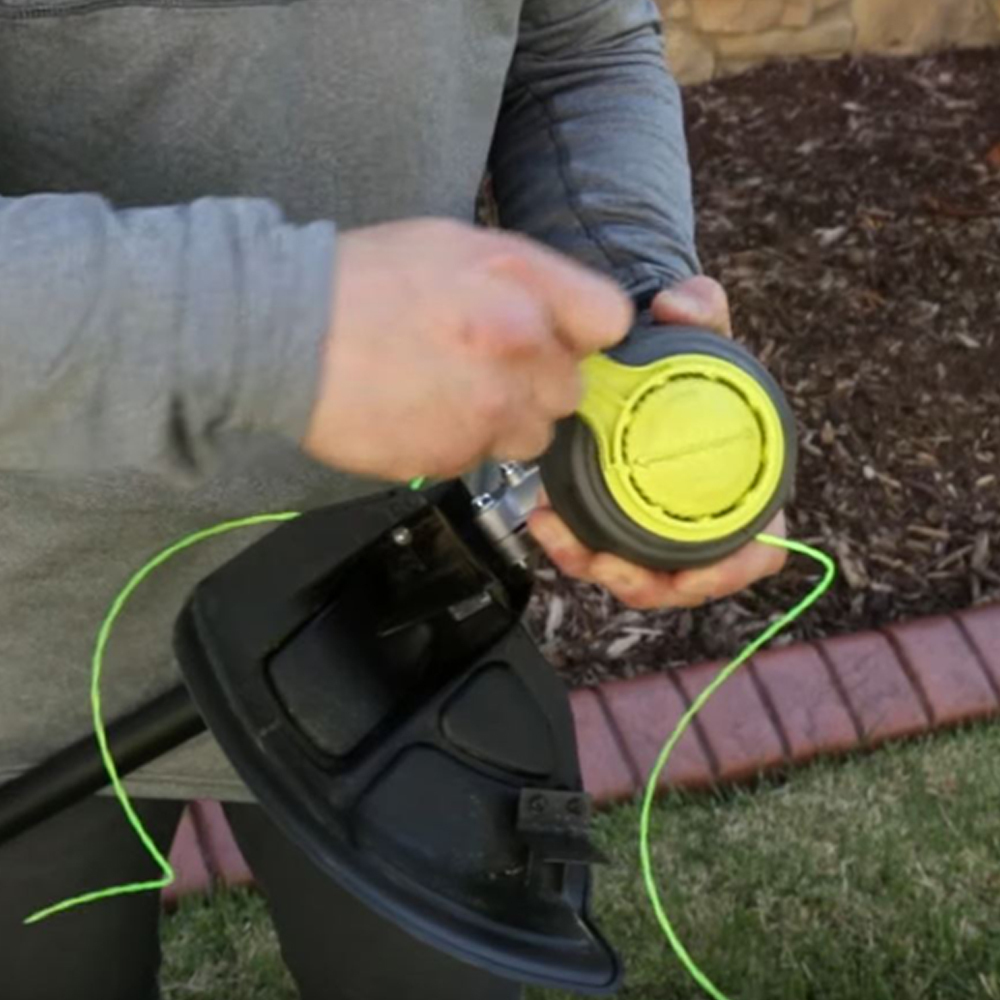 Reloads in Under 60 Seconds
Compatible with .080" and .095" Line
Specifications
Head Type: Bump
Line Type: .080 and .095
Includes
REEL-EASY Bump Feed Head
SPEED WINDER
16' of .080 in. line
Reviews
REEL-EASY BUMP HEAD WITH SPEED WINDER
REEL-EASY BUMP HEAD WITH SPEED WINDER
is rated out of
5
by
33
.
Rated

5

out of

5
by
Macleod
from
Works exactly as advertised
The install was straightforward and easy and the head works just like the original. Loading the new line could not be easier. I have noticed several reviews indicating that there was no hole in which to put the arbor shaft through. The kit I got has 2 line guides, one white and one black. The black on is installed by default and has no hole, but it can be swapped out for the white one that does. This is shown pretty clearly in the directions. No idea if this was a recent change or not. About my only concern is the life span of the bump head. While they all wear out, it does not seem that a replacement is not available without buying an entirely new head.
Date published: 2017-07-15
Rated

5

out of

5
by
griswald542
from
Love it.
when I bought my trimmer it had the easy wind head, love it so much I purchased two more heads for additional shafts. Installed one on a straight shaft the other on a curved. Follow the directions and be patient, works like advertised. When installing on a curved shaft you must pop out the black inner line guide and install the white guide included in the package. This is such a time saver. I volunteer in a citizen group that does multiple clean ups on a weekly basis and can't believe how much time this set up saves. I use to hate string changes now they are no longer a hassle. Only complaint I have is I can't find replacement bump knobs, otherwise I am a satisfied customer.
Date published: 2017-08-07
Rated

2

out of

5
by
Steve in PA
from
Head keeps spinning off - Disappointed
I bought this last Summer thinking it would finally solve the problem of reloading string on my 18v Ryobi straight shaft trimmer and it didn't. I followed the instructions to the T and the head keeps spinning off. I've tried feeding 16' of string and I've also tried 16" of string (so I wouldn't have to bump it) but nothing keeps the head on. I am using the silver screw (I haven't tried the black on yet just for kicks) but I am disappointed w/ this product. Hopefully Ryobi will respond to this and give me some direction about how to proceed but I refuse to keep taking this apart to have to re-attach it to the trimmer.
Date published: 2021-04-10
Rated

1

out of

5
by
JW Disappointed
from
Mislabeled: Does Not Work With Electric Trimmers
I am really disappointed with the labeling on this product. The package incorrectly states it works with all Toro string trimmers. Likewise, the magazine review failed to mention this critical fact. Must have been a paid review. The unit only fits gas powered trimmers.
Date published: 2017-05-24
Rated

1

out of

5
by
dm44
from
Didn't last 30 minutes
Used it for the first time today. After 30 minutes the head was flopping like a loose tooth on the arbor. I stopped, took it apart and found that the spool and the white line guide (have this on a curved shaft) had melted and fused together. Bumped it three times while using it, and also found the black nut had ground away it's location in the plastic spool. Concept is good, product is worthless at a price of over $30. Spent a long time putting this together to make sure I had followed all instructions (which are also very poorly written). Will keep using my $44 cheap-o battery powered weed eater.
Date published: 2019-06-04
Rated

1

out of

5
by
Tinker1
from
doesn't fit all trimmer heads
doesn't fit all string trimmer head like it says it does .also 1 part missing from pack.
Date published: 2017-06-26
Rated

3

out of

5
by
mshens
from
Great product in the beginning
This product was easy to install and use. I did not have any issues loading the string until the teeth on the side of the bump head worn down and I was unable to use the handle to rewind the string. In addition the directional arrows wore off very quickly. By the end of the summer it was useless. I bought a new one as I was hoping it had been updated and found that I am unable to get the old bump head piece off my trimmer. It was an allen wrench tiny screw which I can not get off. I see the new version has a different way to attach but this is not helping me now.
Date published: 2019-04-14
Rated

1

out of

5
by
Jesse125
from
Terrible
Do not buy this product. There are so many things wrong. Took 30 minutes to install, every time I use it and I need more line it jams and you have to take it apart and re spool it. Took me 2 hours to do my small suburban yard because of this.
Date published: 2018-06-05