+4
EXPAND-IT™ Jet Fan Blower Attachment
Model: #RYAXA22
+4
Easily convert almost any attachment capable string trimmer or power head into a super-powerful Jet Fan Blower! Whether it's clearing debris from walkways or heavy wet leaves from your yard, the RYOBI Expand-It Jet Fan Blower attachment is the right tool for the job. The 3 Stage Fan Design allows you to complete any task more efficiently by providing up to 475 CFM and 140 MPH of clearing power! Backed by a 3 year warranty, RYOBI Expand-It attachment save you space, time and money.
Features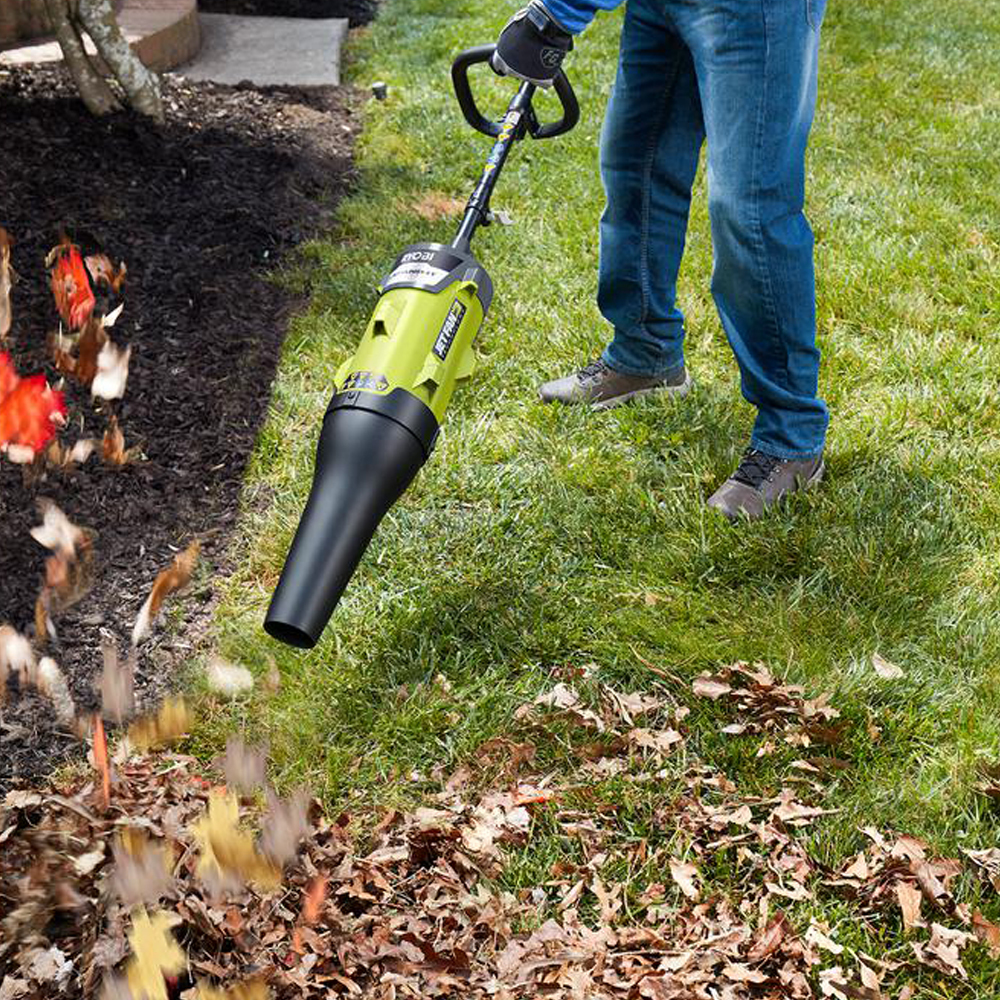 RYOBI Jet Fan Blower Attachment
Attachment capable - fits Ryobi, toro, weed eater, troy bilt, and other universal branded fit trimmers
475 CFM and 140 MPH: ideal for hard surfaces and dry grass
Jet fan technology 3 stage fan design for maximum clearing power
Perfect for wet and dry leaves on any surface
3-year limited warranty
Specifications
Weight: 6.74 lbs.
CFM: 475
MPH: 140
Includes
Expand-It™ Blower Attachment
ShaftBlower HeadAttachment
Securing Cap
Operator's Manual
Reviews
EXPAND-IT™ Jet Fan Blower Attachment
EXPAND-IT™ Jet Fan Blower Attachment
is rated out of
5
by
885
.
Rated

4

out of

5
by
HawkPilot
from
Small yard $ saver
I have used a few different style gas blowers from back pack to hand held and now this expand it blower. So far it isn't too bad for what the cost was and how easy it is to switch out and attach from my trimmer head to this. I will say I wasn't impressed with the power when you look at the CFM and MPH from other hand held gas blowers. I found it to be a little underperforming. That said, for a home owner with minimal land, the space savings and ease of swap makes thins a great tool to have in my arsenal. If you're home is situated on more than a half acre or so, I'd say go ahead and buy a dedicated blower as this one may slow you down a bit.
Date published: 2019-02-18
Rated

4

out of

5
by
SolarFarmer
from
Great Blower!
i got the blower to use with the Expandit 40 Volt Power Head. fist i never expected expected the power the fan full speed due to the gearing ratio, but it still delivered impressive blowing power. i was pushing a few thing other than leaves and it made short work on spider webs, and cobwebs indoors...ah yes...no gas....so safe for indoor use ...makes for a great keyboard duster lol. ok..all joming aside..it is truely a remarkable blower well worth the purchase. just a side note..i really did use it to rid ourselves of a few cobwebs indoors. and seeing a spider go flying out side was comical. wish i could have gotten that on video.
Date published: 2018-02-06
Rated

5

out of

5
by
mullenp72
from
Ryobi EXPAND-IT Jet Fan Blower
I normally don't write reviews even if a product becomes a disappointment but I must reconsider after a recent purchase of the EXPAND-IT Blower attachment which fits my Ryobi 40V weed trimmer. I was amazed by how easy it was to attach and how powerful it was. I have used my Ryobi weed trimmer each summer for the past 5 years with no trouble and expect the same quality from the blower. This trimmer/attachment is the perfect combination for the size of my yard since I can finish on a single 40V charge. You guys make great products and have recommended your EXPAND-IT line to our 3 grown kids who all have own yards to attend.
Date published: 2018-05-23
Rated

5

out of

5
by
Chief88
from
Budget Blower With Power
I the bought the Ryobi weed trimmer so I could use attachments like this. I didn't really know what to expect, but all the reviews were great. The only product I can compare it to are back pack blowers. It is not as powerful as back pack blowers, but I don't think the average person will notice the difference. I use on my property for everything and it's great! Very powerful and does everything I except it to. It blows large piles of leaves easily and even wet decomposing leaves. It seems to take a little bit to spool up for full power, but again, a really minor complaint. For the price you can't beat it.
Date published: 2018-05-19
Rated

5

out of

5
by
Rollingthunder88
from
Great buy!
I just recently picked this up after an extensive water balloon fight in the yard. I went to get a regular blower hoping i wouldn't need to pick up all those balloons by hand. I decided on the attachment blower to save some cash. I couldn't be happier with the unit. It us powerful and not overly loud. It is close to the ground without bending so it made short work of those balloons tucked under the grass. Worked great blowing out the garage too. Im looking forward to see what it will do this fall. The high and low settings make it easy to bring everything together in a pile without blowing stuff away. I would highly recommend this product especially if you already own the 40v expand it.
Date published: 2020-06-19
Rated

5

out of

5
by
MattLC
from
Convenient addition to 40V power head
Owning a Ryobi 40V power head, I wanted a blower option that complemented the tool rather than buying a standalone blower. While this blower attachment may be less powerful than other dedicated models, it's more than adequate for a typical homeowner like myself who needs general cleanup of lawn-clippings and debris from regular yard work. If I needed a higher volume or more powerful device I'd look to a standalone unit. But I like the flexibility and ease of use with the Expand-It attachments. It's less cumbersome to store these tools and I feel it's a better value than purchasing dedicated tools.
Date published: 2020-04-22
Rated

5

out of

5
by
Hedge
from
Multiple tools, one engine to maintain, love it!
This provides good power, the specs says it all. No maintenance required. It it big and long for a blower and requires two-handed operation but that also makes it close to the ground and effective. The main advantage is that I get to maximize the utilization of my 2-cycle engine (ie. the power head) and it's better than having separate engines where some will barely get used. Hanging the expand it attachments is convenient. I have purchased the Toro trimmer with the Ryobi pole saw, blower, and edger attachments! I have not used the edger yet but the pole saw and blower both work great!
Date published: 2017-06-28
Rated

5

out of

5
by
FlyerFry77
from
Great Blower, Great Value!
I recently purchased a Kobalt 80v Cordless Mower and Attachment-Capable Trimmer and was looking to pick up a blower that would use the same batteries. Unfortunately, they no longer sell the tool-only version and I don't need yet another battery and charger. I saw this EXPAND-IT blower attachment at Home Depot and thought I would give it a try. Wow! I am impressed. It fit my Kobalt cordless trimmer perfectly, is relatively lightweight, and has plenty of leaf-blowing power! This is a great product and I highly recommend it to anyone who has an attachment-capable trimmer. Nice work, Ryobi!
Date published: 2019-01-14