+3
EXPAND-IT™ Hedge Trimmer Attachment
Model: #RYHDG88
+3
The RYOBI Expand-It™ Hedge Trimmer Universal Attachment brings you 17.5 inches of cutting power perfect for cutting branches and new growth up to 3/8 inch thick. The dual action blades provide crisp, clean cuts while reducing vibration. Clip the hedge trimmer attachment, backed by a RYOBI 3 year warranty, onto any RYOBI power head and begin manicuring your shrubs and hedges. Save time, save money, save space.
Features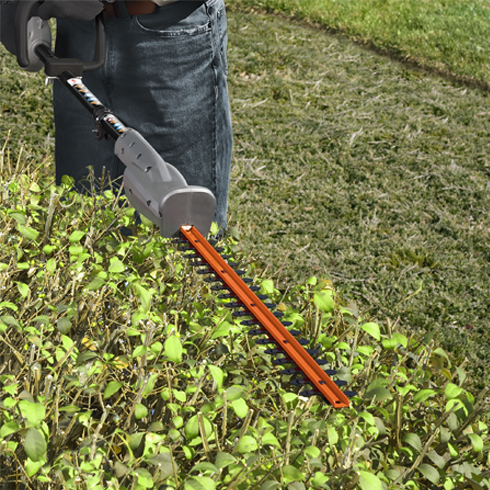 Cuts branches and new growth up to 3⁄8 in. thick
Universal Brand Fit
Double-sided dual action reciprocating blades for a cleaner cut and reduced vibration
17 ½ in. blade length for easy control
Requires no tools or adaptors
Specifications
Cut Capacity: 3/8 inch
Blade length: 17.5 inch
Attachment Coupler: universal attachment coupler
Blade: double sided, dual action reciprocating
Weight: 4.1
Includes
Expand-It™Hedge Trimmer Attachment
Scabbard
Attachment Securing Cap
Operator's Manual
Reviews
EXPAND-IT™ Hedge Trimmer Attachment
EXPAND-IT™ Hedge Trimmer Attachment
is rated out of
5
by
766
.
Rated

5

out of

5
by
Bill92126
from
Best tool in the garage
The EXPAND-IT Hedge Trimmer has made my life easier! I used to take care of the hedges with a pair of hand shears that took a lot of time and energy only allowing me to trim the hedges in phases. I would trim a couple in the front yard one weekend then the others the next weekend and repeat the same process in the backyard the following weekends. Now with the EXPAND-IT Hedge Trimmer I can take care of all of the hedges and complete both the front yard and backyard in not just one day but in less than an hour. It has made my yard not only look great but saved so much time I can now spend more with my family. Having the right tools for the right job is so very important!
Date published: 2017-10-17
Rated

5

out of

5
by
McHandyMan
from
A Must Have Hedge Trimmer
I bought this hedge trimmer, along with the 25cc powerhead, and the pruner attachment. The Ryobi powerhead, combined with the trimmer, and pruner attachments, have enough power, and cutting bite to get the job done quickly, and efficiently. Changing out the attachments is easy, and together with each attachment, the whole tool is lightweight, and easy to handle. With the added extension rod, between the powerhead, and attachments, trimming high bushes, or pruning out of reach tree branches is effortless, and easy on your arms. Highly recommend all three. I plan on going back to the store, to purchase the string trimmer attachment too.
Date published: 2018-06-04
Rated

5

out of

5
by
Papa Jim
from
Easy and convenient to use.
I have always used hedge trimmers that require long extension cords...some of my hedges are in the back part of my back yard, and I have to use two cords, one 25 ft. and one 50 ft. in order to trim the hedges. After I do the back yard hedges, I have to disconnect the cords and drag them to the front yard hedges, and then the side yard hedge...still dragging the cords behind me. So, when my wife said "why don't you get a trimmer that you can use with your expand-it power battery?" What a great idea, went to Home Depot that very afternoon and found the power trimmer!! What more can I say...opportunity does not come that often!!
Date published: 2018-09-07
Rated

3

out of

5
by
Christian9987
from
Its ok for the price.
I've had this pruner attachment for about a month now. I've used it several times and it works fine it just doesn't have a big enough cut width. It works good for just tip pruning a well taken care of boxwood or something. But if your going to be taking a lot off, or hitting any branches bigger than maybe your pinky, you will have to hack at it for a minute. If you've ever ran a set if stihl pole pruners, this one seems like a toy. But for the price, if your just going to be maintaining some shrubs around your house it will do the job. If I could do it over I would probably go for the longer adjustable one that ryobi offers because it has a bigger cut width.
Date published: 2019-04-16
Rated

5

out of

5
by
Volcano96821
from
Real time saver.....
Bought this attachment as a temporary replacement for a 48" hedger. I have over 200' of Mock Orange hedge that is 6' high and 5' wide that took hours to cut. I couldn't believe it. I had the whole thing cut in under 2 hours. Well balanced, it was a breeze to cut both the sides and top with ease. Why I never used a pole hedger before, I chalk up to a "Why change" attitude. Silly me. It has paid for itself on the first cut, and I see many more to come. As an attachment it's even more affordable.
Date published: 2017-05-29
Rated

4

out of

5
by
Rick65
from
WORKS GREAT!
It worked great on my hedge that is 150 feet long. The Home Depot Store where I bought it, had this one which is 17" long and can handle 3/8" diameters. While searching on line, I found one that is 22" long, articulates and can handle 1/2" diameters. If I had known about the latter, I would have purchased it instead. For a few dollars more, It would have made my job easier due to length and diameter capabilities. The store needs to carry a full line of trimmer attachments or provide a diagram for additional items. Next time it needs trimming, I'll spend the money on the longer and larger diameter trimmer. I'll still give the one I bought a 4++ rating. Rick
Date published: 2018-08-27
Rated

5

out of

5
by
Mack29
from
Why did I wait so long.
I know battery technology has pretty good now, but this application has been around for a while. My only complaint is why I didn't do yhis years ago. No gas, no cords!!! The unit is a little heavy like other reviews mentioned, however it is not unmanageable. The only other negative is the slow build up to full speed and lack of power from dead stop. If there is a small branch in the knives when the trigger is first pulled it will most likely stall. Other than that this thing rocks. I have wisteria all along our fence plus several hedges and I can do it all on the 2.6mah battery easy. The attachment is easy to swap out too.
Date published: 2017-07-18
Rated

4

out of

5
by
fanman
from
light and long works with gas or battery head
I have worked this attachment very hard. Combined with the gas power head it goes thru almost anything that can fit between the teeth. The chain saw extension also works with this and I used that on the battery head to prune small trees up to 10 ft. in the air -- it was a breeze. With the battery head it is also much lighter than gas hedge trimmers which is great. The only downside is that if you hit a wire (like barbed wire), it can bend a tooth which means one less tooth -- so far I have lost 2 teeth -- but it has not had any effect on performance. I love it -- blackberry vines, wild roses etc hate it.
Date published: 2019-08-03