+3
EXPAND-IT™ Brush Cutter Attachment
Model: #RYBRC77
+3
The RYOBI Brush Cutter universal lawn attachment is the perfect tool to add to your shed. Effortlessly eliminate weeds and thick brush from you yard, around your garden, and under your deck. The 8 inch Tri-Arc blade has been designed to tackle the toughest brush and yard conditions. Connect the edger attachment, backed by a RYOBI 3 year warranty, to your RYOBI gas power head and get to work beautifying your yard. Save time, save money, save space.
Features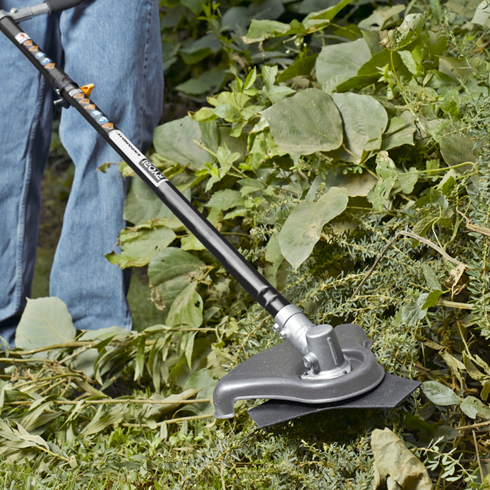 Ideal for thicker weeds and brush
Universal Brand Fit
8 in. Tri-Arc™ reversible steel blade
Straight shaft for extended reach
Requires no tools or adaptors
*Powerhead sold separately*
Specifications
Cutting Capacity: 8 inch cutting swath
Weight: 3.25lbs.
Attachment Coupler: universal attachment coupler
Blade: Tri-Arc steel blade
Includes
Expand-It Brush Cutter Attachment
Ergonomic J-handle
Shoulder Harness
Attachment Securing Cap
Hardware Bag
Gear Head Locking Tool
Operator's Manual
Reviews
EXPAND-IT™ Brush Cutter Attachment
EXPAND-IT™ Brush Cutter Attachment
is rated out of
5
by
843
.
Rated

5

out of

5
by
drewsathlon
from
skeptical but surprised
I had the beginnings of a forrest growing in my back yard. weeds loomed as tall as my 11 year old son and saplings as tall as I am. we bought the brush cutter to go on our recently purchased 40 volt ryobi weed eater and without much hope, I went to work. the weeds fell quickly as I brandished my techno sword. as i laughed in a maniacal breath, one by one the saplings (some bigger around than my thumb) splintered and fell before me. heaving gallons of fresh air and covered in the sap and tissue of a thousand thousand weeds and trees, I proclaimed my victory! then the wife told me I had to "clean that stuff up now". so yes, it works.
Date published: 2017-05-28
Rated

5

out of

5
by
bluto1269
from
A REAL WORKHORSE
Used it to help clear brush off of our RC Club's new track expansion project. I have been a Landscape contractor for 40 years and have used many different brands and sizes of weedeater/brushcutters and found this one to be right up there as far as cutting ability. The best part is it fits on a lighter model power head than some making for a less physically stressful experience. Used for about 5 hours first day and did not have typical wrist burn the next day! I would definitely recommend this to anyone including my enemies as they would become friends after using this! Thanks again Ryobi. Been using your stuff for 30 years now and have never been let down!
Date published: 2016-04-19
Rated

4

out of

5
by
SMac85again
from
Tough and durable.
I have had this attachment for many years, and it handles almost anything I've thrown at it. It's small but might. For large areas, it may take some time to clear, but when you are trying to whack down small trees and thick weeds that line trimming can't handle, this will get the job done. Note for those of you using this brush cutter with the 40v electric powerhead: The manual for the 40v does not expressly list the brush cutter as an approved attachment (the hedge trimmer is not listed, either), and the videos and other information are ambiguous at best. But it does not appear that Ryobi has approved using this attachment with the electric powerheads.
Date published: 2019-04-23
Rated

5

out of

5
by
CliffM
from
CUTS LIKE BUTTER
I wholeheartedly give this 5 Stars! Really like this brush cutter attachment. The 40V battery pack adds so much power. Living in Hawaii, things are growing all the time and can get out of hand quickly. My old string trimmers were not doing the job. The Ryobi 40V Brush Cutter Attachment has cut down my yard work time and made it much easier to control. I love all the attachments I also purchased (pruning saw and string trimmer). Really excited about keeping things under control. Thanks, Ryobi, for making a battery powered string trimmer with so much power (gas powered are too much of a hassle and working with a cord would not work on my rocky terrain).
Date published: 2018-09-24
Rated

5

out of

5
by
JakeOJ
from
Really sped up the job!
Purchased this for our vacation property... The back area had overgrown with small bushes, brush, and vines - mostly 1/2" and smaller, but pretty thick. I had purchased a similar product with four blades a couple of years ago for our primary residence and wasn't overly impressed with it. Not sure if it's the three blades with a little more space between each one, but this seemed to cut through the brush quickly and I was able to clear 250 sf - 300 sf in a few hours.
Date published: 2017-06-29
Rated

5

out of

5
by
Dorina
from
Happily surprised!
I bought the 40V - 15" string trimmer hoping that (1) it wasn't too heavy - it is lighter than my electric (cord) trimmer; (2) the battery would last to get the job done (lasts longer if you're not in 'full out constant cut mode); (3) it would take care of the cutting job I needed. While at the store I found the Brush-cutter Attachment and purchased it at same time. I don't use the string trimmer attachment at all. This is my go to attachment. It cuts just about everything from high weeds to clumped/dense grasses. I might actually have to purchase another blade.
Date published: 2017-09-20
Rated

5

out of

5
by
Esarde
from
Had my doubts
Purchased this brush cutter attachment for my 40 volt Expand-it string trimmer for some heavier weeds( Canadian thistle) and tree sprouts. Didn't think the Tri arc blade had been sharpened from the factory, so I called customer support and talked with Justin- he checked and let me know that it is not supposed to have a sharpened edge. I didn't want to try it before finding out and cause a failure to the unit just to find out there was a problem with the blade. I took it out to see how it would perform- it went through everything in its path like the proverbial knife thru butter. Very smooth and effective.
Date published: 2018-05-30
Rated

4

out of

5
by
air dragon
from
Great Brush Cutter.
This is my second Ryobi brush cutter. The first one still works, sort of! It has been setting for 2-3 years and I need to run some fuel stabilizer thru it. I've had it a lot of years and never had a problem and I've been rough on it. But I needed one in a hurry so bought another one because that one is so damned tough. Trust me these things are bullet proof. I've used and abused my old Ryobi a lot by wacking inch and a half and occasionally larger trees down. My lawn is now considerably bigger because this. I'll keep the old one for the big stuff so I can go easy on the new machine. The only reason I didn't give it 5 stars as the blade came as dull as an old hoe so I have to sharpen it
Date published: 2018-08-16