+4
8 AMP ELECTRIC 440 CFM JET FAN BLOWER
Model: #RY421021
+4
For the power of jet fan technology with a lightweight and easy-to-use design, the Electric Jet Fan Blower is the perfect tool. This blower features a 2 speed switch, allowing the user to choose the level of power. With air speed up to 135 MPH and air volume up to 440 CFM, this blower can easily tackle wet and dry leaves around the house. A soft grip handle ensures comfort from start to finish. Backed by a 3-year warranty.
Features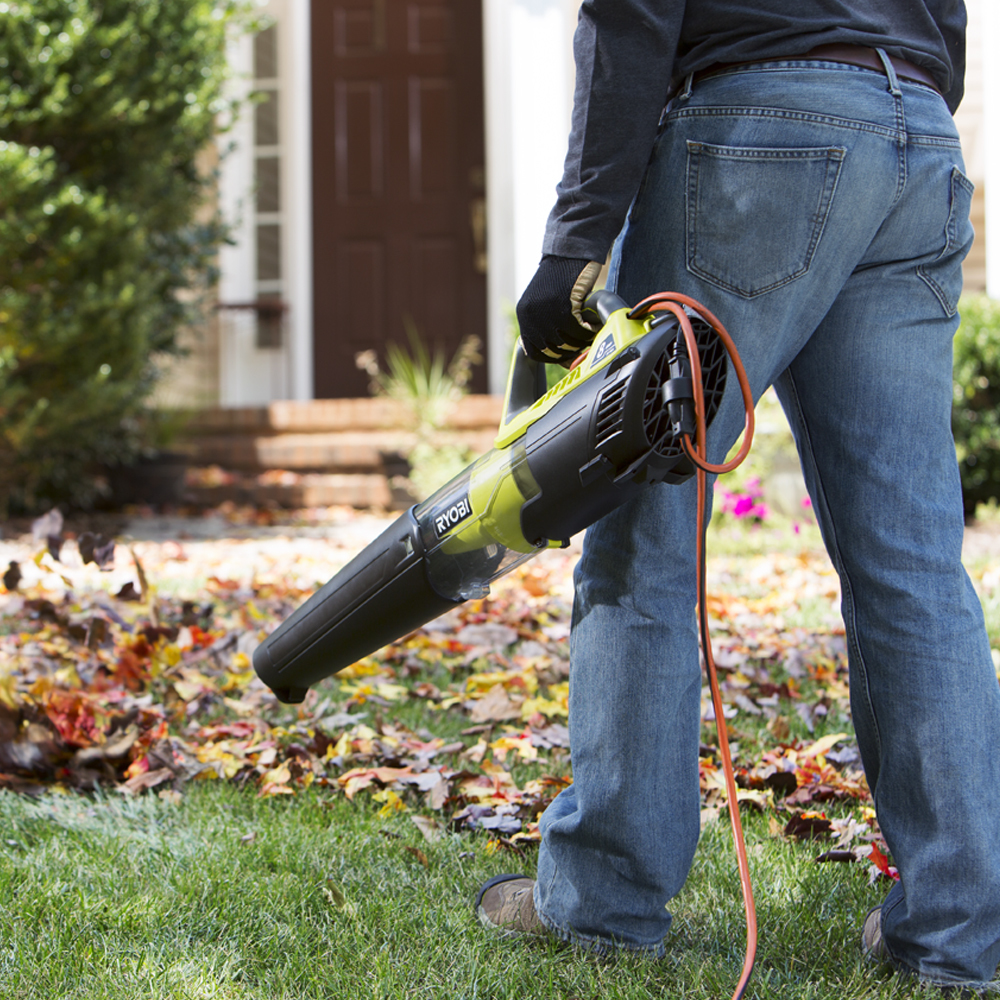 8 Amp jet fan design for superior performance
2 speed switch for versatility
135 MPH and 440 CFM
Perfect for wet and dry leaves
Specifications
MPH: 135
CFM: 440
Motor Type: Electric
Power Type: Electric
Weight: 7 lbs.
Reviews
8 AMP ELECTRIC 440 CFM JET FAN BLOWER
8 AMP ELECTRIC 440 CFM JET FAN BLOWER
is rated out of
5
by
1673
.
Rated

5

out of

5
by
Gmag
from
A great purchase
My old leaf blower died of natural caused and a replacement was warranted. Having shopped around both online and at a few hardware stores I decided on the Ryobi blower because 1) it had two speeds 2) it indicated that the speed of the machine was in excess of 100 mph 3) it was very reasonably priced 4) it has a reasonable warranty. Once I got the leaf blower home I immediately put it to work and was pleasantly surprised at how I could clean my front yard of pine needles and various leaves effortlessly and quickly. The dual speed feature allows for making manageable piles without blowing things all over the place. I am very pleased with this product
Date published: 2018-12-06
Rated

4

out of

5
by
ryobi user10
from
lightweight easy to use.
I first bought a more expensive blower/vacuum, but it was not very powerful at all. Made me work harder not smarter. So back that went and I got this. This lesser priced item blew that one away. It actually moves the leaves and gets the job done. Now it doesn't have the vacuum component, but that's ok. It was decently priced. I forgot to mention I have turf and many fine dried up leaves that end up on my patio. these little leaves get caught up in between the turf blades but this little device gets them out of there, whereas the first unit I mentioned did not do so adequately (not without a lot of effort).
Date published: 2018-09-16
Rated

5

out of

5
by
Lali
from
Had my doubts but they have vanished
I had a good working WeedWacker blower that served me well until it just wore out. I started looking at different replacements for it with a two speed feature my old one did not have. I set a 40 dollar limit for a new one and the Ryobi fell within that parameter. I purchased the blower with some reservation due to it's design but once I got it home and used it all doubts about purchasing it vanished. My old blower scattered debris over a large area which added to my cleaning efforts. With my Ryobi debris scatter is much more controllable. The low speed setting is sufficient for my purposes. I highly recommend this blower to anyone interested in buying or replacing their old unit.
Date published: 2018-06-08
Rated

5

out of

5
by
John Stewart B
from
Nice Unit!
I bought this electric blower for about $35 primarily for blowing off our very large deck & patio, and our driveway. It is an excellent tool for this purpose, but I have not really used it much for blowing leaves off of grass, so I can't really speak to that aspect of its use. Power and airspeed on this unit are great. The extension cord hook and anchor feature on this blower works like a charm, easy to use, and I have not had the extension cord become disconnected even once, which has always been a major hassle with any electric corded blower that I've ever used, so Ryobi has solved that issue! All in all, a great unit at a great value.
Date published: 2018-08-19
Rated

5

out of

5
by
Steve1947
from
The Green Tornado
I've been using corded blowers since the seventies. This is the best unit I've ever owned. Thank goodness it has two speeds. I can't use the high speed setting in some situations due to the air movement at that setting. I have a tropical environment in my back yard. I have sand and small smooth rocks in various beds around the yard. On high speed this thing will blow the rocks right out of the bed. But on low speed it works just fine to remove leaves and other debris from the rocks. Pollen doesn't stand a chance against this machine. Pool deck cleanup is a cinch. It simply takes care of all my needs.
Date published: 2017-04-17
Rated

4

out of

5
by
baviello22
from
powerful
Bought this a little over a month ago and have only used it once immediately after purchasing. I was surprised at how powerful it was for the least expensive model in the line up. I was blowing leaves off a small wooden deck and it diid the job very well! Would give a higher rating, but don't know how it will fare in a year with more use. the only cheaply made part of this product are the "clips" which connect the "nozzle" to the "blower"its difficult to secure and if you manage to secure them its even more difficult to unclip. Not necessary for usage though, its very sturdy and I just stored it with the nozzle clipped on.
Date published: 2018-12-24
Rated

5

out of

5
by
wolfgrain
from
Affordable & Excellent Results
I purchased this model after reading some reviews online and decided to give it a chance. I did not expect much since it was the cheapest RYOBI blower currently on the market, however, I was not disappointed. It actually exceeded my expectations. I have purchased it to use it in my garage to blow out the sawdust after my projects as I was tired of sweeping the whole garage. The blower is not heavy and it is easy to store. The plug is round, so a flat extension cord with multiple heads will not work. make sure to have a round head of the extension cord. When I say it's powerful, I do mean it! It blew dust from every corner and cranny. It works very well!
Date published: 2021-02-22
Rated

5

out of

5
by
Mazzy
from
Cheap But Effective!
Desperately needed a blower after my 10+ year old Craftsman electric blower had enough. I didn't have the cash to splurge on one of the electric models either, as the battery for my Ryobi lawnmower wouldn't have worked for any model on the sales floor. Nevertheless, I do have enough extensions cords to wrap around my property a few times over. So I picked up this model and was pleasantly surprised at the shear speed of the blower. Compared to my old blower and for the price, it can't be beat. The only con (as with any cord powered tool) is the cord itself, but its not a terrible so long as you utilize the cord retainer.
Date published: 2020-03-03