+8
7000 Watt Electronic Fuel Injection Generator With Reduced CO Technology
Model: #RY907022FI
Electronic Fuel Injection Technology reduces CO emissions by up to 90%
Push-Button electric start for hassle-free operation
Shutdown Technology to safeguard against dangerous accumulation of exhaust gases
+8
The RYOBI 7000 Watt Electronic Fuel Injection Generator With CO Sensing Technology is UL certified to ANSI/UL2201 that includes performance requirements to mitigate the dangers of carbon monoxide exposure when using the generator! Power your jobsite or emergency backup system more efficiently with the RYOBI 7000W EFI Generator. Equipped with an automotive grade Electronic Fuel Injection system, which provides up to 25% fuel savings, simplifies off-season storage and provides optimal performance in a variety of altitudes and temperatures. The 420cc OHV engine with 7,000 Running Watts and 8,750 Starting Watts can power whatever you need, whenever you need it and then be easily stored with the quick release handle. Also featured with Electric Start and an automatic voltage regulator for easy starting and consistent power. Backed by a 3-Year Limited Manufacturer's Warranty. See what Consumer Reports says about the RYOBI 7000 Watt Electronic Fuel Injection Generator.
Features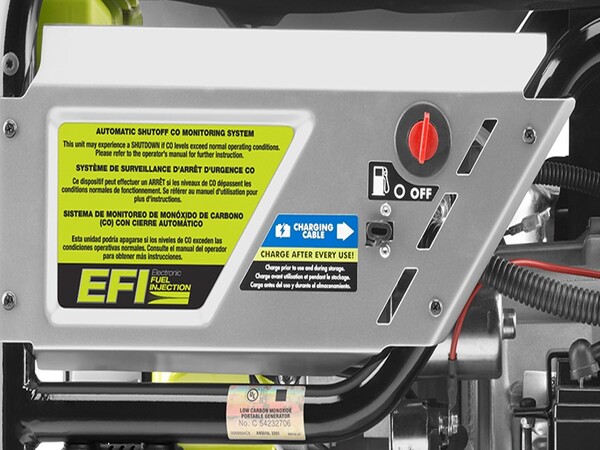 Electronic Fuel Injection Technology
Reduces CO emissions by up to 90% and provides up to 25% in fuel savings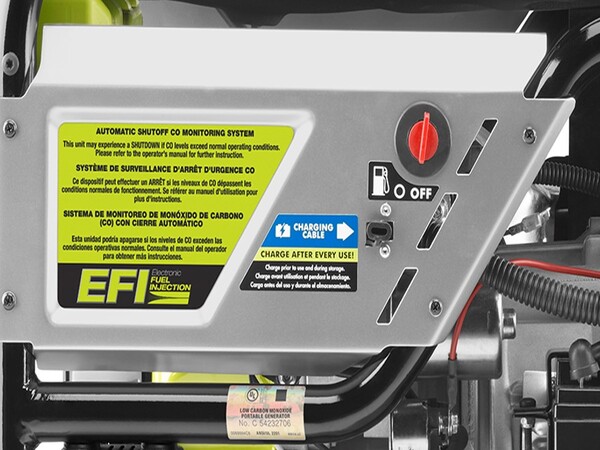 Shutdown Technology
Safeguards against dangerous accumulation of exhaust gases
Push-Button Electric Start
For hassle-free operation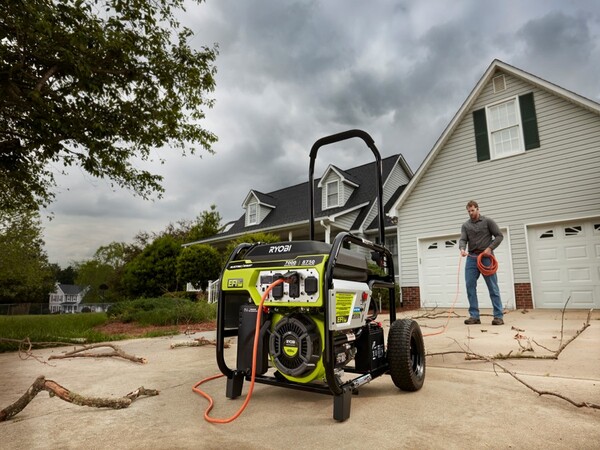 Automatic Load Adjustment
For optimal performance in varying altitudes and temperatures
Automatic Voltage Regulator
For consistent power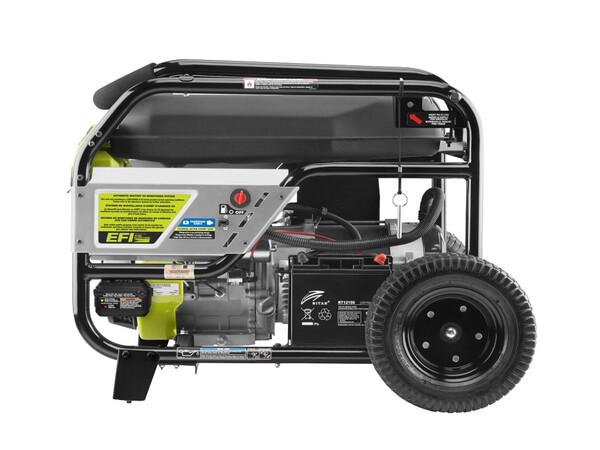 Quick-Release Handle & 12" Wheels
For compact storage & easy transport
Specifications
Certifications: UL Certified to ANSI/UL2201 (Low Emissions with CO Shutoff Technology)
Running Watts: 7000
Starting Watts: 8750
Engine Size: 420cc
Fuel Tank Capacity: 6 Gallons
Run Time at 50% Load: 9.3 Hours
Choke: Automatic
Outlets: (4) 120V AC 20 Amp and (1) 120/240V 30A
Wheel Size: 12 in.
Weight: 209 lbs.
Warranty: 3-Year Limited
Includes
7000 Watt EFI Generator
Engine Lubricant
Battery Maintainer
Assembly Hardware
Quick Start Guide
Operator's Manual
Reviews
7000 Watt Electronic Fuel Injection Generator With Reduced CO Technology
7000 Watt Electronic Fuel Injection Generator With Reduced CO Technology
is rated out of
5
by
16
.
Rated

4

out of

5
by
Cwashie
from
I love that it's fuel injected!
I ordered it on Nov. 30 from HD online with free shipping. It arrived on New Years Eve, so I haven't had much time with it. Push button starting is great for this 75 year old. The problem is that it doesn't run smoothly - it has a repetitive surge, I made a test run connected with the house and despite the surging, it worked alright. It was putting out 61hz, wish it was closer to 60 hz. Anyway, can't live with the surge, so I have to haul it to my closest HD, about an hour from us, for warranty work. I still recommend it assuming that the surge is an isolated problem to mine. Also, it's hard to move around with the handle.
Date published: 2020-01-07
Rated

5

out of

5
by
zarticus
from
Great Generator !
I bought this to replace an older colemen 6250 watt electric start generator that I have Had for many years. This generator is so much quieter than my old one & with the Electronic Fuel Injection it starts SO easy !. Just switch it on & wait about 20 seconds for the fuel pump to stop then push & release the start button, It starts on its own without having to hold in the button. This generator can run my whole house & it's nice not having to worry about a carburetor gumming up from old fuel. I researched many Brands but chose this one because of The many features that the others do not offer.
Date published: 2018-01-31
Rated

5

out of

5
by
Handy1
from
Power Horse
The 7000-Watt Electronic Fuel Injected (EFI) Gasoline Powered Electric Start Portable Generator is a very nice generator. It was packaged well and with a little assembly it was up and running. Everything I needed was in the box except for gas. It has electric start with pull cord back up. The EFI means no choke which is very nice. It runs great at all altitudes and starts well in all temps. The AVR (automatic voltage regulator) keeps the voltage steady. One thing I have noticed is that sometimes it tries to start and shuts off right away. It will do this a couple of times and then it starts up and runs great. Not sure what that's about. It does not show any codes. With a electronic engine control you need special diagnostic tools to communicate with it.
Date published: 2018-02-02
Rated

2

out of

5
by
JHarley
from
Good looking generator and technically advanced.
The generator worked for me once , started right up with automatic start. Next morning electric start is dead. Battery was good, had to manually start with pull. Did not get a good feeling about this generator so returned. I am not interested in getting a brand new generator repaired. Plus since no carb too sophisticated for me to take to a small engine repair shop. Nice technology but too many things that can and will break. Love ryobi stuff have many of their tools, just not their generators.
Date published: 2018-04-20
Rated

5

out of

5
by
Bill the Bull
from
Best ever
I bought this a month ago and I'm so happy I did. I have a water problem in my house but it is ubder control as long as I have power to run my three sump pumps. I have lived here 23 years and had 3 other generators but, this is the one. Electric start, long run time and smooth consistant power. The best I've ever used. I wish I had bought one years ago. I read consumer reports and this Ryobi generator with CO Technology is the number one pick. I love it.
Date published: 2020-08-01
Rated

5

out of

5
by
aperegudin
from
Great generator
Excellent generator, well built, big wheels, very efficient, no problems to start at any time no matter how long it was standing still thanks to EFI and electric starter, love an addition battery charger, well done Ryobi!!!
Date published: 2018-05-04
Rated

1

out of

5
by
IDS999
from
Nothing but Problems
This generator has never run correctly or at all since I purchased. I've replaced the fuel, checked the fuel filter, replaced the spark plug and have had nothing but problems with either not starting, running rough or running and then quiting. Since it's fuel injected, it's near impossible to get anyone to work on. When I call the local Home Depot service center to see about a repair, no luck. Please do yourself a favor and stay away.
Date published: 2020-10-29
Rated

5

out of

5
by
Phil E
from
Great product with excellent features.
This generator is loaded with all the features I wanted at a great price!!
Date published: 2018-01-29