+7
40V Attachment Capable Cultivator with 2.6Ah Battery & Charger
Model: #RY40770
+7
The RYOBI 40-Volt Cultivator delivers Gas-Like Power with none of the hassles of mixing, starting or maintaining gas cultivators. Lightweight and easy to maneuver, this cultivator is ideal for home gardens or landscaping projects around the house. The heavy-duty steel tines have an adjustable width of 7 – 10 in. for easy tilling and access between plants and flowers. The variable speed trigger puts the control back in hands of the user while the large shield provides protection from debris. The 40-Volt power head is designed to accept RYOBI Expand-it Attachments and other universal gas attachments to save time, money, and space. This cultivator is equipped with a 40-Volt lithium-ion high capacity for longer run time. All RYOBI 40-Volt batteries come with an on-board battery life indicator for user convenience and over-molded edges for impact protection. The RYOBI 40-Volt Cultivator is backed by a 5 year limited warranty.
Features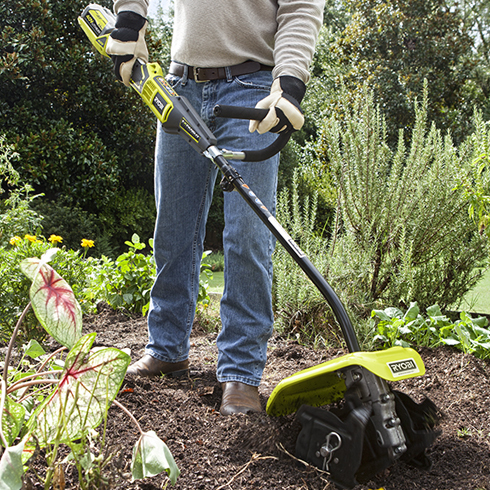 Attachment Capable
7 - 10 in. adjustable tilling width
Variable speed trigger for user control
Heavy-duty steel tines for easier tilling
Large shield provides protection from debris
Specifications
Power Source: 40V Battery Electric
Till Depth: 10 in.
Till Length: 20 in.
Number of Tines: 4
Weight: 30 lb
Includes
40V-X Attacment Capable Power Head
Cultivator Attachment
40V 2.6 Ah Battery
40V Battery Charger
(4) Tines
J-Handle
Operator's Manual
Reviews
40V Attachment Capable Cultivator with 2.6Ah Battery & Charger
40V Attachment Capable Cultivator with 2.6Ah Battery & Charger
is rated out of
5
by
239
.
Rated

5

out of

5
by
spamlad
from
Unsurprising Quality
We bought this cultivator because we have a small yard and figured it would be good enough to take a little flower bed we wanted to make. I already own a bunch of Ryobi tools, so it was only natural that we'd go with them again. After a few minutes spent on a very simple assembly, we charged up the battery and took it out for a test. I was surprised at how much ground this thing churned up and the length of time before it needed recharging. Combine that with all of the available attachments for the Expanded-It system, and you have quite a nice little arsenal to attack just about any project in our little corner of suburbia!
Date published: 2018-06-24
Rated

5

out of

5
by
Harry3D
from
Does a good job
used it for a small patch of dirt behind the house that nothing is growing. did the area twice as I had a lot of roots. I did hit a rock, but I pulled the root out between the rock and the blade, and was able to remove the rock. I did not find anyway to reverse, to back out if something got cough. I did not detach and that may have worked. but last resort would be to take the pins our of the blades and off. did give me a work out as it would take off and had a nice power to it, but at the same time was manageable. I would not recommend it to someone that was only 80 lbs.
Date published: 2017-03-27
Rated

5

out of

5
by
ToddO
from
Great for turning garden beds
I bought this tool several months ago to turn the soil in my garden raised beds in preparation for planting. The power of the cultivator was surprising and exceeded that of similar sized gas powered tools. I was able to turn four 8ft.x3ft. garden beds to a depth of ~2ft. using 3/4 of a charge on a standard 40v 2.4 Ah battery. This tool really made a big difference in the thoroughness I was able to mix the soil and till in fertilizer vs. previous years where I did it by hand. All in all a great tool that makes one of the labor intensive jobs of gardening much much easier. I plan on using the tool this fall to replant (from seed) a 20ft.x30ft. section of lawn that died off in the drought, some preliminary test tilling I did with the cultivator showed that this job should be a snap!
Date published: 2017-06-25
Rated

2

out of

5
by
Stick
from
Expand-It Not the greatest
Purchased this unit along with the Expand-it Blower attachment. After about 4 months of use the expand it nut stripped. It has a very fine thread, so easy to strip over time. To replace it requires buying the whole new expand-it collar. This part is not covered under warranty and costs about $16. I was able to drill out the bolt and use my own, since I did not want to purchase a new collar every year. The trimmer does good light duty trimmer. Has difficulty cutting the thick runners of centipede grass. The blower unit is not very powerful and used up the battery very quickly. Best to purchase a separate blower unit.
Date published: 2016-08-04
Rated

5

out of

5
by
Dudamus
from
Brutus the cultivator
I bought this for my Wife to use in her 8x16 foot vegetable garden and green house. Since we put a green house frame over the garden I could no longer turn it over with my backhoe. She was very skeptical and I was worried. I saw her working away and after an hour she wanted another battery, she was pining with joy. She was pulverizing the soil down to about a foot in depth. After another half battery she had worked in 8 bags of garden soil into the rocks and compacted soil. She calls it Brutus. My backhoe turned the soil, the cultivator actually pulverizes into a loam like mix. Another great Ryobi product. Very happy with all the 18v and 40v tools, looking forward to an 80v chainsaw and 160v (80+80) riding mower. Keep up the good work. When are you'll going to make a LION pick up truck? When we retire we are going from campground to campground and we will need an electric pick up truck.
Date published: 2017-04-12
Rated

5

out of

5
by
dottiewood49
from
Ryobi cultivator
I purchased this 2 days ago. so put it all together wish was pretty easy for me an old lady. And was skeptical to its power, as there was grassy area I was going to till. I was amazed at how well it worked on a battery, never seen a electric or gas one work so well . So impressed. with it and could run it for at least a hour. It cut right thru that grass. Great product! Love it!
Date published: 2017-06-09
Rated

5

out of

5
by
JC 1960
from
Lasting Power
Bought this product a month ago to use in a raised bed garden that I set up for my wife, imported about 75 yds of rich topsoil to fill the beds,used the cultivator to mix in some peat and fertilizer, and was pleased at the battery life of this unit, also bought a string trimmer attachment at the same time but as of yet have not used it.
Date published: 2017-04-14
Rated

4

out of

5
by
Finnyman
from
Beach Ready
Was looking for a tiller for my lake front beach. Took a leap of faith and went battery powered like my other yard tools and never looked back. Quiet, powerful and lasts easily the 30 minutes it takes to fluff up the sand. Will also use to prep soil for grass patching here and there in the yard.
Date published: 2018-05-22