+3
40V VAC ATTACK™ Leaf Mulcher
Model: #RY40405BTL
+3
The RYOBI VAC ATTACK™ Cordless Leaf Vacuum features 2-in-1 vacuum and mulching functions to make yard clean up quick and convenient. Featuring a durable metal impeller, shred up to 16 bags of leaves down to just 1. It includes a heavy-duty bag and adjustable wheels, allowing you to easily maneuver over a variety of terrains. The variable speed dial gives you ultimate control Tear through large piles of leaves or dial back the speed for precision vacuuming in plant beds. The VAC ATTACK™ Cordless Leaf Vacuum is compatible with 40 plus RYOBI 40V tools, batteries and chargers and is backed by a 5-year warranty.
Features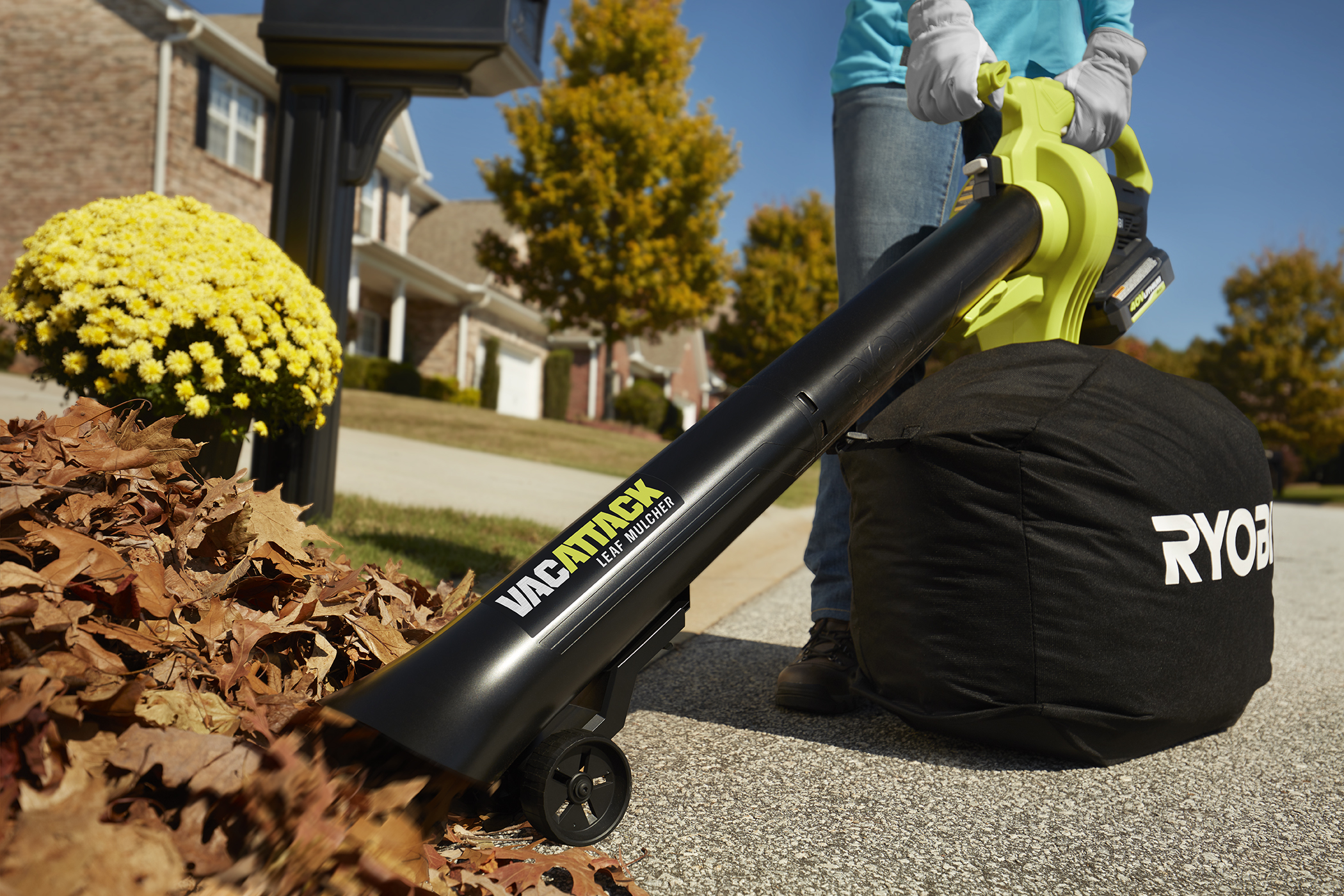 • 2-in-1 vacuum and mulching functions • Mulches 16 bags to 1 • Variable speed dial for more control • Adjustable wheels • Heavy-duty bag and zipper
Specifications
Throttle: Variable Speed
Impeller Material: Metal
Mulch Ratio: 16:1
Watt Hours: 144
Weight: 12.7 lbs.
Warranty: 5 Year
Includes
40V VAC ATTACK™ Leaf Mulcher
Operator's Manual
Reviews
40V VAC ATTACK™ Leaf Mulcher
40V VAC ATTACK™ Leaf Mulcher
is rated out of
5
by
19
.
Rated

5

out of

5
by
Ride Captain
from
great tool
I have 3 other Ryobi 40 volt tools, and like the others ,this leaf vacuum is awesome, it does a great job and the battery last just about an hour long, plus the batteries from the other 40 volt tools work with this one making my job a hole lot easier!!!
Date published: 2020-10-21
Rated

2

out of

5
by
kacey
from
Like the tool; Hate the bag
I purchased this product along with many other Ryobi tools for my lawn care and maintenance. This leaf vacuum worked great but quickly began falling apart. The first to go were the wheels. The next was the bag. I have replaced the leaf bag twice already and I am in need of replacing it again. The zippers on the leaf bags are extremely weak and have broken each within 3-4 uses. It should also be noted that to use this tool properly requires the user to fully carry the leaf load while sucking up leaves which puts a lot of strain on your forearms. It can be a real workout using this tool. It works well but at a recurring cost.
Date published: 2020-10-18
Rated

3

out of

5
by
Mags920
from
Disappointed
I bought this a few months ago & used it for the first time today. It did pick up leaves but there are several things I think should be corrected &/or added. There should be a shoulder strap as it gets heavy as the bag fills & the way it has to be held in order for it to suck up the leaves. An on/off switch would be better than having to hold down the lever to keep it running. My bag would not stay clipped on, perhaps a different type of hook. Lastly, the leaves did not mulch as claimed on the box which was disappointing. I have several other Ryobi yard tools & have been pleased with them. This product definitely needs improvement & am debating on whether or not I'm going to keep it.
Date published: 2020-10-20
Rated

2

out of

5
by
Doug0911
from
Disappointed
I bought this a year ago so used all last season (fall 2019) to vacuum up leaves. The good news - it did mulch leaves so used fewer bags. The bad news - very awkward to empty. I ended emptying into a bin and then dumping from there into the leaf bag. I used it once this fall and during the second time the motor made a loud screech, and even though the propellor continued to spin, it no longer vacuums. Not really worth the money.
Date published: 2020-10-19
Rated

4

out of

5
by
Dan431
from
Gets the job done
I was skeptical about battery-operated yard tools, but I'm impressed with the suction power of this vac. I've been using it for light yard clean up, mainly leaves and debris that accumulate in the landscape edges and crevices of my yard. The vac had no problem picking up the leaves and even smaller material like mulch pieces. The only reason I didn't give it 5 starts is because I think the vac should come with a shoulder strap - it can be a little tiring carrying it for long periods of time.
Date published: 2020-10-17
Rated

4

out of

5
by
Fromyk1999
from
Easy way to clean leaves from lawn
I purchased my leaf mulcher about a month ago and finally had enough leaves on the lawn to use it today. I was happy with the power of the vacuum and how well the leaves were shredded. It will save a lot of leaf bags, but perhaps not quite in the 10 to 1 ratio as stated. However it works well and will mean I have a clean lawn before winter.
Date published: 2020-09-21
Rated

3

out of

5
by
rrr54
from
Good Suction Great Mulching Action
I am sure this would be a great product for a strong person with no mobility problems. Unfortunately I cannot walk right now which makes this product too heavy and too long to hang off the handlebar of my mobility scooter.
Date published: 2020-10-19
Rated

5

out of

5
by
Craby
from
Ryobi 40V VAC ATTACK Works Great
I was a little reluctant to buy this as I have used the blowers that doubled as a Vacuum that didn't work that well. They were very unhandy. This is designed as a vacuum only and does just that. Don't expect it to clean the whole yard but work for leaves that are in a smaller area (Example along the driveway after blowing it off). It performs excellent on smaller piles of leaves as it Mulches as it Vacuums them.
Date published: 2020-10-14