+5
40V String Trimmer/EDGER WITH 2.6AH BATTERY & CHARGER
Model: #RY40210B
+5
RYOBI takes cordless to the next level with the 40V Trimmer/Edger. This string trimmer is designed to deliver cordless convenience without sacrificing power. With a 40-Volt battery pack, this string trimmer delivers longer run time and fade-free power. And for you gas-lovers out there, this string trimmer actually delivers longer run time than a gas trimmer. RYOBI also loads this string trimmer with convenient features like the 11 in. to 13 in. adjustable string width for ultimate cut control. The 90° pivoting head swings out for easy walk-behind edging, and the charger has your battery fully recharged in under 2 hours. All this performance and convenience backed by a 5-year limited warranty, makes this the perfect time to go cordless.
Features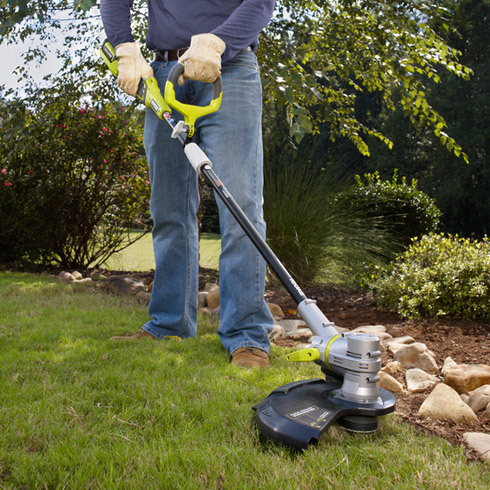 More Run Time than a Gas Trimmer*
* Compared to RYOBI 2-Cycle Gas Trimmer
Foot Pedal Adjustment Converts Pivoting Head From Trimmer To Edger
Premium .080 in. Twisted Single Line
Auto Feed String Head For User Control
Variable Speed Trigger Allows More Powerful Cutting Or Longer Battery Life
11–13 in. Adjustable Cutting Width For Longer Run Time Or Wider Cutting Path
40V lithium-ion high capacity battery and 90 min. charger included
5 Year Limited Tool Warranty
3 Year Limited Battery Warranty
Specifications
Power Source: 40V Lithium-ion Battery
Trigger: Variable Speed
Cutting Swath: 11- 13 in. (Adjustable)
Line: .080 twisted line or .065 line
Line-Advancement: Auto-Feed
Weight: 9 lbs.
Includes
String Trimmer/Edger
40V Lithium 2.6AH Battery
40V Battery Charger
Grass Deflector
Front Handle
.080 Trimmer Line Spool
Operator's Manual
Reviews
40V String Trimmer/EDGER WITH 2.6AH BATTERY & CHARGER
40V String Trimmer/EDGER WITH 2.6AH BATTERY & CHARGER
is rated out of
5
by
1201
.
Rated

5

out of

5
by
mikeme
from
Like it more with every use
Wife got this for me for Christmas 2014 so I have one whole season of use and the start of this spring so far. Got it based on recommendation of my brother who has had a few cordless Ryobi products. Battery life is good and charging is pretty quick. Plenty of power for trimming my yard. At first I wondered why I kept going through trim line so quickly... apparently every click of trigger advances line. Now I just keep trigger pressed so that has fixed that issue. Left arm used to get sore from using too, but not so bad anymore. Must be getting stronger in my old age. Overall, I like the trimmer and am glad I got it.
Date published: 2016-05-13
Rated

4

out of

5
by
Spice80
from
Just what I needed!!
If I can get good results, anyone can. I'm a 5'1" woman and an amateur @ that. I've been looking for an edger on Craigslist list & stores but couldn't find one. I decided to purchase this brand after loving the look of my uncle's lawn & seeing that he used a Ryobi. I was sold instantly. The price was a shock b/c I didn't think I could afford it right off but I was completely satisfied. The battery lasts until my job is done & it takes less than an hour for a full charge. I can't say enough about this trimmer. I just love it!!! This is the 1st trimmer I've ever owned & look @ the results. I will DEFINITELY be sticking with this brand for years to come. Hands down!!!!!!!
Date published: 2017-09-12
Rated

5

out of

5
by
RuthieM
from
A Smart Purchase
I purchased the trimmer/edger last August. Although I've only used it during the summer months I found it to be a smart buy. Assembling it was easy as pie and it works well! A bit heavy with the battery attached but not as heavy as a gas trimmer- & no fumes or gas to mix up! Also, you don't need to plug in an extension cord like you do w/the electric ones. The battery lasted about 40-45 minutes each time I used it- plenty of time to do the job. The only problem I had was the string disappeared inside and I had to keep rethreading it. I found if I "buffed" the trimmer (tapped it lightly on the ground) ever so often that seemed to keep the string intact. All in all, I like it.
Date published: 2016-04-21
Rated

5

out of

5
by
Fred
from
GOOD BYE GAS!
I was so impressed with this trimmer that I purchased the entire line. I own the hedge trimmer and blower and chainsaw.. The battery life is phenomenal. I was able to edge and trim my front and back yards with the battery charged it came with it when I took it out of the box. The board performs better than my gasoline blower the reply. The chainsaw is perfect for small jobs no more mixing gas having to go. It is perfect for small homeowner trim jobs. As soon as they have about 20 or 22 inch lawnmower my hunt is going bye. Don't even think twice by them they're wonderful.
Date published: 2016-04-18
Rated

5

out of

5
by
Work horse
from
Did not believe
All these years buying tools that have the battery and always being disappointed. And then comes along my neighbor mowing her grass with something with a battery you've got to be kidding me. I could not believe that she was cutting her grass with the lawnmower, trimming weed eater, and edging her grass with the battery. And there was proof that tools with this kind of battery with the Roby can actually work. So I bit the bullet and I bought a weedeater with an edger I could not believe how good it is 40 V has so much power is worth every dime. I will be adding to my more very soon .thank you Ryobi making me a believer in a battery after all
Date published: 2020-08-01
Rated

5

out of

5
by
Rey43
from
Ryobi works Excellent
The trimmer works quite well for a 13" cordless string trimmer, easy to use, powerful almost no vibration and pretty quiet. The 40v Lithium battery lasts long enough for my entire yard, plus the 90 minute changer is excellent. Changing the pivoting head with the foot pedal from trimmer to edger very convenient. The straight shaft is great for reaching under and around area without bending. The trimmers come with 0.080-inch trimmer line and spool, trimmer line don't appears to last, it took three full spools for approx. 600 LF. changes and adjusting the line take a few minute. But line breads alot you spend more time changing and adjusting the line.
Date published: 2017-11-04
Rated

4

out of

5
by
The Indian
from
I purchased this through Home Depot online store. In terms of power, the trimmer is on par with gas engine trimmers. The battery is long life - lasted me through trimming around quarter acre property. Supplied battery-charger pair is intelligent - charging stopped by itself after full charge. Battery holds power for several days. Downsides are: 1) holes in guard cover and unit base aren't Murphy-proof - three equally spaced holes on both. I had to spend significant amount of time reviewing picture on box to install guard in correct circular position. 2) Unit is not light; I wish Ryobi had provided a shoulder strap to reduce arm fatigue.
Date published: 2017-06-19
Rated

4

out of

5
by
Alskie
from
Very Versatile !
I've had cordless trimmers before, but, Ryobi has taken the next step and really added some punch to their product. I wanted a trimmer that was lightweight, so my wife could also use it, had plenty of power, to do the yard with one charge easily, and easy to add more cord when needed, you don't have to tap the end on the ground as when you want more cord, let go of the throttle and it automatically comes out in segments. I've really enjoyed using a product that does what it says it will do. We also bought the 40V brush-less lawn mower which has the same batteries, and they are interchangeable which helps get the job done. Thanks Ryobi
Date published: 2017-05-15