+4
40V String Trimmer WITH 1.5AH BATTERY & CHARGER
Model: #RY40240
+4
The Ryobi 40-Volt Trimmer combines cordless convenience with exceptional run time. With a 40-Volt slim pack battery, this string trimmer has more run time than most gas trimmers with fade-free power. This trimmer features an auto-feed string head that advances line with the pull of the trigger and accepts any of the Ryobi auto-feed spools for quick and easy reloads. The Ryobi 40-Volt trimmer has a variable speed trigger, providing you with ultimate cut control. All this performance and convenience backed by a 5-year limited warranty, makes this the perfect time to go cordless.
Features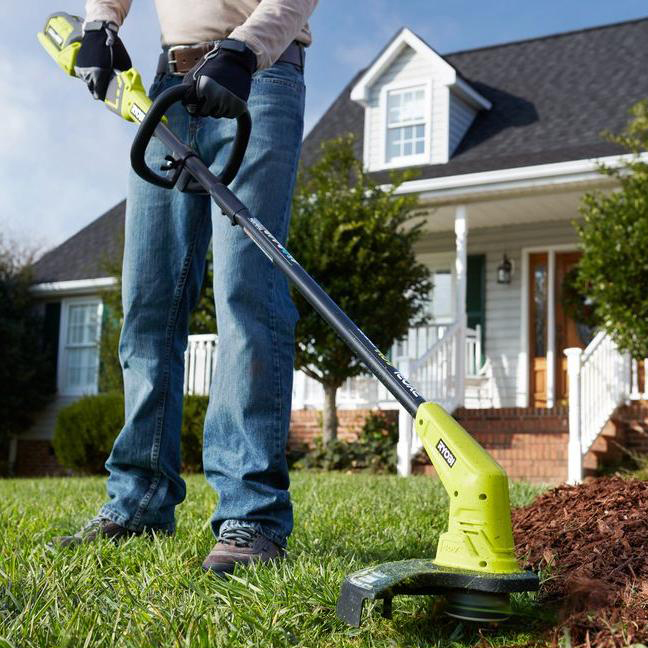 Works with all Ryobi 40-Volt lithium-ion tools and batteries
40-Volt lithium-ion slim pack battery and 90 min charger included
Variable speed trigger for cutting control
Premium 0.080 in. twisted line
Auto-feed string head for ease of use and quick reloads
10 in. - 13 in. adjustable cutting width for longer run time or wider cutting path
5-year limited warranty
Specifications
Weight: 9 lb.
Power Source: 40v Battery
Trigger: Variable Speed Trigger
Line Advancement: Auto
Cutting Swath: 11-13 in.
Includes
String Trimmer
40V 1.6 AH Battery
40V Charger
Grass Shield
Front Handle
Operator's Manual
Reviews
40V String Trimmer WITH 1.5AH BATTERY & CHARGER
40V String Trimmer WITH 1.5AH BATTERY & CHARGER
is rated out of
5
by
721
.
Rated

5

out of

5
by
Anonymous
from
This boy is a beast, love the 40V!
I got the trimmer blower combo, and I have to say I am highly satisfied with it's performance. Good power, had 3 inch high weeds and greater, and ripped right through them, did it take multiple passes? Yes it did, but for the height I was more than impressed. Also you will have to tap the autofeeder when it stops to work properly, but once I figured that out, it worked like a charm! The blower was powerful also. Both at 40V was just a powerful to me as a cord plug in. Plus being light was easy to pass from on hand to the other as they got tired. Battery on avg lasted 45-55 mins of constant use. Worthy!!! Gonna buy another battery just to be convenient.
Date published: 2019-07-11
Rated

3

out of

5
by
toollover
from
Good tool, bad battery, not replaced undr warranty
I love the tool itself and works great and has lot of power. My issue is with the battery. I needed to replace it once, and going on a second time in less than a year. The first replacement process was average, needed to provide tool, battery, and charger model numbers and serial numbers -- all after they were registered on the Ryobi tool site. I am on the second time and gave all the same information for the replaced battery, but they required that I provide the email that was sent to me more than 6 months ago. I do have my receipts from the initial purchase, but that's not good enough. Buyer beware of the warranty. Ryobi please support your customer base!
Date published: 2017-06-05
Rated

4

out of

5
by
KJBuffalo
from
Save your electric trimmer
Just purchased this trimmer and had high hopes. In my first use with the supplied line, I had to remove the cap and re-feed the line a dozen times. The auto feed didn't function and the button feed was not able to be used as the line broke within the housing. To make matters worse, the line cap is very difficult to grab as it is flush with the string housing. Then the string ran out within a few minutes. I refilled the line and it functioned better but still wasn't feeding as I felt it should have. The battery last about one half hour and takes one and one half hour to recharge. It's handy to have and does okay but I am keeping my electric trimmer.
Date published: 2020-06-17
Rated

5

out of

5
by
SapphireBrand
from
Flexibility, ease of use
This tool is a versatile power head with an attached line trimmer. I like the idea that I can add other attachments from Ryobi's family, so my investment in the power head can go farther without needing to buy more batteries / chargers. The line trimmer attachment works really well. The tool is light enough, long enough to be used by a normal-height human being, with handles and controls in good locations. The line trimmer cut fast and made short work of my property without running out of battery life. Of course, your mileage may vary on the battery life. I bought into multiple Ryobi 40V tools, which really eliminates issues with battery life.
Date published: 2017-07-09
Rated

5

out of

5
by
Nacho
from
Blown away
I was a little sceptical about getting it at first because I have always used gas and honestly didn't think it was going to be any thing close to a gas powered trimmer, But I'mma going to have to say that I am very impressed with the performance of the trimmer and it's made me more optimistic about more of the tools that I can get for my yard now... I just wish that your 40volt batteries didn't cost soooooooo much...I bought my trimmer charger and battery for $123.00 plus tax at home Depot and to get an extra battery alone Is $100.00 plus tax where if I spend $23.00 more dollars I can get a whole nother set for $123.00
Date published: 2018-07-03
Rated

4

out of

5
by
HelpingHand7
from
Good VALUE
I'm a new homeowner and recently bought multiple Ryobi tools because I did not want to mess with the maintenance of normal outdoor equipment. I am pleased with the power and run time of the trimmer. I don't have a huge yard but I do have many obstacles which I must weed eat instead of mow. It is strong enough to cut down normal yard weeds and brush. The one con I see is sometimes the string comes out too much which results in a lot of wasted string. I would recommend this product to anyone with a small yard or if you want to buy an extra battery I recommend it to anyone with any size yard.
Date published: 2018-03-13
Rated

5

out of

5
by
UK Phil
from
A Dream Buy
I bought this unit about a month ago. I have a large front yard and huge back yard. Rear fence is over 200 feet long. I also have numerous flower beds as well. This trimmer on one full charge did everything and still had 1 1/5 bars of power left. The noise seems higher in tone but it balances well in your hands and is easy to use. Assembly is simple too. It doesn't come with a shoulder strap though and for some they may like that. My previous gas Ryobi trimmer had one and it was useful at times. I had that for over 6 years and never had one issue with that, so hoping for the same quality here as well. Price is in the middle band for trimmers and so far worth every cent.
Date published: 2018-03-23
Rated

4

out of

5
by
JaniceE
from
Almost as good as a gas trimmer
I live on 13 acres and have a large area that I trim. I hate mixing gas/oil and I hate fighting with the pull cords on my husbands larger commercial grade trimmers. They are also a lot heavier. This trimmer is lighter.It cuts good, not great on certain plants that are long or thin, but they will whack a two foot thistle plant in half! It is great around flower beds and fences. The battery lasts about 30-45 minutes so I definitely will be getting another battery so I can switch them out if I need a longer run time. Overall, I would buy again and recommend this trimmer for everyone except people doing serious trimming in high grass or super heavy weeded areas.
Date published: 2019-04-26