+6
40V 300 WATT POWER SOURCE BATTERY INVERTER (TOOL ONLY)
Model: #RYi300BG
Perfect for Powering Small Electronic Devices: Laptops, Tablets, and Cell Phones
300 Watts of Continuous Power Output
Pure Sine Wave Technology: Safe for Small and Sensitive Electronics
+6
Convenient, on-the-go power wherever you need it
Features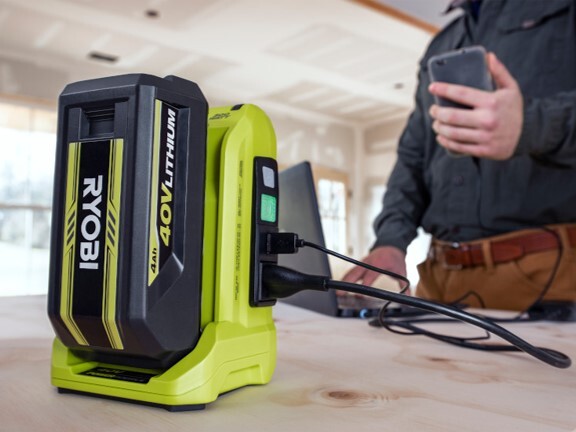 300 Watts of Continuous Power Output
For powering small electronics including laptops, tablets, and cell phones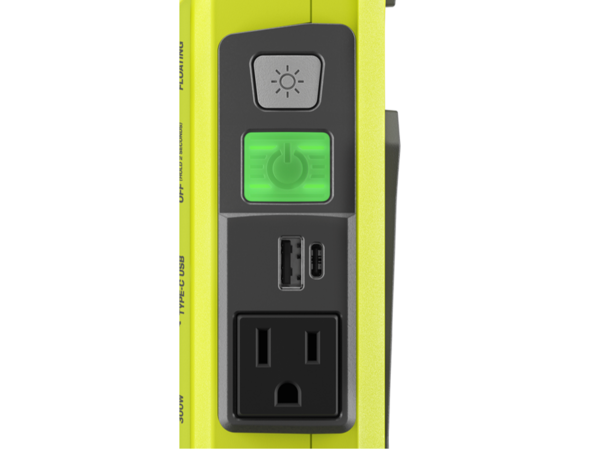 Included Outlets
(1) USB-A , (1) USB-C & (1) 120V Outlet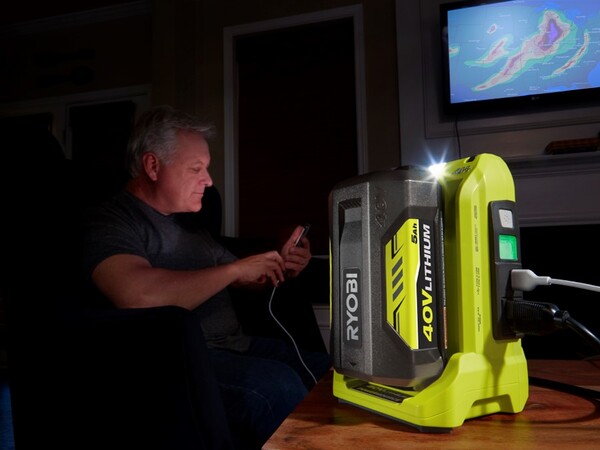 On-board LED Light
For user convenience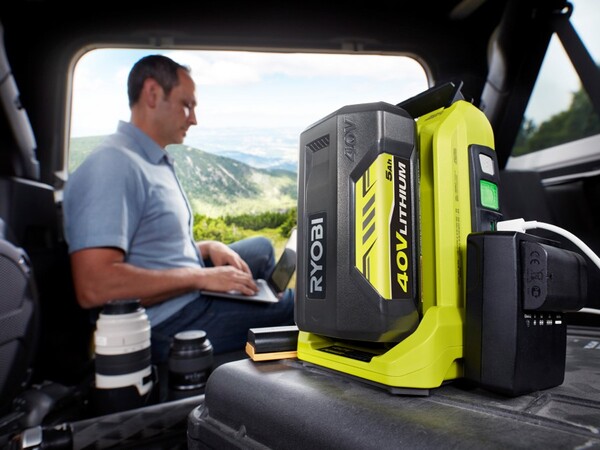 Pure Sine Wave Technology
Safe for sensitive electronics such as Laptops and Cell Phones
System Compatibility
Compatible with all Ryobi 40V Batteries
Specifications
Dimensions
Watts

300 Continuous

Outlets

(1) Household Outlet, 120V 2.5A & (1) USB-A Port, 5/9/12V 3A max. & (1) USB-C Port, 5/9/12/20V 2A max.

Electrical Output

Pure Sine Wave

Weight

2.25 lbs.

Warranty

3 Year Limited Warranty
Includes
40V 300 Watt Power Source Battery Inverter
[#<ProductFeature id: 4645, title: nil, content: "40V 300 Watt Power Source Battery Inverter", photo: "7b38c705-6efd-4546-bc16-9754e4b85888.png", created_at: "2021-02-23 20:56:05", updated_at: "2021-02-23 20:56:05", product_id: 1134, sort: 0, enhanced_type: "included_item", enhanced_group: nil, enhanced_icon: nil>]
Reviews
40V 300 WATT POWER SOURCE BATTERY INVERTER (TOOL ONLY)
40V 300 WATT POWER SOURCE BATTERY INVERTER (TOOL ONLY)
is rated out of
5
by
223
.
Rated

5

out of

5
by
Retired 297
from
'PowerSource' could not of said it better.
'RYOBI's 40-Volt Power Source provides convenient, on-the-go power both on and off the jobsite.' Could of not said it better myself, here with 300-Watt of continuous output, we mainly keep them on hand for our great Northwest weather and power outages. Powering everything from a laptops, to charging the cell phones and as back-up for cable zone gain power splitter. The external LED light may be one of the most used features for us for quick work light around the home and during those power outages . Here we have our Hybrid fan connected and our charger unit with it's own USB port. The inverter has a USB-A, USB-C and one 120-Volt wall outlet for reliable power. Use any RYOBI 40-Volt batteries, and a 5-year warranty
Date published: 2019-10-28
Rated

5

out of

5
by
JeffCh
from
Tradeshow Power
I exhibit at various Trade Shows each year and I hate to pay for electricity to power a laptop computer, charge my mobile phone and to power a LED sign. A typical expense for power at a convention center is ~$380 for 3 days. Now I'm all set. I can run my all day and recharge in the evening at the hotel. I found that I need about 30WH for 2 PC, 2 Phones, and a LED sign. A 5Amp-Hour battery would last the whole week without charging.
Date published: 2019-12-21
Rated

5

out of

5
by
1OFMINI
from
Nice Little Inverter for CPAPs - Within Reason
As Hurricane Dorian was approaching, I was dreading yet another power outage. Being without power in Florida when it's really hot tends to generally suck. Add to that unpleasant scenario the thrill of being tethered to a CPAP at night and it gets even more sucky (not really a word but you get the idea). The price of a "real" CPAP back-up battery tends to run a few hundred dollars and therefore prohibitive for this retiree, so I've been looking for an alternative and still be able to afford food for the month. Enter the RYI300BG. Your mileage will vary but mine works like a charm. I can sleep all night (8 hours) on a 5ah battery. A 4ah battery gets me between 6 - 7 hours. You probably won't be able to run the humidifier (check the specs on your CPAP) but you'll won't be gasping for air when the power is out.
Date published: 2019-12-31
Rated

4

out of

5
by
RyobiJunki
from
This is a great product, except...
So, this is a really great addition to the toolbox but why didn't they just provide a cord to plug it in to charge the battery. It's already docked! Why?
Date published: 2019-08-23
Rated

5

out of

5
by
CCBAXTER65
from
40v inverter
Bought this to power small electronics when power goes out, here in AR just sneeze the wrong way the power would go out. So just a month later after purchasing we had lost power, my 10year old was upset because no internet so I put a 4ah 40v battery in and plugged in 65" TV and cable box for internet and worked great. I had a power strip with overload protection and the 300w inverter handled it without no issues at all, ran TV, cable, internet for 35 mins and only 1 bar was used. So I shut TV off and kept internet going until power came back on, was a total of 1hr 25mins and used 3 bars. Would definitely recommend this Ryobi 300w inverter to anyone.
Date published: 2021-02-10
Rated

5

out of

5
by
Sarge62436_2
from
A must-have item!
I purchased this unit to use as backup in an emergency, as well as for portable power in the field. At present, the unit is paired with a single 4AH battery. I was able to sustain 2 laptop chargers plus a USB power station for over an hour (adding a Ryobi hybrid fan did push the unit into overload mode). This unit exhibits typical Ryobi reliability - no issues experienced with usage. I plan to add a 5 or 6 AH battery in the future. This unit makes an excellent compliment to my 18V Ryobi Inverter. Well done, Ryobi!
Date published: 2020-01-13
Rated

4

out of

5
by
WTTX
from
Power source
My Ryobi power source works great. I have an rv on my lake lot, where I use my gas powered inverter generator. This is much more portable for low power uses. Runs a TV, fan, and charges phone and tablet for a couple of hours with ease. Also I have battery powered tools. Weed eater, drill, etc. Charges them in the truck while I work my land. Would be great for temporary outdoor lighting, or on a boat I'm sure. Uses any 40v battery, mine are all the 4v sizes. Light is a bit off center so I deducted 1 star.
Date published: 2020-06-10
Rated

5

out of

5
by
Kathy in WA
from
really good idea!
I already had batteries for tools that will not be used when I am camping so this will be a handy gadget for a little power at camp. I tested it for a small lamp, fan, and of course charging a phone and tablet. I did not use it to fully charge any item or until the battery was dead so I don't know how long it will last. If I am able I will update the review after camping.
Date published: 2021-02-25