40V LITHIUM-ION RAPID CHARGER
Model: #OP406A
RYOBI introduces the 40-Volt Lithium-Ion Rapid Charger. On average, this charger charges 40V batteries in 1-hour or less. The indicator lights provide the battery charging status and even lets you know if the battery is too hot or too cold to charge. Compatible with all RYOBI 40-Volt batteries and featuring innovative charging technology, this charger is designed to protect and extend the life of your batteries. Spend less time waiting on a charge, and more time tackeling your yard.
Features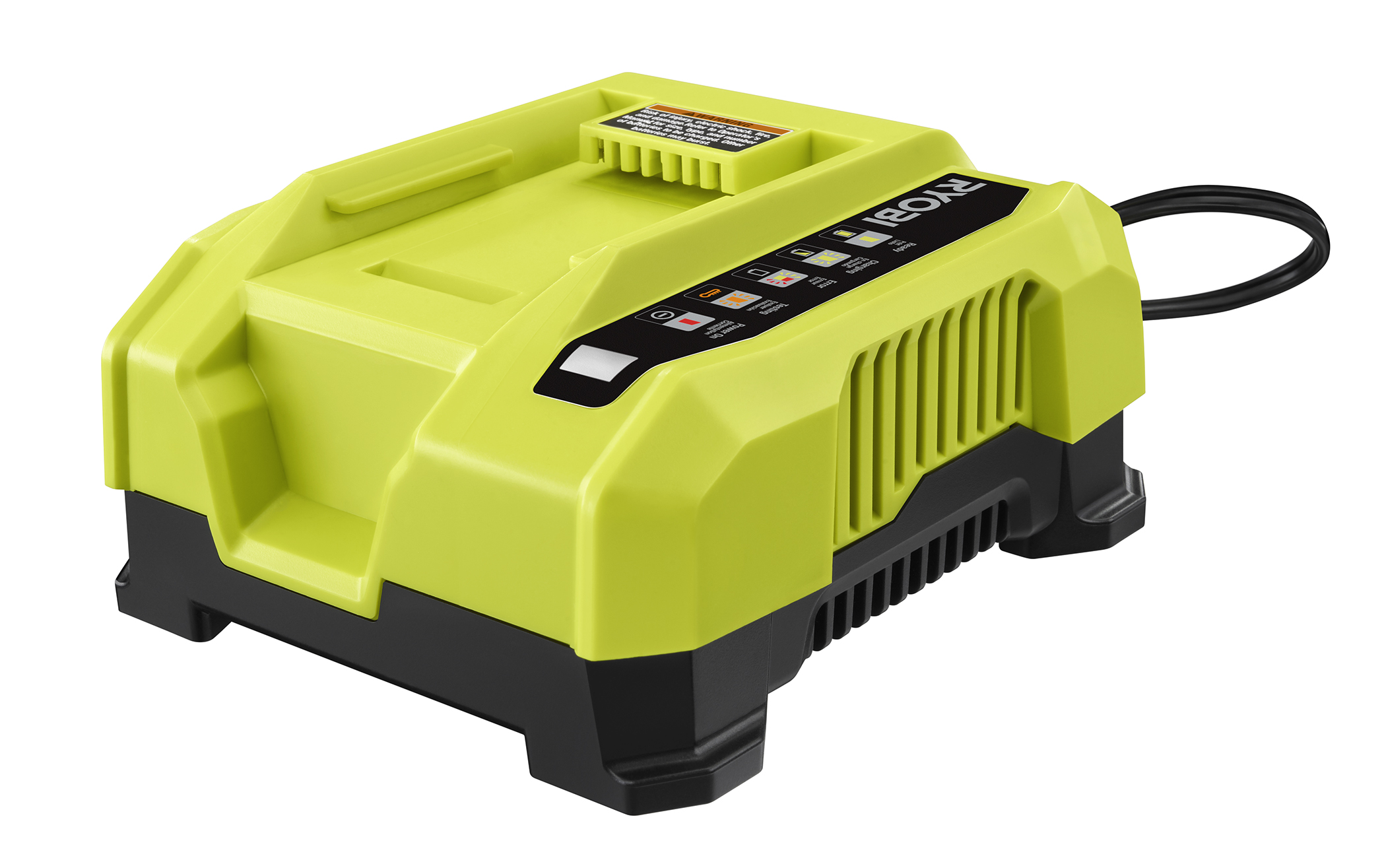 RYOBI 40V LITHIUM-ION RAPID CHARGER
For use with all RYOBI 40-Volt lithium-ion batteries
Advanced charging technology for battery protection and extended life
For use with RYOBI 40-Volt batteries only
Indicator lights that show the status as batteries are charged and maintained
LED temperature gauge lighting
Batteries sold separately
Specifications
Voltage: 40V
Cord Length: 3 Ft.
Includes
40V Lithium-Ion Rapid Charger
Operator's Manual
Reviews
40V LITHIUM-ION RAPID CHARGER
40V LITHIUM-ION RAPID CHARGER
is rated out of
5
by
70
.
Rated

5

out of

5
by
RapidChargeFTW
from
Must have for higher capacity batteries
Bought this to complement a new snowblower with twin batteries. Between the ~4 hours to charge with the included charger, and that it came with only one, getting another charger was a no-brainer. Unit is a little large compared to standard Ryobi chargers, but proportional to the batteries they are meant for. Cooling fan is a reasonable volume and only runs while it is actively charging which is a plus compared to the rapid chargers from some other tool brands. Absolutely recommend to anyone with 40 volt Ryobi tools. Excited to see how it holds up against regular use this winter!
Date published: 2020-10-17
Rated

5

out of

5
by
akrwbrow3
from
Really is fast!
I bought this as I was needing more batteries than I had to work continuously mowing lawns, cutting trees, and blowing. The standard chargers seem to take hours to charge batteries, so I had to sometimes wait. Once I got the fast charger though I can pretty much work continuously with only two 4 or 5 amp hour batteries, and the charger can pretty much keep up with whatever I am doing. Very happy with that, and wish I had purchased it sooner. It takes less than 1 hour for me to charge my 5ah battery now.
Date published: 2020-07-02
Rated

5

out of

5
by
Patmicahruth
from
love it
my children bought me a Ryobi 21 inch self propelled lawnmower and leaf blower. With both batteries I can JUST mow my lawn 1/3 acre. So I would not feel rushed they got me this rapid charger and now I really love Ryobi. The Rapid Charger only takes 40 minutes, I wish Ryobi gave customers a choice between regular charger or Rapid Charger when you purchase a tool or lawnmower. Don't hesitate to buy this rapid charger.
Date published: 2020-06-26
Rated

5

out of

5
by
Hubbard91
from
Super fast!
I read it charges in 15 minutes an wasn't sure. But it sure does it is great! Especially for a large property when you use 2-3 battery's every week! Couldn't be more pleased with my purchase & this product!
Date published: 2020-06-13
Rated

5

out of

5
by
joe101
from
Charges Fast, not too loud
Super fast charge even on the big 7.5ah battery. Simple to use with auto-detection so it wont try and charge a hot battery.
Date published: 2020-06-18
Rated

5

out of

5
by
Dwayne F
from
Fast charger
I don't regret buying this charger...charges much faster than the other charges..... thanks Ryobi..!!
Date published: 2020-05-30
Rated

5

out of

5
by
PopsiQ
from
Best Charger EVER
This is the fastest charging unit I have ever owned. Is sounds like there could be a thyristor or something building the charge (like the one in an electronic camera flash unit?) I fully-charges a 40v Ryobi battery in about one hour. When I'm working with one battery the other can be recharged to let me keep on going.
Date published: 2021-06-15
Rated

5

out of

5
by
jack521
from
Fast Charging
I bought this because the basic chargers that come with the tools are too slow. While they work, battery charging is 4+ hours on the big batteries, i.e. 6Ah with the basic charger. This rapid charger can charge a battery in about hour. This was very handy last week when we had a 3 day snow event and i was blowing snow with the Ryobi 40v snowblower 2-3 times a day. The snowblower takes two batteries so i needed a way to charge the batteries quicker. While it is expensive, it's worth it if charging time reduction is important to you.
Date published: 2021-02-09