+2
40V HP 8" Brushless Auger with 4.0 Ah Battery and Charger
Model: #RY40710
30% More Torque Than An Average Gas Unit
Ideal for Light Cultivation, Preparing Soil, and Digging for Fences and Landscaping
Powerful and Versatile for Light Cultivation, Digging for Fences or Soil Preparation
More Power. Longer Runtime. Longer Motor Life.
Features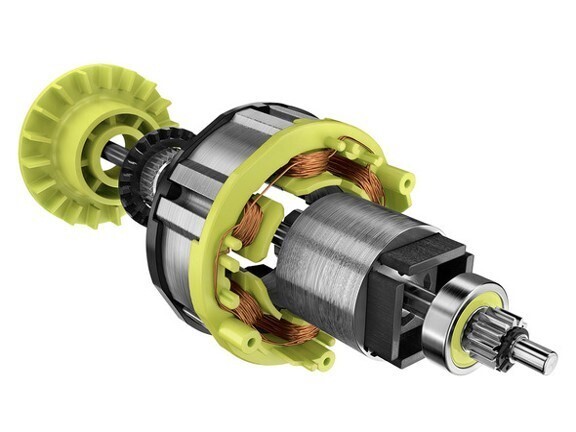 30% More Torque
Provided by the Brushless motor combined with advanced electronics and High Performance Lithium-ion Batteries compared to average gas augers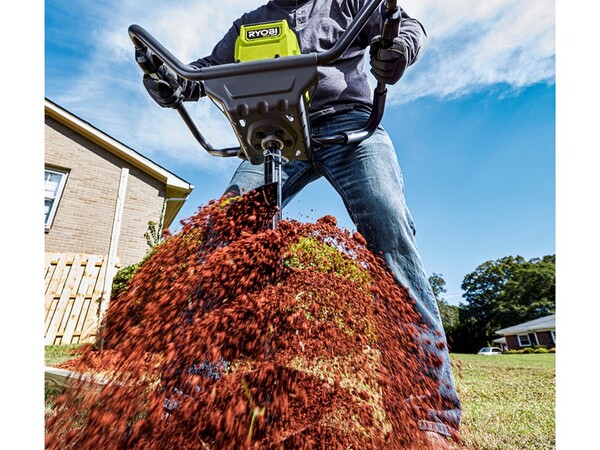 30% More Torque
Compared to a gas unit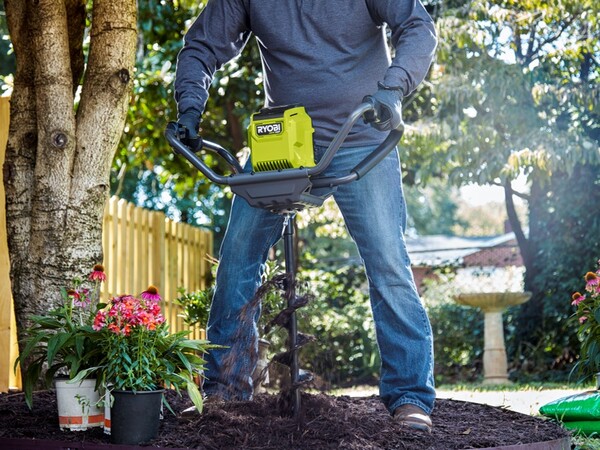 Lighter Weight
With reduced vibration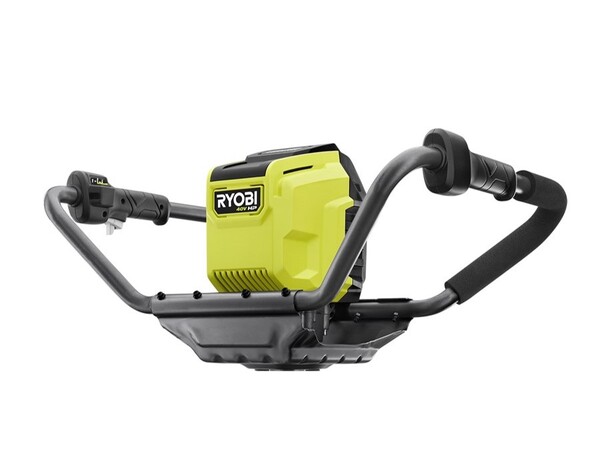 3 Speed Options
For versatility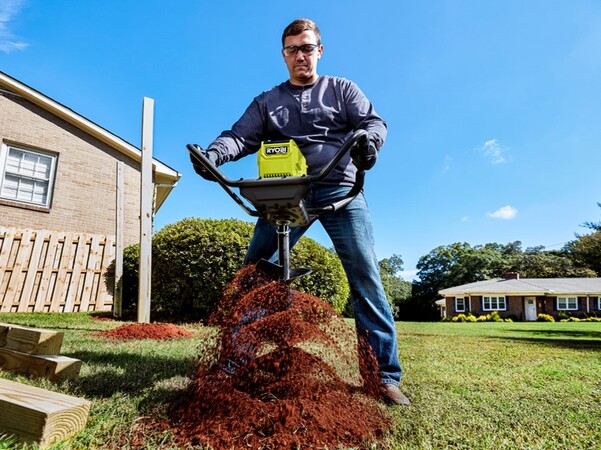 Ideal Applications
Light cultivation, preparing soil, and digging for fences and landscaping
Direction
Forward and reverse functions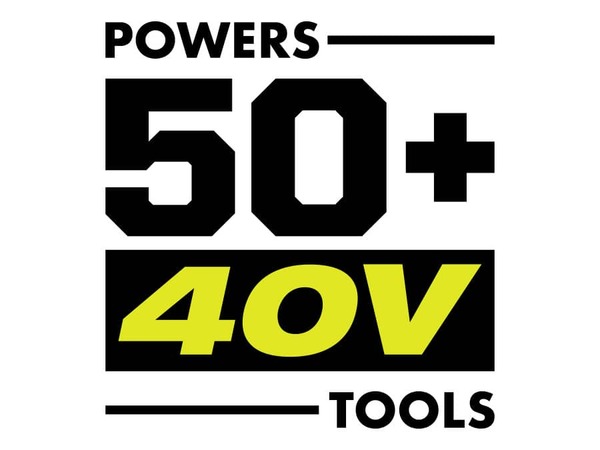 System Compatibility
Compatible with all Ryobi 40V tools and chargers
Specifications
Dimensions
Weight

40.2 lbs.

Warranty

5 year tool warranty and 3 year battery warranty

Battery

40V 4.0 Ah Battery

Auger Bit Diameter

8"

Operation

Forward and Reverse
Includes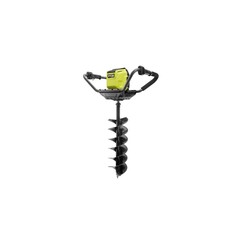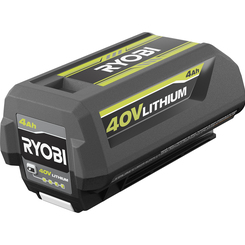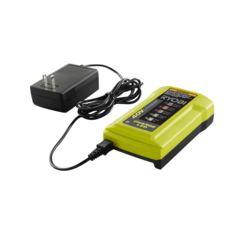 [#<ProductFeature id: 3985, title: nil, content: "40V HP Auger", photo: "c35a5079-38c6-455a-b38b-813f0145c4c7.jpg", created_at: "2020-12-04 01:16:30", updated_at: "2020-12-04 01:16:30", product_id: 1508, sort: 0, enhanced_type: "included_item", enhanced_group: nil, enhanced_icon: nil>, #<ProductFeature id: 3986, title: nil, content: "40V 4.0 Ah Battery", photo: "5818e215-9b3a-44ae-9ba3-4e84936f1da4.jpg", created_at: "2020-12-04 01:16:37", updated_at: "2020-12-04 01:16:37", product_id: 1508, sort: 1, enhanced_type: "included_item", enhanced_group: nil, enhanced_icon: nil>, #<ProductFeature id: 3987, title: nil, content: "40V Charger", photo: "74954e28-7130-4f57-ae71-3168c8ceb078.png", created_at: "2020-12-04 01:16:39", updated_at: "2021-03-15 15:05:51", product_id: 1508, sort: 2, enhanced_type: "included_item", enhanced_group: nil, enhanced_icon: nil>]
Reviews
40V HP 8" Brushless Auger with 4.0 Ah Battery and Charger
40V HP 8" Brushless Auger with 4.0 Ah Battery and Charger
is rated out of
5
by
11
.
Rated

5

out of

5
by
Cloviskid
from
Surprised with the Power!
I needed to set 10 posts and never used any sort of gas or electric auger before. Alway did it the old fashion way, post hole digger. The area I live has hard pan about 6" to 10" down so I was indecisive what to buy, gas or electric. Fortunately the local Home Depot on had this little gem. I had my doubts about a battery operated auger and ensured if it didn't perform as indicated on the packaging I could return it without any issues. Well, it's a keeper. I cut the 2' deep holes with minimal effort and on a single charge. Now, the ground is damp and I'm pretty certain I'd have difficulty during the hot dry summer when the soil is like concrete but it would be difficult with any type auger. I'm very impressed and would recommend to my friends.
Date published: 2021-02-05
Rated

5

out of

5
by
Paws1
from
Like All Ryobi Tools It Works Great
Like All Ryobi Tools It Works Great The Ryobi Auger Works great just what I needed for my raised gardens and flowers it saved my back a lot aches. It fits in with all my other Ryobi 18 volt tools. The ONE HP brushless motor is very strong and the 4AH battery lasts.This came with the new stye battery and charger The battery has a charge test button great to check before using . This 6'' Auger is 50% lighter than the average gas unit. It has forward and reverse plus the anti-kickback system is a great safety feature. Quick connect allows easy bit change. This makes my yard/garden work a lot easier from digging holes for bird houses posts/compost tilling to tilling the raised gardens soil packed from the winter snows and it is backed by a 3 year warranty,a win for all
Date published: 2020-12-22
Rated

5

out of

5
by
Steve Mac
from
Works great as an Ice Auger
I bought this intending to use it as an ice auger in the winter and earth auger in the summer. Because the unit runs in reverse, I was able to use my Jiffy auger blade on the ice. Had no problem drilling through 1 foot thick ice. After 5 holes the 4 amp hour battery still had 50% power. This is a heavy duty unit that I would highly recommend.
Date published: 2021-01-25
Rated

4

out of

5
by
Westy58
from
Plenty of Power!
Bought this for both yard work (post holes and tree planting) and ice fishing. LOTS of power for any hole digging! It is really a 5 star tool but the blades were so dull and coated with paint that I had to remove them, sharpen, and strip the heavy paint. The point of the auger also needed to be sharpened, especially for use in ice drilling. Definitely recommended.
Date published: 2021-03-15
Rated

5

out of

5
by
Kingssonservices
from
40V HP 8" Brushless Auger with 4.0 Ah Battery
The RYOBI 40-VOLT HP LITHIUM-ION CORDLESS EARTH AUGER WITH 8 IN. BIT AND 4.0 AH BATTERY AND CHARGER INCLUDED is an impressive little beast. It arrived well packaged and in good time. Let me start with the only negative I could find, the charger plug where it plugs in, the prongs were a little bit crooked in the plastic from the manufacturer. I had to rebend the blades to be able to plug in the charger. Assembly was easy and we took it out for a test run drilling into wet heavy clay ground. It preformed flawlessly, we drilled a 30 inch hole in less than a minute. Try doing that with a standard two handled post hole digger. No way could you do that by hand so fast. It loaded down a little bit, but did not bog down in the wet sticky clay. Time will tell how it handles when we get into rocks and roots. Good job guys, my son was impressed. One more good tool to put to use.
Date published: 2020-12-31
Rated

3

out of

5
by
vin2021
from
Decent homeowner / light agricultural tool
I bought this to dig some holes in slightly rocky / clay soil at home and for the same purpose at some country acreage (clay) It worked well in rocky soil except when encountering larger rocks (as I expected) The anti kickback mechanism was "ok". It "might" have worked when I hit a root but my hand did get jarred first and I released the trigger. It didn't feel like there was enough anti-kickback in play. Power switch feels flimsy. They should have designed something more rugged. Apart from that, it made short work of hole digging. Beats working with a shovel / pick / post hole digger for hours.
Date published: 2021-04-13
Rated

5

out of

5
by
BuckeyeBad
from
Surpring power
I'm not much of a Ryobi user and honestly I bought this tool thinking I might have to return it. But after one week of using it I'm impressed. The power is on par with a gas auger, it's extremely easy to use, and very durable. I dug several 32" deep holes with relative ease. I do still use a 2 handed post hole digger to extract the dirt, and I'm looking for a bit extension so I don't have to take the auger to the ground for our frost line requirements here. But it worked great battery life exceeded my expectations. Good job Ryobi. Only complaint is the anti-kickback is not that effective.
Date published: 2021-04-09
Rated

4

out of

5
by
Cheap DIYer
from
1 Hole down atleast 17 more to go
I bought this yesterday after I debated doing 18 holes manually or getting the $300 auger and my contractor neighbor said, that's a lot of holes it might be worth getting the tool. So after getting it and charging it yesterday I got to try it out today. The package only includes their standard charger which takes ~3 hours to charge the 4Ah battery from empty, Nothing in the instructions or package tells you that so I didn't get it use it right away I figured it out when I saw that the charger outputs 1.5 amps. They will send you a rapid charger for free after you register the product and that will charge the pack in less than an hour. (Why not include the rapid charger in the package if you're going to give it away for free anyway? I could have started using it the day I got it and have more holes dug for my fence posts.) Anyway I got to use it today and it does save you the manual labor of digging. The 8" bore it comes with is good for 4x4 or 6x6 wooden posts, but is a bit overkill for my steel posts. I wish they had a 6" bore version. Just means more concrete for me to fill the hole. I set it on low speed and the kickback stopping mechanism didn't really work well as the unit almost ripped out of my hands when it hit a large rock (4"-6" size rock). It digs out smaller rocks without too much issue. I have to also get my technique down. You really need to hold that thing tight if you don't want it to wrestle away from you and if you hold some of the weight of the machine, when it hits a rock there is less kickback. Maybe the anti-kickback mechanism is when you are in high speed. I love the fact there is a reverse (which you don't get with gas augers). I still need to clear out big rocks by hand and scoop out some of the lose dirt from the hole by hand as well, but it beats using a post hole digger. Now I can dig holes to transplant my blueberry bushes and plant some new trees as well next year. The other benefit is that I can use this battery in a future ryobi lawn mower purchase after my current corded electric mower from a different brand dies. The magnet in the casing of that motor is breaking apart and jamming the rotating stator.
Date published: 2021-03-14