40V 2.6 AH LITHIUM-ION BATTERY
Model: #OP4026A
Compatible with all RYOBI 40V Lithium tools and chargers, the 40V 2.6 AH Lithium-ion Battery is the perfect addition to your RYOBI 40V tool collection. It's lithium-ion cells deliver fade-free performance from start to finish. The convenient on-board battery life indicator keeps you informed while you're out in the yard tackling your landscaping jobs. The 40V 2.6 AH Lithium-ion Battery's is perfect for higher efficiency tools like 40V hedge trimmers and string trimmers. RYOBI 40V Lithium surrenders nothing but gas.
Features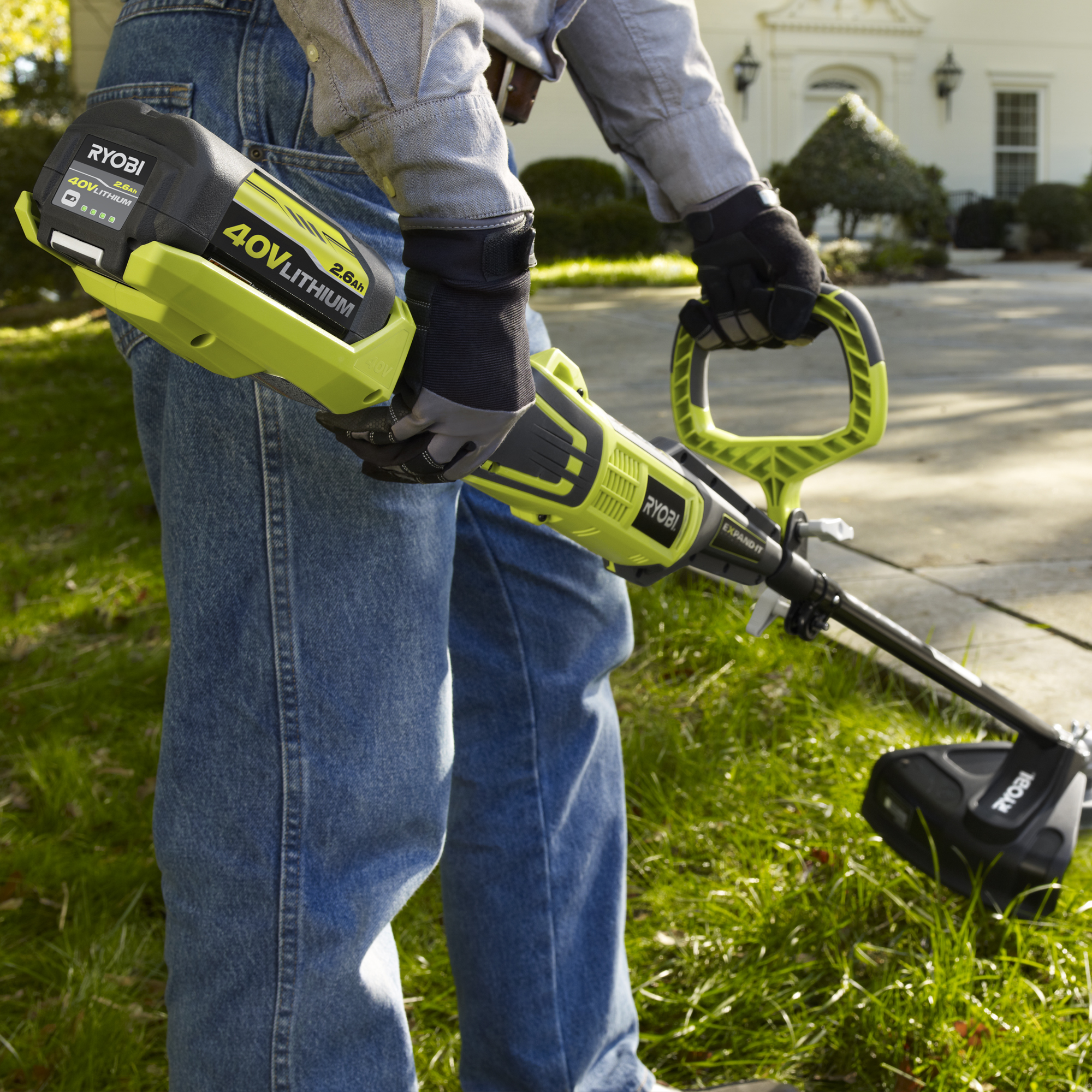 Compatible with All RYOBI 40V Lithium Tools & Chargers
Lithium-ion Cells Deliver Fade-Free Performance
On-board Battery Life Indicator for User Convenience
2.6 AH Capacity: Ideal for 40V String Trimmers & Hedge Trimmers
Specifications
Voltage: 40
Amp Hours: 2.6
Cell Type: Lithium-ion
Compatibility: All RYOBI 40V Lithium Tools & Chargers
Weight: 3.5 lbs.
Warranty: 3 Year Limited
Includes
40V 2.6 AH Lithium-ion Battery
Operator's Manual
Reviews
40V 2.6 AH LITHIUM-ION BATTERY
40V 2.6 AH LITHIUM-ION BATTERY
is rated out of
5
by
572
.
Rated

4

out of

5
by
George
from
PLENTY OF POWER
For over a year I have had 3 tools that use this battery: a chain saw, a string trimmer, and a tiller. I bought this third battery so I could complete any job I tried as long as there is a power source for the chargers (I have an inverter for my truck batteries for where electric outlets are not handy). There is a real advantage to using batteries instead of cords that seem to get in the way. The battery powered chainsaw is slightly more powerful than my plug-in chainsaw. The tiller is on a par with my Mantis tiller. Neither involve storing and filling with gasoline and the at-least-annual repairs to the small gas engines. The string trimmer actually out-performs the gas versions.
Date published: 2016-04-19
Rated

3

out of

5
by
DIYER
from
Powerful but
My Brother bought the 40V leak blower, after trying his I went and bought myself one. The battery leak blower was more powerful than my electric one and no cord "Win-Win". That was in November, in May the battery came up defective on the charger. My brother came up defective a couple of months after purchase also. You can't leave it on the charge after it's done charging. I have several 18V batteries for drills that I have had for several years, the charger shuts off when the battery is charged. If Ryobi would incorporate the shut off for the charger this would be the best. As it is I'm not going to buy another one, the batteries are too expensive to replace them every 6 months.
Date published: 2017-04-13
Rated

2

out of

5
by
NewhallGeorge
from
Batteries are the achillie's heel of power tools.
May of last year I bought a lawn mower, hedge trimmer, leaf blower and cord trimmer, all Ryobi 40V battery powered tools. I was very satisfied at the time with the performance of the tools. A few months ago, one of the three 40V batteries would not charge. I am very disappointed that the battery would fail so soon. a replacement battery at HomeDepot is $120. If I had known these batteries would fail so soon I would have bought gas powered tools. I will never buy battery powered lawn tools again until they come up with batteries that last at least 4 years.
Date published: 2017-06-05
Rated

5

out of

5
by
Delski
from
Power Power Power!
I'm a true convert to the Ryobi battery operated lawn systems. I gave up gas powered lawn tools when I downsized and moved from acreage to a city plot. This powerful battery is the heart of the Ryobi 40V lawn system. I say systems because that's what they are! Keep your receipt - Please Please do this. You will be rewarded by finding that the warranty may apply for a replacement as I did. Batteries wear out. But do the math folks - a battery every 3-5 years is about 20-30 bucks a year. COmpare that with gas engine maintenance. (and fuel alone). You get the picture.
Date published: 2017-03-04
Rated

5

out of

5
by
Marky mark 77
from
Very satisfied
I bought my battery powered string trimmer mid season last year. So far it has performed way past my expectations. I have a larger neighborhood yard, and the battery has made it through trimming the front and back yards. This is great since I have a large fenced back yard that requires quite a bit of trimming. One suggestion though, it is my recommendation to switch out the auto feed head with a better solution. Mine did not work very well. I put my old trimmer head on my new trimmer. There is plenty of power. This is a very good product other than the auto feed head. Thanks!
Date published: 2016-04-18
Rated

1

out of

5
by
Caroline
from
Defective light came on after 2 months
I bought this 2 months ago and when I put it on its charger the light flashes red to green which means defective. I contacted Ryobi through their website and the only way to do a warranty claim is through one of their authorized service centers. I went to their "service center" which was a hole-in-the-wall back door lawn mower repair shop which operates in a sketchy part of town and didn't even have a sign out front. I had to knock on an overhead garage door so they'd open up for me. The desk was a disaster with paper and parts everywhere. He said he'd send it in a and call me in about 2-3 months. I'm hoping the defective battery was a fluke because I never want to go through this again. Really can't understand why I couldn't mail it to Ryobi myself.
Date published: 2016-09-18
Rated

1

out of

5
by
DJohn
from
Does not last
I have used this type of battery in a couple of different Ryobi tool and have had nothing but trouble with the charging system, I do nor recoment purchasing this product on anything it powers. Look else where on the internet and you will see many other testamonials to the same problem. When the battrery is charged it has plenty of power but getting it to charge is too much of a probmem
Date published: 2017-01-07
Rated

1

out of

5
by
Tired of Failures
from
NOT Ready For Prime Time
When buying something, read the bad reviews first. There are dozens here with the same story. Been through 4 replacement batteries and 2 replacement chargers in 2 years. Won't last more than a few charges or a few months of occasional use. THe only good thing is Ryobi Support will replace battery after a 10 minute call when they ask you for serial numbers of your charger, battery and tools. It's a silly exercise that's getting OLD. Hope they find out how to make a decent battery before warranty runs out. DON"t BUY!
Date published: 2017-10-19