+0
40V 7.5AH LITHIUM-ION BATTERY
Model: #OP4075A
+0
If you have a large yard or need extra run time, the RYOBI 40V 7.5 Ah High Capacity Battery is the perfect addition to your RYOBI 40V collection. This 7.5 Ah battery gets 4X more runtime than the RYOBI 40-Volt 2.0 Ah Compact Battery while delivering the same fade-free power and performance. All RYOBI 40 Volt batteries are compatible with all RYOBI 40V Tools and come with an on-board fuel gauge to display remaining runtime. This battery works with select tools in the RYOBI 40-Volt collection, refer to the compatibility page for more information.
Features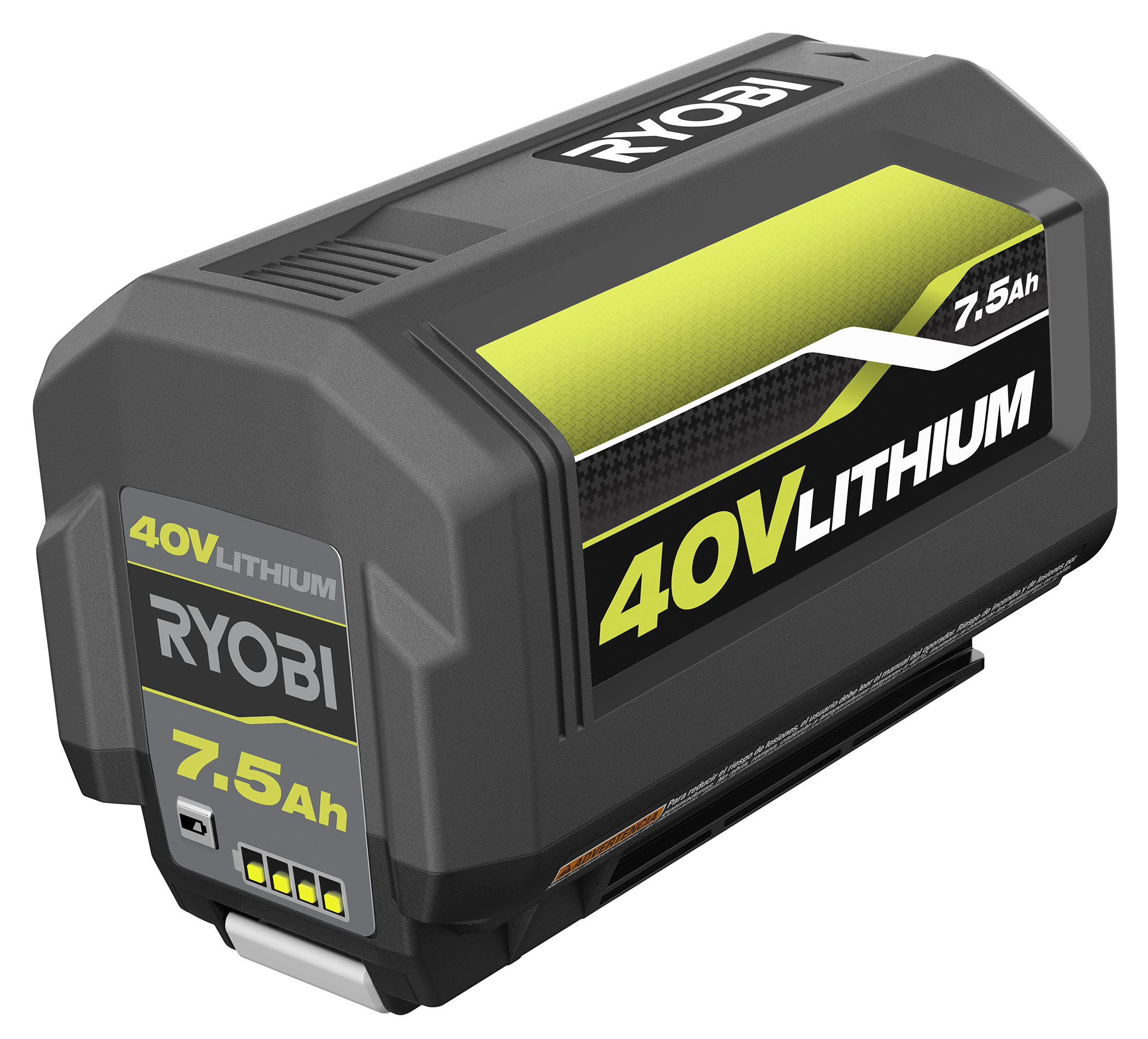 40V 7.5AH LITHIUM-ION BATTERY
4X more runtime than the RYOBI 40V 2.0 Ah Compact Battery
Fade-free lithium-ion power
On-board fuel gauge displays remaining runtime
Charges in 75 minutes or less with the RYOBI 40V Rapid Charger (Model # OP406A, Internet SKU 312564301)
Specifications
Voltage: 40
Amp Hours: 7.5
Cell Type: Lithium-ion
Compatibility: Select RYOBI 40V Tools (see the compatibility page for more information)
Warranty: 3 Year Limited
Includes
40V 7.5 AH Lithium-ion Battery
Operator's Manual
Reviews
40V 7.5AH LITHIUM-ION BATTERY
40V 7.5AH LITHIUM-ION BATTERY
is rated out of
5
by
17
.
Rated

5

out of

5
by
timr2019
from
Awesome Battery!
I had received a backpack blower last year as a gift. The battery that came with it was great, but this one is awesome. Sure, it's a little heavy, but that's to be expected for something with as much juice as this has. I have been able to blow-out my garage, crawl space, driveway, and all around my property without going down even one bar. I also have a battery-operated lawnmower that this fits in, and was able to mow my half-acre lot without stopping. Definitely recommend!
Date published: 2020-05-08
Rated

5

out of

5
by
cc67
from
Holy Runtime
I got this battery a few weeks ago and it has made my runtime on my RY401130 double! This is an awesome battery and I would recommend it to everyone.
Date published: 2020-05-08
Rated

4

out of

5
by
Farnk
from
Good value for the money
Purchased it with the Jet Blower about 1 month ago. Used weekly so far. I just purchased the hedge trimmer and it does the job. It has plenty of juice to power the blower and trimmer, but I wish it would last longer. I get about 45 minutes before it needs to be recharged. (Keep in mind I'm used to gas-powered everything) It charges quickly.
Date published: 2020-05-28
Rated

5

out of

5
by
The Ryobi demon
from
Great run time
A little heavier than the smaller battery but worth it's weight in gold for much longer run time. two and one half acres of trimming and weed wacking used to take two batteries. Completed the job with this one battery and still had two bars left on the battery fuel gauge. JUst plan for longer charge time.
Date published: 2020-05-08
Rated

5

out of

5
by
Wax man
from
Power to finish the job!
I have an acre and half yard and this powerful battery can finish the job! Never buy gas again. My new mower and this battery are a great combination.
Date published: 2020-05-09
Rated

5

out of

5
by
Nick R
from
Excellent run time!
I got this around a month ago and couldn't be happier! No more cycling batteries for long lawn projects on my large property!
Date published: 2020-05-08
Rated

5

out of

5
by
mmeyer1956
from
Powerful
have been using the lawnmower for over a month now. Battery lasts the whole way through.
Date published: 2020-06-09
Rated

5

out of

5
by
Okie Handyman
from
Worth EVERY Penny
Purchased to use with my new trimmer/edger and blower, this one battery takes the the place of two smaller ones and actually does not weigh as much as its bulk would suggest. In the trimmer, it actually helps give counter balance to the unit. The added Amp Hours have allowed me to Trim, Edge and use the Blower and still have 2 to 3 bars of power. I live on a corner lot with a wrap around sidewalk and curb so there is ALOT of edging to do, not to mention the trimming and post mowing clean up. I am more than satisfied with the performance and power of the unit. The only thing that could bring down my confidence in this battery is if it starts having cell life or discharge issues. So far so good and with my experience with Ryobi Gas powered tools, I am hoping for similar results with the electric tools as my gas powered tools are still going strong after 8 seasons of hard work.
Date published: 2020-07-28