+4
40V 525 CFM JET FAN BLOWER WITH 4AH BATTERY & CHARGER
Model: #RY40480VNM
Jet fan design for increased airflow
GAS-LIKE POWER™ delivers 525 CFM and 110 MPH
Turbo button and variable speed trigger provide superior power and ultimate control
+4
Features
GAS-LIKE POWER™
With cordless convenience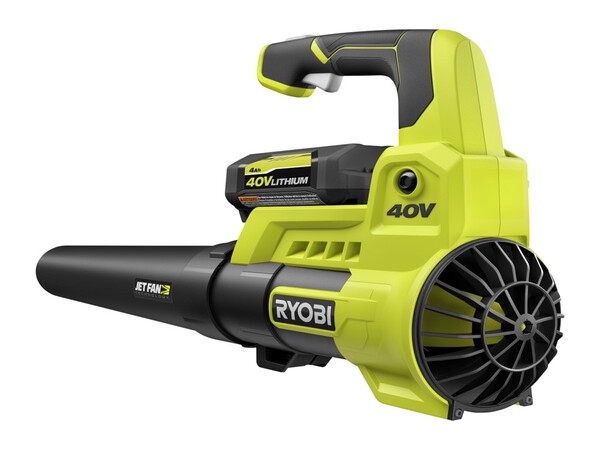 Jet Fan Technology
For increased airflow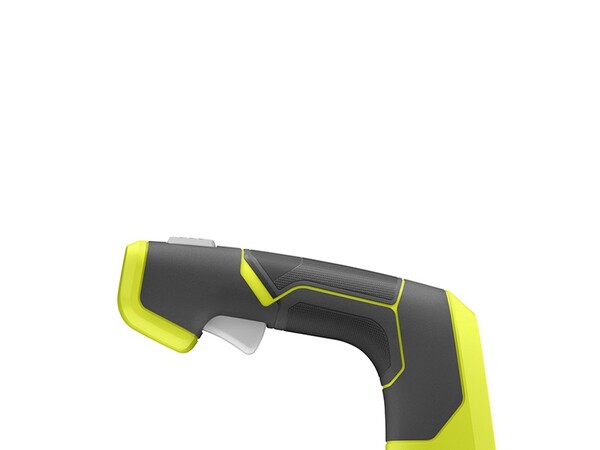 Variable Speed Trigger
For ultimate user control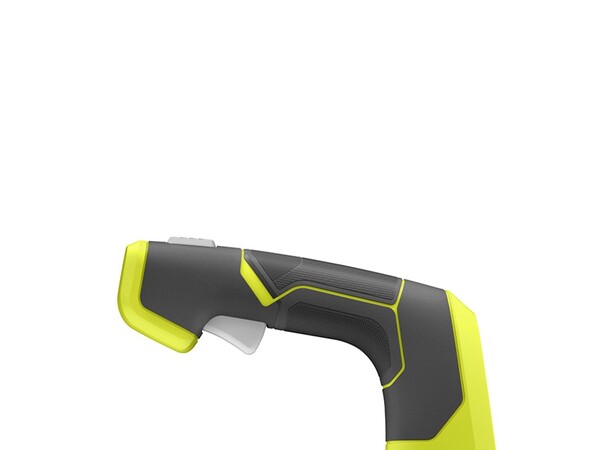 Turbo Button
Provides superior power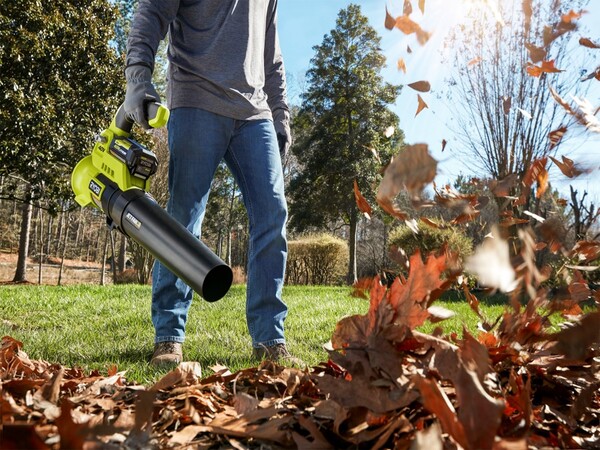 Performance
Delivers a powerful 525 CFM and 110 MPH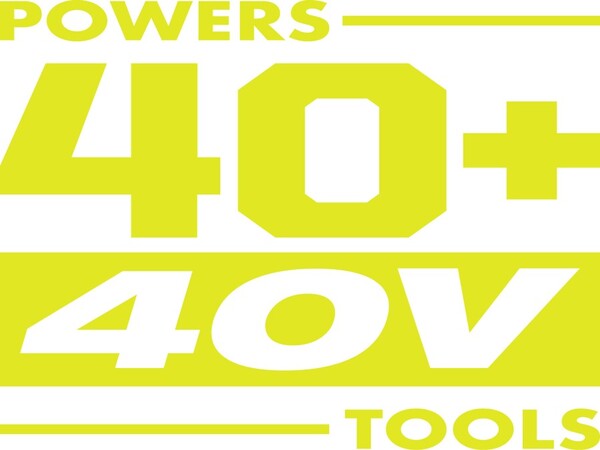 System Compatibility
Compatible with all RYOBI ay40V tools and chargers
Specifications
Dimensions
Battery

40V 4.0 Ah Battery

CFM

525

MPH

110

Throttle

Variable Speed

Warranty

5 year tool warranty and 3 year battery warranty

Weight

9.4 lbs.

Watt Hours

144
Includes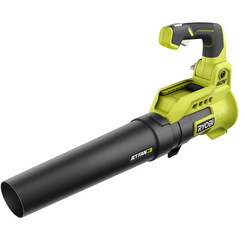 40V 525 CFM Jet Fan Blower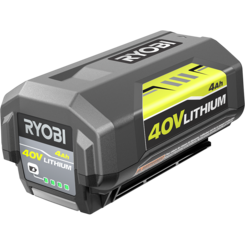 [#<ProductFeature id: 2412, title: nil, content: "40V 525 CFM Jet Fan Blower", photo: "239ecd5b-e16c-477a-9494-a5cd7af9baa3.jpg", created_at: "2020-09-02 15:41:05", updated_at: "2020-09-02 15:41:05", product_id: 1396, sort: 0, enhanced_type: "included_item", enhanced_group: nil, enhanced_icon: nil>, #<ProductFeature id: 2413, title: nil, content: "40V 4.0 ah Battery", photo: "909463fd-1c61-4cbc-be6b-cacc216c4b20.png", created_at: "2020-09-02 15:41:06", updated_at: "2020-09-02 15:41:06", product_id: 1396, sort: 1, enhanced_type: "included_item", enhanced_group: nil, enhanced_icon: nil>, #<ProductFeature id: 2414, title: nil, content: "40V Charger", photo: "3cbd1e2b-dd4c-426b-b796-af1ac776489b.png", created_at: "2020-09-02 15:41:08", updated_at: "2020-09-02 15:41:08", product_id: 1396, sort: 2, enhanced_type: "included_item", enhanced_group: nil, enhanced_icon: nil>]
Reviews
40V 525 CFM JET FAN BLOWER WITH 4AH BATTERY & CHARGER
40V 525 CFM JET FAN BLOWER WITH 4AH BATTERY & CHARGER
is rated out of
5
by
219
.
Rated

4

out of

5
by
Adscientist
from
Does the trick!
I bought this the other day. My leaves are piling up on my deck. It got the leaves, the small twigs, the acorns... All of it is now gone or on the properties adjacent to me. I was looking for a product with enough power to get it all and while it couldn't get some of the leaves stuck between the deck boards, it did the bulk of the work, and that is what I was looking for. The battery adds a lot of weight to this, but I am still getting used to it. Overall I would say give it a try. I REALLY enjoy not having a cord and it charged in a reasonable amount of time for my first use. The only thing you'd wish to have are more trees and more leaves.
Date published: 2020-10-05
Rated

5

out of

5
by
Rosey4
from
Hi speed blower
Bougjt it last month..runs great, does an excellent nob of cleaning the area.
Date published: 2020-11-30
Rated

5

out of

5
by
JCooler
from
Great blower!
No more mixing gas, replacing carburetors, nor smelling like exhaust, or frustration because your blower won't crank. Simply pick it up and press the button. I love it! This blower has plenty of power, and easily beats my existing 50cc gas powered blower. It's a good thing it comes with a 4 AH battery, as it's a bit heavy on battery usage. Don't get me wrong, I've been able to finish any job without running out of battery. But if I compare it to my Ryobi weed wacker (same physical size battery, but only 2.6 AH), the blower runs it down a lot faster than the weed wacker. Not really a complaint, just an observation.
Date published: 2020-10-07
Rated

5

out of

5
by
Dave in the Woods
from
Powerful with good battery life
I needed a good leaf blower, and wasn't interested in another gas-powered tool to maintain. I was skeptical about the power of a battery operated blower, and concerned about the amount of work that could be done before a recharge. I decided to try the Ryobi jet fan blower based on another owner's recommendation. I have been very happy with both the power of the blower and the battery life. I'm also pleased to have a tool I can break out for small jobs and not have to worry about starting a gas engine. For really big jobs, I'd suggest getting a second battery. But for most of the stuff I've done, a single charge cycle on one battery is enough.
Date published: 2020-11-16
Rated

5

out of

5
by
moondance
from
Amazing Power
I purchased this as part of a combo when I purchased my lawnmower this summer. I have never owned a blower and have always raked leaves the old fashioned way. I used this blower for the first time yesterday and I have to say I was very impressed. I was able to complete a job that typically takes 4 or 5 hours in just 45 minutes. Wow!!! I have to admit I felt a little guilty because I didn't get the exercise I usually do when I rake, but I think I can get over that! My only regret is that I waited so long to take the plunge. Thank you for such an amazing product, great power, ease of use, and relatively quiet.
Date published: 2020-10-29
Rated

5

out of

5
by
Aaron616
from
Lots of punch in a small package!
This blower blows my mind! Pun intended. Nice, compact unit with a lot of power. I was very impressed during its first use, that I ended up moving everything in my yard, and even inside my house, up into a nice pile in the back yard! You would never think to use a gas-blower indoors, but with this unit you can. I brought it to work(retail sales floor) and made short work of all the hard to reach dust bunnies that vacuums have never gotten to. They will have to buy their own because I'm in love with this blower, and it will live out it's days at my house. As a bonus the battery is interchangeable with a 40v string trimmer I bought about 7yrs ago. Win Win. Great product would recommend to all.
Date published: 2020-09-19
Rated

5

out of

5
by
AaronD
from
Great leaf blower
I had received this as a gift and it is the best leaf blower with it being only powered by a battery.
Date published: 2020-11-30
Rated

4

out of

5
by
Sara46
from
Just what I needed
I bought this 4 days ago and used it to blow the leaves off of the concrete patio the same day. It did the job easily. Very little required to put together, just adding the tube. I weighted it because it felt heavier than I expected. With the battery attached it was about 10 1/2 lbs. That might be a problem for longer jobs. I wish there was a way to attach a strap. I am an active 73 yr old woman with arthritis issues. One of the deciding factors for this purchase was that I already had the battery needed, saving money.
Date published: 2020-10-17