+2
40V 500 CFM Jet Fan Blower
Model: #RY40406BTL
500 CFM and 110 MPH of Clearing Force for GAS-LIKE POWER™
Turbo Button for Tough Debris
Variable-Speed Trigger for Absolute Precision
+2
500 CFM and 110 MPH of clearing force for GAS-LIKE POWER™
Features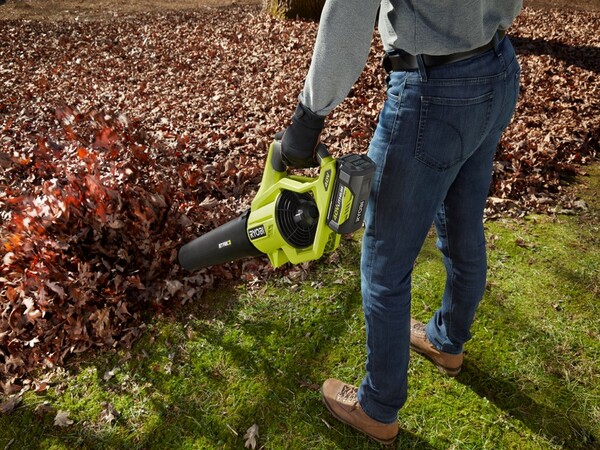 GAS LIKE POWER™
with Cordless Convenience
Jet Fan Technology™
For increased airflow
Variable Speed Trigger
For Ultimate User Control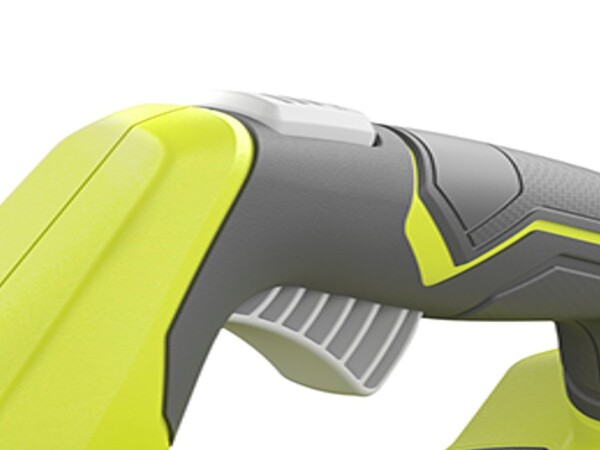 Turbo Button
Provides superior power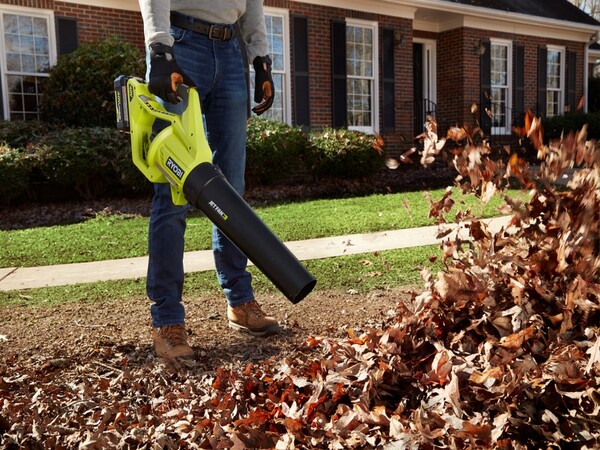 Peformance
Delivers a powerful 500 CFM and 110 MPH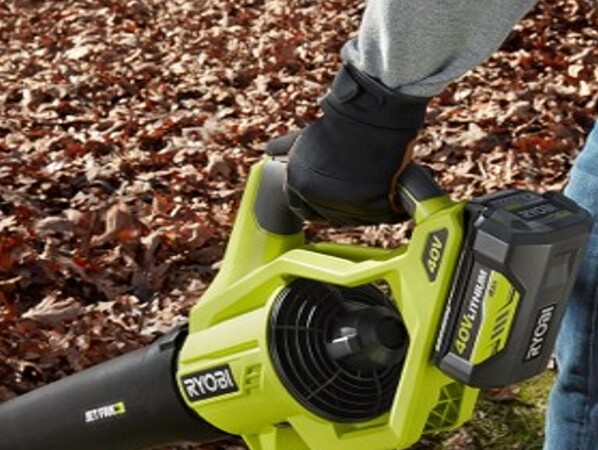 Soft Grip Handle
For user comfort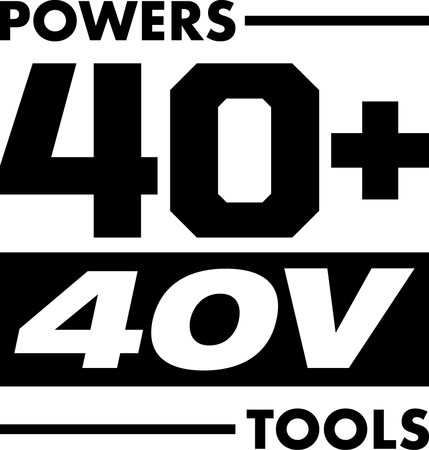 System Compatibility
Compatible with all Ryobi 40V tools and chargers
Specifications
Dimensions
Weight

5.7 lbs.
Details
Battery Platform

40V

CFM

500

Decibels

68

MPH

110
Warranty
Warranty

5 Year Limited Warranty
Includes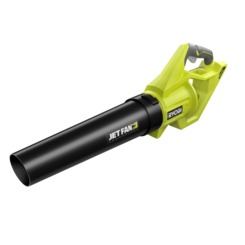 40V 500 CFM JET FAN BLOWER
[#<ProductFeature id: 3460, title: nil, content: "40V 500 CFM JET FAN BLOWER", photo: "2351940b-5e49-4bd6-bb09-3eb45667a47f.png", created_at: "2020-11-05 22:54:35", updated_at: "2021-04-29 17:57:39", product_id: 1414, sort: 0, enhanced_type: "included_item", enhanced_group: nil, enhanced_icon: nil>]
Reviews
40V 500 CFM Jet Fan Blower
40V 500 CFM Jet Fan Blower
is rated out of
5
by
66
.
Rated

5

out of

5
by
TIRADE
from
LOVE IT!
My house surrounded by a variety of trees each dropping leaves at different times in the fall producing a continual work effort. I did own a cord leaf blower but seldom used it because I really didn't like having to deal with the 100' cord. Now with the Ryobi battery powered blower my problem has turned into a 10-15 minute effort each time. And since I mulch leaves with my lawn mower I simply blow the leaves from the drive and sidewalk onto the grass. This Jet Fan Blower is quite powerful and I especially like the variable speed feature for more controlled blowing. So I highly recommend the Ryobi RY40406BTL Jet Fan Blower.
Date published: 2020-10-21
Rated

4

out of

5
by
Scotter
from
It's Handy, but not for long.
It's handy, no cord, quick to use, but for short duration. I tested with a fully charged battery and got 13 minutes of continuous run time without ever using the turbo button. It's not as powerful as my electric blower, but strong enough to blow leaves out of the garage and grass clippings off on the driveway without dragging out a cord, so overall, I'm pleased. It works for what I needed to do, and my wife can handle it too.
Date published: 2020-10-05
Rated

4

out of

5
by
BobboSRQ
from
Great product but didn't last long
The blower works great and I was able to do all my yard work easily. But after 2 1/2 years it just died I thought warning. I just used it for blowing leaves once every week or so, so it wasn't heavily used. Rather than try to get servicing for which I would have to find a dealer and deliver it or pay mailing, I threw it out and bought a new one and hope it lasts longer.
Date published: 2020-10-14
Rated

2

out of

5
by
John Jay
from
Great performance, for 1 year.
Purchased 12 months ago. Very happy with performance (CFM + battery life). Then, all came to a scratching halt. Battery would not recharge. 3 year warranty, Ryobi provided a new battery ($139 retail). We'll see how long this lasts.
Date published: 2020-11-02
Rated

5

out of

5
by
Jura
from
Great leaf blower
Replaced my gasoline leaf blower, and I am very pleased with the 40 volt Ryobi. It has the same potency as the gas blower, and the convenience with the battery is that you just plug the battery and go. No hassles of priming, chocking, pulling!! Just would like to be able to get a faster recharge. It takes about 2 hours to recharge the 4.0 mha battery. Ordered a spare to finish yard. I can get about an hour of work with two charged batteries.
Date published: 2020-11-10
Rated

1

out of

5
by
Wisguy91
from
Horrible quality for Ryobi product
I have purchased two of them. The second after the first failed after 6 mo. Gave them the benefit of the doubt. Got the second one and lasted 2 mo. before it failed and is now shipped back in for warranty repair. It's taking a long time. Going on a month now. Not desirable during leaf season.
Date published: 2020-10-15
Rated

5

out of

5
by
Anonymous
from
Improved Design
This is my second Ryobi Jet Blower, and I do have an assortment of Ryobi tools - invested in the batteries like many of you. This blower is an improved design for the air intake, the previous design tended to pull at my clothes. For the connivence of quick on, and small to medium size tasks, this is a great product. This is not the best match if you want to clear a thick pile of wet leaves for an entire yard.
Date published: 2021-02-25
Rated

5

out of

5
by
NC Dad
from
Quiet and powerful
The battery lasts longer than expected, even when using the "turbo" mode. Enough power to blow grass clippings out of the sidewalk/driveway, blow some leaves around, blow out the garage, and other fun activities like chasing my kids around with the blower all on one charge. The only downside is that the battery does take a long time to recharge from empty, about 2.5-3 hrs.
Date published: 2020-10-17