+5
40V 21" BRUSHLESS Snow Blower with (2) 5.0Ah Batteries & Charger
Model: #RY40860
Brushless Motor delivers GAS-LIKE POWER™
Clears up to 13 in. of snow without the hassle of oil or gas
Throws snow up to 35 ft. away
+5
Features
Brushless Motor
Delivers GAS-LIKE POWER™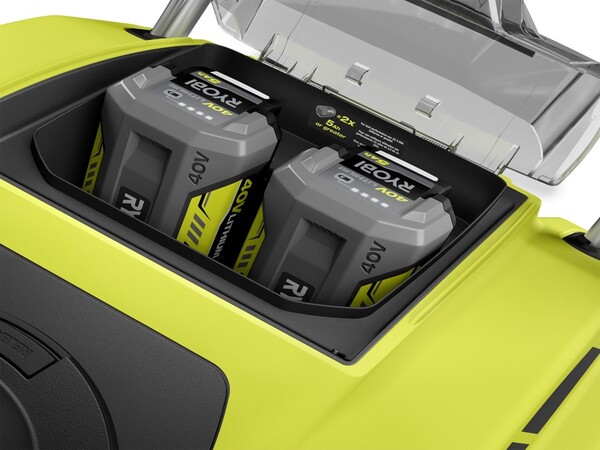 Dual Active Battery Ports
For optimal performance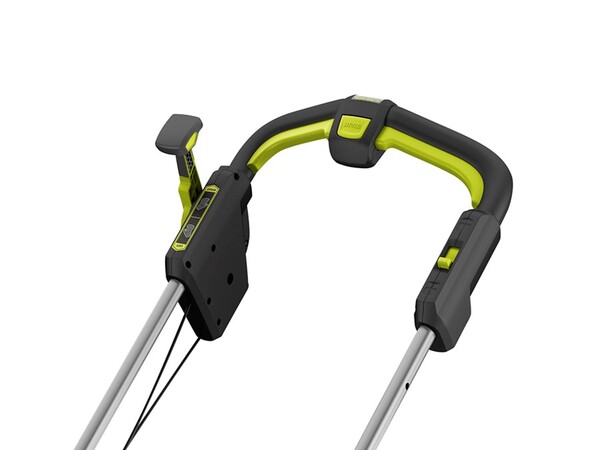 Variable Speed Auger
For more control and extended run time
180° Directional Chute
For superior snow-throwing control
LED Headlight Bar
For increased visibility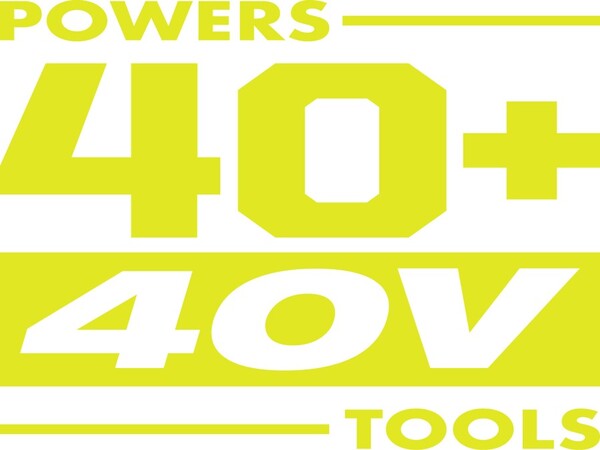 System Compatibility
Compatible with all Ryobi 40V tools and chargers
Specifications
Dimensions
Battery

(2) 40V 5.0 ah Batteries

Clearing Width

21"

Clearing Depth

13"

Clearing Distance

Up to 35 ft.

Chute

180°

Auger Material

Steel

Wheel Size

8"

Start Type

Push Button Start

Warranty

5 year limited-tool warranty and 3 year battery warranty

Weight

48.5 lbs.
Includes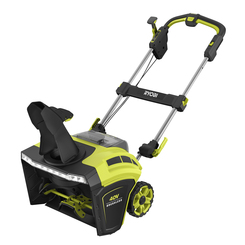 40V 21" Brushless Snow Blower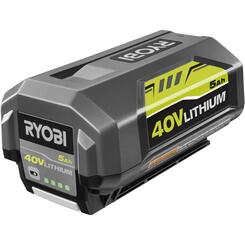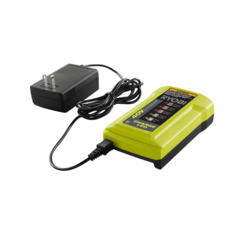 [#<ProductFeature id: 2463, title: nil, content: "40V 21\" Brushless Snow Blower", photo: "ab809073-e53e-4f06-8127-ab94621fcdbb.jpg", created_at: "2020-09-03 00:56:47", updated_at: "2020-09-03 00:56:47", product_id: 1160, sort: 0, enhanced_type: "included_item", enhanced_group: nil, enhanced_icon: nil>, #<ProductFeature id: 2464, title: nil, content: "(2) 40V 5.0 ah Batteries", photo: "12e09bb9-8e4b-4cfd-9bbc-ea48e1124f5f.jpg", created_at: "2020-09-03 00:56:48", updated_at: "2020-09-03 00:56:48", product_id: 1160, sort: 1, enhanced_type: "included_item", enhanced_group: nil, enhanced_icon: nil>, #<ProductFeature id: 2465, title: nil, content: "40V Charger", photo: "bd29c04f-c980-46fb-9573-8ef0be7e0e20.png", created_at: "2020-09-03 00:56:49", updated_at: "2021-02-03 08:33:10", product_id: 1160, sort: 2, enhanced_type: "included_item", enhanced_group: nil, enhanced_icon: nil>]
Reviews
40V 21" BRUSHLESS Snow Blower with (2) 5.0Ah Batteries & Charger
40V 21" BRUSHLESS Snow Blower with (2) 5.0Ah Batteries & Charger
is rated out of
5
by
226
.
Rated

3

out of

5
by
Cliffei
from
This thing works ok but major flaw
I am from Massachusetts, the land of snow. I just bought this snow blower this past weekend and of course I got to try it out two days later. It blew the snow ok but you have to push this thing with a little force. What happens is the top part of the handle collapses. Extremely annoying! There are locks halfway up the handle that really do a poor job of keeping it together. So, you have to shut it off, undo the locks, yank the top part up , set the locks and then the handle slides right back down again. I was expecting other issues but this one really surprised me and I don't see a fix for it. A real aggravation.
Date published: 2019-12-18
Rated

4

out of

5
by
Terry33
from
light weight and easy to use.
I really like this snow blower because it easy for me to use. Iam 81 and snow removal is a problem for me. its light weight and not having to start a motor sure helps. some suggestions: the handle locks (that adjusts the length of the handle) do not hold the handle well and pushing on the blower sometimes causes the handle to shorten, this has been mentioned by others before. a redesign here could help. I also found that the battery packs are sensitive to cold, you do mention this, but not very clearly. I had to move my charger indoors and I like to be careful where I charge lithium ion batteries. Over all I think this blower is a good buy.
Date published: 2020-02-13
Rated

5

out of

5
by
BobCamp
from
So much better than electric
I bought this due to owning about 30 Ryobi 18 volt tools. I was checking my older electric snowblower before a storm hit and noticed some parts needed replacement. Perfect time to just jump into the 40 volt line! The storm last week dropped 6 inches of snow and this made such easy work of it! And no cord to constantly trip on and get caught on corners. It was a mix of snow with a small layer of sleet on top. The only thing that I was somewhat disappointed in was only one charger being included. I just bought a second charger to charge both batteries and get back out there faster. Overall, I an very pleased with my newest Ryobi family member.
Date published: 2020-12-24
Rated

5

out of

5
by
snowblowdave
from
So easy my wife does it
I bought this a couple days of ago, just before the 2 big storms in Massachusetts on December 1, 2019 and December 2, 2019. My wife and I are both in our 70's and we can't shovel anymore. I used to snow blow the driveway but now we hire a guy with a plow. For the walkways and deck we considered a corded snow blower, but decided to try this Ryobi so we wouldn't have to deal with a cord. We weren't sure that a battery-powered blower would be up to snuff but Home Depot has a 30-day return policy so we decided to give it a try. It does what we want it do! Even in fairly heavy snow it did a good job. It's so lightweight that my wife seems to enjoy using it. It is her 'exercise'. In fact, I haven't even used it yet because she has so much fun with it. Today I cooked breakfast while she cleared the deck. The batteries seem to last about 45 minutes which is enough to clear the deck and do the walkways. Today's snow was a little on the wet side and it still did a good job, which surprised us because we thought it would only work with powder snow. However, a frozen rain/snow mix would be too much to expect. This thing is a keeper.
Date published: 2019-12-04
Rated

4

out of

5
by
DevinB
from
Great products but could use a few improvements
I bought this for our snow here in Western New York. Ryobi has never let me down before, but this definitely has room for improvement. On the first use was a wet heavy snow. The unit was hard to push because the top section on the handle kept sliding back in so you could not put much pressure on it for the wet stuff to actually fly out of the whole. I feel like the wheels are too small for this until. Most comparable gas power units have bigger tires that actually grip the surface. All in all it worked pretty well, but it could use some improvement.
Date published: 2021-01-11
Rated

2

out of

5
by
NEEDS HANDLE FIX
from
PLEASE GET FIX FOR COLLAPSIBLE HANDLE
I bought this snow blower in spite of the reviews c/o the collapsible handle because I have other Ryobi tools and several extra batteries. I presumed RYOBI would develop a quick fix for this problem because of the frequency of the complaints. It is frustrating to be referred to a Ryobi service center during the COVID PANDEMIC without customer service being able to correct the problem or even offer useful suggestions. I have attached clamps to the handle which can be quickly be tightened and released to keep the handle extended while in use and collapsed for storage when not in use. The wrench/screwdriver can be easily be stored in the battery compartment. A simple quick release clamp should be developed by RYOBI to provide to your many disgruntled customers or the handle should be changed to those similar to the collapsible handle on the Ryobi 21" lawn mover which I have. The snow blower seems otherwise adequate but I have had it only since Christmas and we have not had many snow storms. The screw for the discharge chute is difficult to comprehend! Should it be screwed in completely? What is it's purpose?
Date published: 2021-01-14
Rated

5

out of

5
by
Sheley1
from
The little snow blower that could.
A great, low maintenance option to traditional, noisy gas powered snow blowers. I was pleasantly surprised by the amount of heavy, wet snow this machine could throw. The LED headlights are a great help when using into the evening or early morning. We also have the Ryobi lawn mower that uses the same 40v batteries. The foldable handle reduces the amount of storage space when not in use. We have a collection of Ryobi woodworking tools and they do not disappoint. I would be happy to test out a two-stage version if Ryobi is up for the challenge.
Date published: 2019-12-21
Rated

5

out of

5
by
GJGJGJ
from
super easy to use
Snowblower is excellent. Highly recommended. Light feature is awesome. Only complaint is that my 5amp battery from my Ryobi lawnmower 'technically works' with this snow blower BUT that battery gets stuck in the battery compartment as it does not clip out like the 2 furnished batteries that came with the snow blower. That said I am not very likely to ever have to use that 3rd battery, I'm just hoping that the 2 batteries I have for this clips fine into my lawnmower as I was counting on utilizing that second battery for the summer. I just did buy my lawnmower this last year.
Date published: 2020-11-19