+3
40V 20" Brushless Snow Blower with 5Ah Battery & Charger
Model: #RY40850
+3
The RYOBI 40-Volt 20 in. cordless snow blower is engineered to remove snow quickly from patios, decks and driveways. With a powerful brushless motor and load-sensing technology, this RYOBI snow blower automatically adjusts power for optimal performance. This product is designed to provide consistent quiet power that efficiently discharges snow up to 25 ft. The RYOBI 40-Volt 20 in. cordless snow blower features a push button start and twin LED headlights that make clearing snow hassle-free at any time, with a 180 directional chute offering ultimate snow-throwing control. For added convenience, the RYOBI snow blower is equipped with one 40-Volt 5 Ah High Capacity Lithium-Ion battery for extended run time. The RYOBI 40-Volt 20 in. cordless snow blower is backed with the RYOBI 5-year limited warranty and is guaranteed to deliver results for years to come.
Features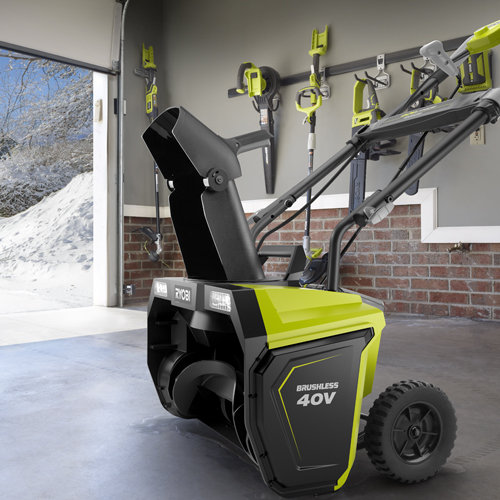 Brushless Motor For Increase Power & Efficiency
Push Button Start for Hassle Free Starting
Convenient LED Lights for Increased Visibility
Telescoping Handles for Easy Assembly & Storage
Specifications
Voltage: 40V
Motor: Brushless
Battery Capacity: 5.0 Ah
Clearing Width: 20 in.
Clearing Depth: 10 in.
Clearing Distance: Up to 25 ft.
Wheel Size: 8 in.
Weight: 35 lbs.
Includes
40V 20 in. Brushless Snow Blower
40V Lithium 5.0 Ah Battery
40V Battery Charger
Chute & Directional Assembly
Operator's Manual
Reviews
40V 20" Brushless Snow Blower with 5Ah Battery & Charger
40V 20" Brushless Snow Blower with 5Ah Battery & Charger
is rated out of
5
by
229
.
Rated

5

out of

5
by
rdahm
from
Handled 12 inch wet snow!
I purchased the Ryobi 40V snowblower from Home Depot (2 hour delivery!) the day prior to a 12 inch heavy snow. I had evaluated several other brands and choose the Ryobi after reading many reviews on all brands. After charging the batteries I was surprised at the performance of the Ryobi, moving heavy, wet snow. I have a 3-car driveway and was able to finish everything on one charge. If it handles wet snow easily when we receive the normal dry snow I could probably clear the driveway and sidewalks in less time than it took with the old gas-powered snowblower! Great product! Looking forward to purchasing a Ryobi lawn mower in the Spring.
Date published: 2018-12-16
Rated

4

out of

5
by
Jimmy71
from
Easy To Use
Bought this in early November. Only had once chance to use it so far, only had one snowfall worth getting it out for. Seemed to work fine, on regular snow it blew it out pretty good, but if the snow was thicker/slushier, it was more difficult and had a tendency to clog up the chute. With December approaching, there will be more snow coming and I can't wait to give it some real work. Found it easy to use. Just slip that big battery into the terminal and push the button. Love the fact there is no oil or gas to worry about. I gave it 4 stars because of the limited use I had, but when the real stuff comes, it could go to 5 stars, but hopefully not less.
Date published: 2018-11-30
Rated

3

out of

5
by
eHac
from
Third 40v tool I own
I own both the lawn mower and the tiller. Love them both. I was was deeply disappointed last year when the snow blowers were sold out so I anxiously anticipated their return this fall. Like others have said the snow blower struggles to sense the load against the motor and will either stall out or slow to a sputter. Oddly enough the 4ma battery that came with the tiller works wonderfully without issue handling 16" packs at the end of the driveway while the 5ma battery sputters even with 2" of fluff. My initial plan was to be able to swap batteries out and not have to stop and wait for recharges. Not the case so far.
Date published: 2019-01-20
Rated

3

out of

5
by
Todd T
from
Great Snow blower - bad battery technology
I did not want a gasoline snow blower and had heard good things about this unit. I received it and luckily had to wait for some snow. The first time I used it, it would go for a few seconds and cut out. With the help or a Ryobi service person and a few battery experts at my office we discovered the following: 1. The batter must be charged above 70F and maintain above 70F for it to function properly. 2. If the battery gets cold, the unit will cut out when it hits resistance (snow). 3. Once the snowblower is warm and the battery is warm it is perfect. My garage is heated so the snow blower itself is usually above 60. I now charge the battery in the house and immediately take it out and put it in the unit. That seems to work well. Again, when it is fully functional it is PERFECT!
Date published: 2019-02-19
Rated

5

out of

5
by
Garymacd
from
Wow! Just wow!
Well, it finally snowed. I got this for Christmas and have been dying to use it. Finally, more than halfway through January it snowed. We've had about half the amount of snow fallen that is to be expected And it has blown and filled the driveway to about 15 cm. I was concerned about the power of a battery operated snowblower. I am not concerned anymore. It plowed through all the snow on my driveway and sidewalk with no trouble and then I still had power to clear out most of my neighbour's double driveway. Wow! I am impressed! It is light, easily manoeuvered, incredibly quiet with easy to operate chute controls. I will reserve my opinions on the durability of the unit until next year. Best of all: no smelly gasoline, noise, pollution or carbon into the air.
Date published: 2019-01-19
Rated

5

out of

5
by
Extend4x4x4
from
Long Overdue
For years I've been mixing fuel, cleaning a carburetor and changing spark plugs. Then I had to pump the primer, set the choke and pull a rope until the old name brand snow blower fired up. With that, a puff of stinky smoke and a lot of noise. If I was lucky, I might finish without having to refuel and do it all again. Well no more. Now I take the battery outside and slip it into my Ryobi and go. And now I have a machine with headlights. No more fuel mixing, priming and choking, stink and noise are all things of the past. I got my snow thrower about 2 months ago. As most everyone knows, Michigan winters can be as bad as any as far as snow. This machine can actually take in more snow than my gas machine did and throw it farther so I can be finished faster. And with the short winter days, I can even do it in the dark. If only this had been available years ago.
Date published: 2018-11-29
Rated

4

out of

5
by
JPro
from
The little blower that could!
Got this blower the day before we were supposed to have a big storm. Perfect timing, but... I had to order it online and it arrived with a bad battery! Thre local home depot doesn't stock the larger 40v batteries so I called up ryobi. The customer service was fantastic, in about 2 minutes I had another battery on the way. It arrived in 2 days, which was perfect because the next wave of storms hit right after. This thing worked great on the 4-6" we got the next day and saved me hours of shoveling. If it had come with a good battery from the start it would have been 5 stars all the way.
Date published: 2020-01-07
Rated

5

out of

5
by
rdurrett
from
As advertised
Bought it just in time for a big snow and it worked great. I already had the 40v mower so I did not need to purchase an extra battery. I was the envy of the neighborhood. Did my driveway and part of another before having to change battery. Much lighter and easier to use than a gas one and no smelly gas or exhaust.
Date published: 2019-01-20