40V 2AH Lithium-ion Battery
Model: #OP4020A
Compatible with all RYOBI 40V Lithium tools and chargers, the 40V 2.0 AH Lithium-ion Battery is the perfect addition to your RYOBI 40V tool collection. It's lithium-ion cells deliver fade-free performance from start to finish. The convenient on-board battery life indicator keeps you informed while you're out in the yard tackling your landscaping jobs. The 40V 2.0 AH Lithium-ion Battery's compact lightweight design is perfect for strenuous landscaping tasks like hedge trimming, pruning and trimming. RYOBI 40V Lithium surrenders nothing but gas.
Features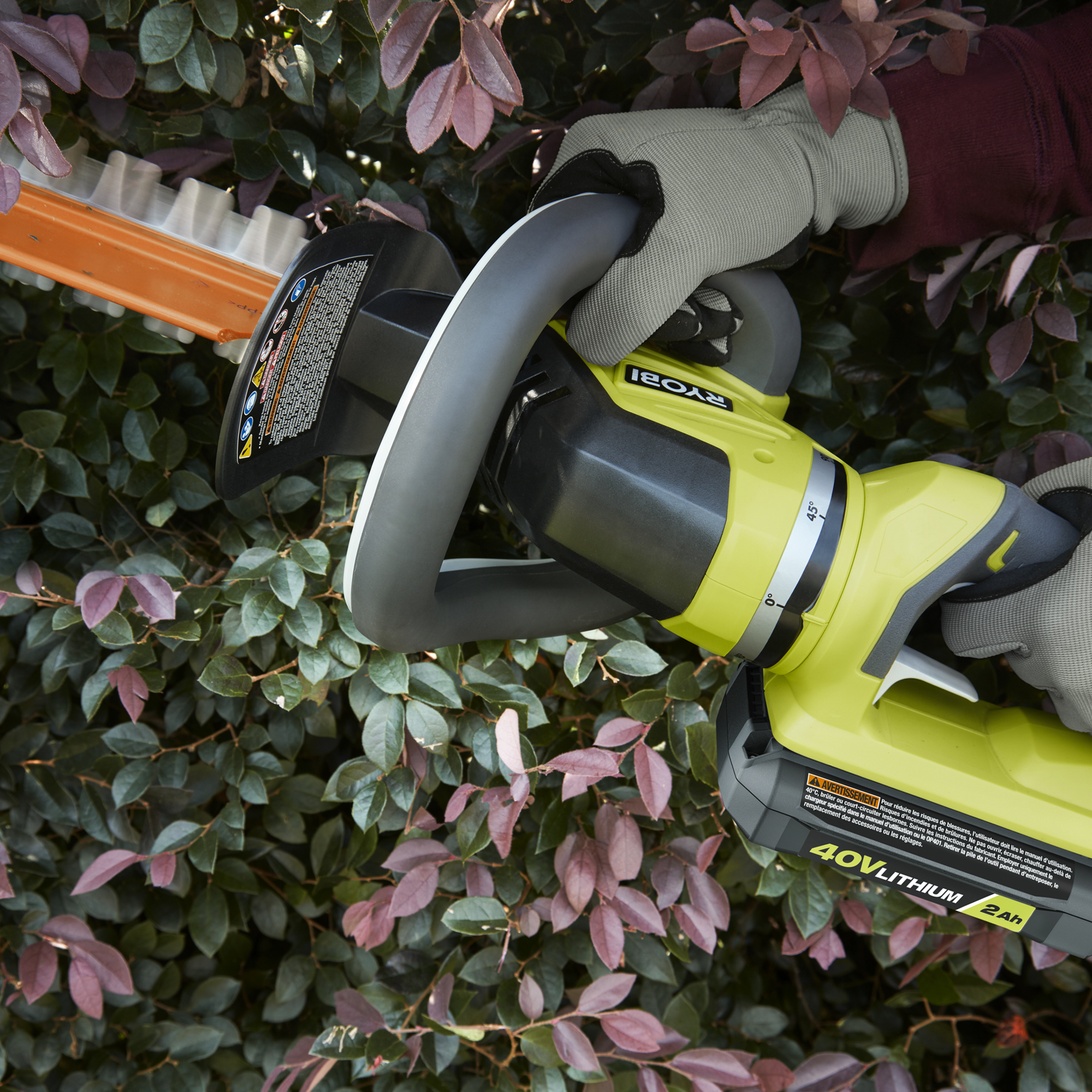 Compatible with All RYOBI 40V Lithium Tools & Chargers
Lithium-ion Cells Deliver Fade-Free Performance
On-board Battery Life Indicator for User Convenience
Compact Lightweight Design
Specifications
Voltage: 40
Amp Hours: 2.0
Cell Type: Lithium-ion
Compatibility: All RYOBI 40V Lithium Tools & Chargers
Weight: 2.5 lbs.
Warranty: 3 Year Limited
Includes
40V 2.0 AH Lithium-ion Battery
Operator's Manual
Reviews
40V 2AH Lithium-ion Battery
40V 2AH Lithium-ion Battery
is rated out of
5
by
216
.
Rated

4

out of

5
by
sawyer60
from
Good but not quite an hour runtime
I bought the RYOBI 14 IN CHAIN SAW WITH BATTERY AND CHARGER and It is a great saw. Cuts like a gas powered saw and the chain is excellent. My only gripe is you have to buy the chain from Ryobi parts dept and get charged more for shipping and handling than what the chain costs. You should be able to buy this chain at home depot who carries the Ryobi brand. Oregon does not make a chain that fits this saw (yet). Be careful buying a chain that looks compatible but is not. The book says you have to buy their chain. Do your research. The cbattery holds up pretty good but not for an hour. Charges quick though and the charge indicator on the battery is a great feature. I would highly recommend this saw.
Date published: 2019-08-19
Rated

5

out of

5
by
Mimi Teresa
from
Just enough
I bought the 2.0 AH, not realizing for just a little more I could have gotten a 4.0 AH or 5.0 AH. The 2.0 does everything it is supposed to do, but I would recommend paying a little more and getting the higher AH so that you have more battery run time. I went back and purchased the 5.0 AH and the 2.0 allows me run time anytime I am recharging my 5.0 battery, so everything is good. One thing to remember is that the 5.0 AH weighs more, so if you are just doing small jobs and prefer not having to hold up more weight, the 2.0 AH will be perfect.
Date published: 2019-08-15
Rated

5

out of

5
by
Goofyjim
from
Job Finished on Time!
Last Fathers day my wife bought me a Ryobi push mower and it came with a 40V 4.0 AH battery. My yard is fairly large and I was worried that the battery would not last for the entire yard. When the grass wasn't high I could just barely get the yard completed. When it's high, the battery would run out and I would not be able to finish the job. Purchased this 2.0 AH battery to help finish the job, and it enabled me to do just that. Was well worth the investment. Now using both batteries, I do not need to charge them both after each mowing and thus helping to extend both of their lives a bit more.
Date published: 2019-06-17
Rated

5

out of

5
by
Raleigh1001
from
Good life
I purchased this battery about a month ago. I was looking for a 2.6 AH battery to match the one that came on my Ryobi String Trimmer, but decided on this one instead. It has good life, as I have used it on my string trimmer as well as my Ryobi Blower and it held up for approximately an hour with no problem. It was run almost constantly during that hour. At the end of that time it was on it's last life indicator, but it did the job. If you have a normal house that sits on a half or quarter acre this battery should handle your needs.
Date published: 2019-09-16
Rated

5

out of

5
by
t0912
from
Good Power
I have plenty of Ryobi 18v tools and batteries. This was for my 1st venture into Ryobi 40v tools. I bought a 40v chainsaw and a 40v pole trimmer. Since cutting down branches and smaller tress take some time, the 1 battery that came with the tool wouldn't last for the whole job. I bought 2 extra 40v batteries so I'd always have power. When 1 runs out, I can put it on the charger while using the others. This provides plenty of power, though not as long as the larger ones, but works great.
Date published: 2020-02-16
Rated

5

out of

5
by
70Steve
from
Great Power
I have 5 of these batteries over 10 years of using Ryobi trimmers,(grass, hedge) and past two years a blower. I had two older ones which gave out after years of use. 9 months a years I take care 6 big lawns and hedges. Also 4 blocks long section of street as a clean up the neighbor hood project. So my batteries get charged weekly if not twice depending on the weather. So glad the 4 amps and more are out there because the 2 amps are a little short on life but I am not complaining. Great battery, I am so happy. I recommended to everyone always about Ryobi
Date published: 2021-01-26
Rated

1

out of

5
by
mckenna68
from
Defective 40v batteries
I will first say that I love all of my Ryobi 18v tools and have had no problems their batteries. I cannot, however, say the same for the 40v battery. I purchased a 40v string trimmer towards the end of the season and used it only once. When I went to use it the following spring, the battery was defective and wouldn't charge. Got nowhere trying to get it replaced at Home Depot. Was debating whether or not to pay the ridiculous price for a new battery separately or to buy another 40v tool that came with 2 batteries. After reading all the reviews of people having the same issues with the 40v batteries and wasting a lot of time and money, I have decided NOT to invest in ANY Ryobi 40v product and have written my trimmer off as a loss.
Date published: 2020-11-27
Rated

5

out of

5
by
Cpete85
from
Powerful Battery
I bought this battery with the Jet Fan 40V Ryobi leaf blower. It's an excellent leaf blower and is very powerful especially for a battery powered blower. The extra battery is great, fairly quick to charge (about an hour) and has a power indicator on the battery which is handy to know how much "juice" you have left. The leaf blower, on high, can last about 30-40min which is more than enough to clear the driveway of leaves and snow. The batteries are heavy but pack a punch and I would highly recommend this battery for any of the Ryobi 40V products.
Date published: 2020-11-20