+8
40V 14" Brushless Chain Saw with 4Ah Battery & Charger
Model: #RY40530
+8
The 40V 14" Brushless Chain Saw delivers GAS-LIKE POWER™ without intimidation. We've taken all the things people love about our top selling chain saw and made it better. This chain saw delivers more power, 2x more run time and is lighter than its predecessor. With a load sensing Brushless Motor at it's core, this high-tech chain saw automatically adjust power output for optimal performance. The variable speed throttle starts the chain saw up instantly - saving you the frustration of complicated starting procedures and gas/oil mixes. Features like the side access chain tensioning and automatic oiler make for quick adjustments and longer chain life. The 40V 14" Brushless Chain Saw surrenders nothing but gas.
Features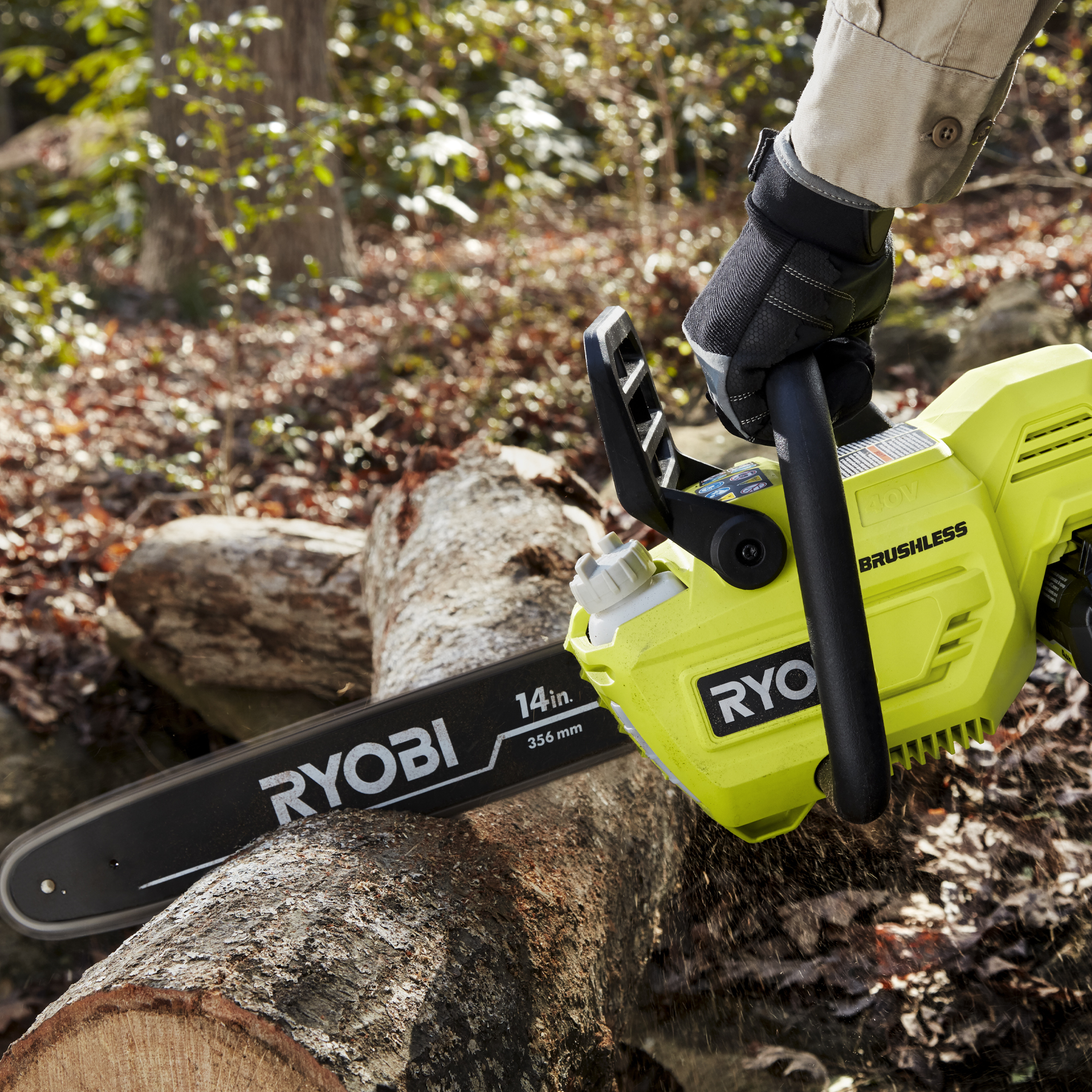 GAS-LIKE POWER™ with Cordless Convenience
More Power. More Run Time. Lighter Weight. - Than Previous Model
Variable Speed Throttle for Ultimate Power Control
Side Access Chain Tensioning for Easy Adjustments
Soft Grip Handle for User Comfort
Automatic Oiler for Convenient Operation
5-Year Limited Tool Warranty & 3-Year Limited Battery Warranty
Specifications
Motor: Brushless
Bar & Chain Size: 14"
Throttle: Variable Speed
Replacement Chain: Y52 .050
Weight: 11.5 lbs.
Includes
40V 14" Brushless Chain Saw
40V Lithium 4.0Ah Battery
40V Battery Charger
Scabbard
Combination Wrench
Operator's Manuals
Reviews
40V 14" Brushless Chain Saw with 4Ah Battery & Charger
40V 14" Brushless Chain Saw with 4Ah Battery & Charger
is rated out of
5
by
822
.
Rated

4

out of

5
by
Westy58
from
Surprisingly Capable!
I am very happy with my 40v Ryobi chainsaw! I have been a licensed Forester for over 35 years, and have owned many gas powered professional saws. I use this saw for trail maintenance and low volume firewood cutting and it works as well as any small gas powered saw out there. The 4ah battery lasts as long as a tank full of gas would and chain speed is equivalent to a gas saw. The only reason that I give it only 4 stars is the lack of a chain brake. An adjustable oiler would also be a very worthy addition; the automatic chain oiler puts out a higher than needed amount of oil but that is better than too little oil.
Date published: 2020-01-27
Rated

5

out of

5
by
JohnnyDM
from
Great Features!
I love this Ryobi Chainsaw, came in a nice carry case, perfect sized tool for small to medium jobs around my yard and beyond... weighted perfectly, easy to handle, starts right up and works well. well worth the price and investment!!
Date published: 2020-09-22
Rated

5

out of

5
by
Zone
from
Exceeded my expectations
I have used this saw 4 Saturdays in a row clearing saplings and small trees up ranging from 2 to 10in diameter around our yard, as well as cutting some atv trails through the woods. So far I could not be happier with it! I have only had gas saws in the past, but this saw cuts as well as McCullough I used to have, and much better than a couple of other brands I have owned. And I LOVE not having to yank on a pull rope. Several reviews mention battery issues after a few uses. So far I have not ran into any with mine (keeping my fingers crossed that I don't, because I REALLY like this saw.) but as I stated, I have only used it 4 times, so we will see.
Date published: 2020-04-01
Rated

5

out of

5
by
Snobear916
from
Very Powerful and Light weight
I used to have a gas powered chainsaw for years, but decided on trying out this Ryobi one when I just passed by it at the store. At first, I thought it wouldn't last too long on the job to take the tree out. Once home I charged the battery over night, and come morning I had to take out the old tree in back. Ryobi has always surprised me with their 18v+ sets I have, and now this 40v chainsaw kept up from beginning to end of the tree, even still had juice to break down bigger pieces into smaller ones to use later for the fireplace. Ryobi, Keep it up with surprises because I have no more gas powered equipment. Cars next maybe.... lol
Date published: 2019-12-19
Rated

5

out of

5
by
CE woodwork
from
Quiet, powerful!
I received this as a Christmas present and I couldn't believe it. I'd asked for it off hand and in passing talking to my aunt. I needed a chainsaw for tree cutting projects but didn't want the hassle of maintaining a gas engine. When my aunt asked what brands I'd be interested in I immediately thought of Ryobi, as I have several of their other battery powered tools, all of which have served me magnificently. This saw is no exception. It is clean and relatively light weight. It's gone through big logs like butter, all while making such a small amount of noise as compared to a gas powered saw. It fits comfortably in hand. I love it!
Date published: 2020-01-27
Rated

5

out of

5
by
tintoad
from
No fuss, no Muss
After attempting to start my 2 year old gas powered chain saw, I had to give up as the pull cord stayed out without retracting. Up to then, it worked okay. I thought about having it fixed but instead I went to buy a battery operated Ryobi saw. What a great move. It just happens that the battery is the same as the 40V battery in my Ryobi lawn mower. I was hesitant at first thinking that it may not have the power of a gas saw but it went through 5-6 inch trunks like butter. It was so easy to use with no gas or pull start. Just slide the lock switch on and press the trigger. I doubt that I will go back to gas operated lawn tools after this experience.
Date published: 2020-02-22
Rated

4

out of

5
by
5tevib
from
My first chainsaw
I've been using a hand saw to remove large limbs and was planning to cut down some small trees, between 3-5 inches in diameter. Using a hand saw became annoying very quickly, so I bought a chainsaw. I know nothing about chainsaws. This one was cheaper than the gas models being sold at Home Depot and I like the thought of the battery being used in other equipment. I was pleasantly surprised with the performance when cutting large limbs and I had to cut down 5 small trees. Depending on what I was cutting the battery lasted 30-60 minutes. It seems like the chainsaw went through the bar oil very quickly. It went through the small tank of oil per battery. I'm unclear if there are different weights of bar oil or if the usage is normal.
Date published: 2019-06-10
Rated

5

out of

5
by
JRiley
from
Easy to use
I bought with some doubts that I would be able to use on my own. I am 70 year old female weighing 125 lbs. Never used a chain saw before. I just knew there had to be a easier way to remove brush than my loppers. I asked saleman if he thought I could manage. His reply ,yes, just keep oil tank filled with bar and chain lubricant. If you don't like just return. Handed me the oil and sent me on my way. I love it. It is easy for me to handle. Makes cleaning up brush so much easier. I already owned the Ryobi cordless string trimmer, which is just the right size for me. Can't wait to purchase my next tool.
Date published: 2020-04-17