+9
40V 14" Brushless Chain Saw with 1.5Ah Battery & Charger
Model: #RY40511
+9
The RYOBI 40V Brushless Chain Saw features GAS-LIKE POWER without the hassle of gas and oil. The brushless motor produces higher torque and faster chain speed, resulting in better performance and gas. The 14" bar and chain is perfect for larger cuts and yard clean-up. The light weight design reduces user fatigue over extended use. The RYOBI 40V Brushless Chain Saw also features an automatic oiler for continuous use and a wrap-around handle for comfortable cutting and user control. The entire RYOBI 40V family runs off of the same 40V lithium-ion battery platform. The RYOBI 40V Brushless Chain Saw is backed by a RYOBI 5-Year Limited Warranty.
Features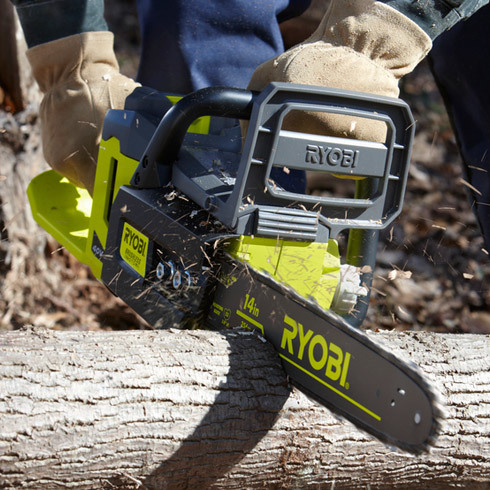 GAS-LIKE POWER™ with Cordless Convenience
Load Sensing Technology Automatically Adjusts Power for Optimal Performance
Variable Speed Throttle for Ultimate Power Control
Side Access Chain Tensioning for Easy Adjustments
Soft Grip Handle for User Comfort
Automatic Oiler for Convenient Operation
Specifications
Motor: Brushless
Bar & Chain Size: 14"
Throttle: Variable Speed
Replacement Chain: Y52 .050
Weight: 10.6 lbs.
Warranty: 5-Year Limited
Includes
40V Brushless Chain Saw
40V Lithium 1.5 Ah Battery
40V Battery Charger
Combination Wrench
Scabbard
Operator's Manual
Reviews
40V 14" Brushless Chain Saw with 1.5Ah Battery & Charger
40V 14" Brushless Chain Saw with 1.5Ah Battery & Charger
is rated out of
5
by
908
.
Rated

5

out of

5
by
OBAllYouCanBe
from
So nice not to have to start with pull rope!
I have owned this chain saw for a month now and used it to take on some fairly robust projects. It easily dealt with a 12 inch diameter limb which was one of my concerns. It has adequate power, is lightweight yet durable, and, best of all, requires no pulling to get started. I have 2 gas chain saws (Stihl, Husqverna) but both have been difficult to start and require much more maintenance. With this unit all I need to do is keep the bar oil filled and it does the work. Remember this is battery operated and will let you get a small job done on a single charge but if you have a large job to do you will likely need several charges to complete it.
Date published: 2017-08-04
Rated

5

out of

5
by
CordlessMan54
from
What a Saw!!
I have had this saw for just about 1 year now. This thing is amazing. I still find it hard to believe that I can get this kind of cutting power from a cordless tool. I have had both the first generation and now brushless. Excellent performance from both. The brushless is more powerful, but does consume the battery a bit quicker. No matter, when the battery is exhausted, you really DO need a break. To me the best feature is that there are NO fuel worries. Saw can sit for extended periods of time, slap a battery to it and go! Maintenance? Just basic chain maintenance and lubrication. I don't cut a lot,(not a lumberjack)but when I do , I couldn't ask for a better saw than this one. I am sold!
Date published: 2016-04-28
Rated

4

out of

5
by
tjbrown362
from
No loose chain!
Bought this for my father in law as gas tools were getting too difficult for him to start up and maintain. Very light for a chainsaw. 14in is the perfect size for him. Does a great job cutting. Biggest feature which sold me is having the adjustment tool to tighten the chain. All of the chainsaws which have the 'tool less' adjustment for the chain are junk! Constantly coming loose. The chain can then get caught on a branch and fly back. Huge danger. I have had it happen to me with my father in laws old Poulan chainsaw. Best thing RYOBI did was putting that tool feature on this saw. Very smart! No worries when he uses it. Myself and my wife sleep better. Ha!
Date published: 2018-07-01
Rated

5

out of

5
by
MarcM
from
Exceeded Expectaions
I had a magnolia tree that needed to come down in our yard and had recently bought the 40v weed trimmer (which is awesome too). I got the chain saw home, added the bar/chain oil and an hour later that tree was limbed, cut down and cut into manageable pieces. Considering the main trunks were a good 8" in diameter, no small feet. After all that, I still had 1/2 of my battery life left. To be fair, I used the weed trimmer battery (as it was charged), which has a higher amp/hour rating than what is stock with the chain saw (2.6 vs. 1.5). The weight on the saw is pretty light and the balance is good too. I am very impressed with all my Ryobi battery-powered tool so far!
Date published: 2018-06-11
Rated

5

out of

5
by
TrevorD
from
Best saw for small jobs!
I purchased this last month hoping to make headway on some projects. We both have gas saws, but were too unwieldy for the small trees we had. Most were 12" or less. Project involved taking out 15 trees. I was able to cut down and buck 4 trees ( 30' in height ) before charging the battery. I also tackled some larger trees in back as preventative measure. Checking the chain tension and watching the bar oil helps to keep the saw in top shape. Definitely a solid buy!
Date published: 2017-07-21
Rated

5

out of

5
by
SCADAMan
from
Works well for small jobs
Got the unit to cut small stuff down without the need for a gas one. Have had it for a few months so can give a little better feedback now: Cons: -Original chain worked well for about 10 cuts in to 12-16 diameter logs..replaced the chain with the Oregon and am a happy camper -Small battery (OP4015) depletes fast. Not a big fan of it...if you need to cut small 2-4 in diameter pieces, then fine. Can not handle big stuff at all -The shavings keep getting stuck in the chain lubrication area. Not sure if all chainsaws have the same issue but thought I point it out as an issue, since I do have to stop and clear the area every so often Pros: -Light and easy to use -Good for small jobs -Big battery (OP4026) does a good job of providing power but if cutting large diameter logs, it drains very fast
Date published: 2016-04-18
Rated

4

out of

5
by
Mitch33431
from
Convenient!
Wasn't sure what to expect based upon some negative reviews. That being said I am very satisfied with the performance of this saw. If one needs a saw for pruning and not heavy duty cutting, this will do the job The battery power is definitely sufficient for stop and go cutting. I was using it to cut Areca palms up to 4 inches thick without a problem. I have other Ryobi products so I was able to change batteries if needed. I haven't found a problem with oil leaking. The only feature that I found annoying was cleaning out the debris. It would nice to have a way to clear the debris without removing the cover and loosening the blade.
Date published: 2019-02-06
Rated

5

out of

5
by
jipsoc
from
Pleasantly Surprised
When I purchased this tool I went out to test it with two batteries planning to stop working when both batteries were dead. The batteries lasted longer than I did and I could not believe the great performance from the saw. The blade is a specific pitch so replacements must be Ryobi and sharpening must be done properly. The key to the saw is a sharp blade. I used my neighbors Ryobi that had not been properly cared for and immediately switched to mine to cut and trim some apple trees. I cut down two trees for a neighbor while he was still trying to get his gas saw running. Not disappointed...will never go back to a gas saw.
Date published: 2019-05-24