+4
3600 Watt Generator
Model: #RY903600
+4
The RYOBI 3600 Watt Portable Generator with EasyStart technology is where efficiency meets convenience. With a Heavy-Duty 212cc OHV engine, this generator delivers 3600 Running-Watts (4500 Surge/Starting-Watts) and is powerful enough to be used on a jobsite or as an emergency backup system. Featuring the EasyStart 3-Step starting system and a large 4 gallon fuel tank, the RYOBI 3600 Watt Generator can run up to 10 hours at 50% load. The Quick-Release handle provides easy and compact storage while the flat-free wheels and the Hand Truck Frame design allow for easy transport, even over rough terrain. This generator is also equipped with an Automatic Voltage Regulator that provides consistent power. The Control Panel features (4) 120-Volt 20 Amp outlets and (1) 120V AC 30 Amp RV receptacle to meet all your power needs. All backed by a 3 year warranty, the RYOBI 3600 Watt Generator is guaranteed to perform.
Features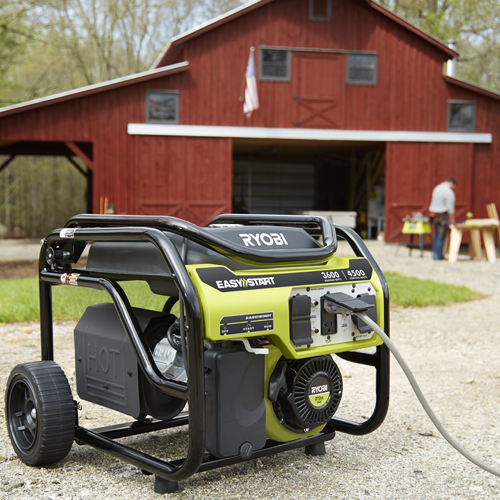 3600 Watt Portable Generator
Easy 3 Step Starting
Powered by a 212cc OHV Engine
Automatic Voltage Regulator for Consistent Power
Quick-Release Handle for Easy and Compact Storage
Flat Free Wheels for Easy Transport
Large 4 Gallon Fuel Tank for up to 10 Hours Run Time at 50% Load
Specifications
3600 Running Watts
EasyStart Technology
212cc OHV Engine
Large 4 Gallon Fuel Tank
Hand Truck Frame Design
Automatic Voltage Range for Consistent Power
Includes
3600 Watt Portable Generator
(2) 8.5" Flat-Free Wheels
Engine Lubricant
Assembly Hardware
Operator's Manual
Reviews
3600 Watt Generator
3600 Watt Generator
is rated out of
5
by
420
.
Rated

5

out of

5
by
KarlFarmer
from
Ran multiple appliances for 12 hours straight!!
We just went through a devastating Hurricane, Hurricane Harvey, and were in desperate need of electricity. We were fortunate enough to have the Ryobi 3600 Watt Generator on hand to make our family feel safe. With this generator we were able to run our deep freezer, full size refrigerator, a/c unit, big screen tv, tower fan, 2 lamps and microwave for 12 hours straight! I was blown away with how long it ran on one tank, I honestly thought I'd be getting up in the middle of the night to refill the tank, but I never had to, it ran all night! My family was able to enjoy a much needed full nights sleep after riding out the storm - we couldn't be happier!
Date published: 2017-09-11
Rated

5

out of

5
by
Ray119
from
Easy to assemble, great on gas, easy to start,
During one of our recent snow storms in the northeast we lost power for 4 days. My 102 year old mother requires oxygen 24/7. I was able to purchase this generator just as her backup oxygen was running low. I opened the box, installed two feet and two wheels, added the included oil, and added gas. One pull on the starting cord and I was up and running. The generator ran for the better part of 3 days stopping only to add gas. What a life saver! What a great product. I kept the oxygen generator, refrigerator, the television and a number of lights going the whole time power was out.
Date published: 2018-03-28
Rated

3

out of

5
by
Gary802
from
Poor Start/Good Ending
At the outset, the generator would not start. Tech support helped me troubleshoot over the phone and admitted that there have been problems with the fuel lines coming from the factory. They would not send me a replacement fuel line, and informed me that if I bought one off the shelf and installed it myself, that this would void the warrenty. My only choice was the load the generator back into my truck and bring it back to Home Depot for service. Home Depot did the repair and now it works fine. My only other comment is that this generator is very heavy and while it is on wheels, loading and unloading, is really a 2 man job.
Date published: 2019-02-08
Rated

5

out of

5
by
JonnyD
from
Great Reliable Product!
Bought this about a month ago during a power outage (20°). Very easy and quick setup about 10 min. with frozen hands. Was able to run multiple high watt electric heaters and several lights. Had confidence to run my refrigerator if I had to also. Noise level is acceptable and fuel efficent. Stored in unheated garage for a little over month, went to use it and it started right up on second pull. No complaints seems like a durable, well made, and hopefully long lasting generator.
Date published: 2017-01-29
Rated

5

out of

5
by
BONGO
from
perfect
i bought this end of winter we lose power alote during the winter. stared first time and evreytime after that it. has planey power to run what we need it for we will yous during the summer when we go camping we would buy this again recommend to my friends GREAT WARENTY
Date published: 2016-04-29
Rated

4

out of

5
by
bluelionpiper
from
It just works
our house loses power somewhat regularly and after we lost a fridge full of food I bought this to cover the house till we got back on the grid. Right now it just runs extension cords but I have plans to hook it into the house proper. it is a little on the small side but I just need to keep a few things running and the area has lost power for extended periods of time. I've only got about 8 hours on it so far but it start right up and the power it puts out seems clean enough. it's advertised as running 10 hours at half power on one tank, which seems about right. It's not very loud and as the tile suggests, it just works.
Date published: 2019-07-05
Rated

5

out of

5
by
Happy Camper
from
Exceeded expectations
I bought generator during extended power outage due to wind and snow storm. I needed immediate power for home furnace and refrigerator. I was able to have power with in 20 minutes of unloading generator at home. Machine was very simple to assemble, start up instructions were clear and simple, generator started right up and ran beautifully for 3 days until power was restored. Not a problem at all. Features were also Excellent with outlet plug capability and labeling. Built in voltage regulator for clean power to home appliances. I had used other generators prior and anticipated start up and running issues but was pleasantly surprised at ease of set up trouble free operation. I not only ran my home but also hooked up neighbors also....Awesome. Greatly exceeded my expectations and would highly recommend this unit.
Date published: 2017-04-02
Rated

4

out of

5
by
countydoc
from
Short time user
I bought this unit to supplement another generator because of a recent power failure and I had multiple freezers and fridges to keep online. I liked the overall looks and design. One con was there was no true fuel cut off and to drain the gas from the unit was kinda of a pain.It's such a close fit under the tank to access fuels line so I wound D/C under the tank, which was messy. It was quieter than most generators, the handle made for easy moving it around, and starting was an ease. I did return it because I needed a 220v outlet for a well pump. I'm looking at next size ,6500.
Date published: 2017-05-27