+2
15" Gas Pressure Washer Surface Cleaner
Model: #RY31SC01
+2
Introducing the ultimate cleaning solution for your largest and toughest jobs around the home! The RYOBI 3300 PSI 15 in. Gas Surface Cleaner is the ideal choice for hard surfaces like driveways, patios, sidewalks and so much more. This handy pressure washer accessory cleans up to 4X faster than a standard nozzle, with rotating jets that give you a large, streak-free cleaning path. The surface cleaner has a ¼ in. quick-connect that easily attaches to your pressure washer, allowing you to move quickly between jobs. The RYOBI 3300 PSI 15 in. Gas Surface Cleaner compatible with virtually all gas pressure washers with a PSI rating between 2500 - 3000 PSI.
Features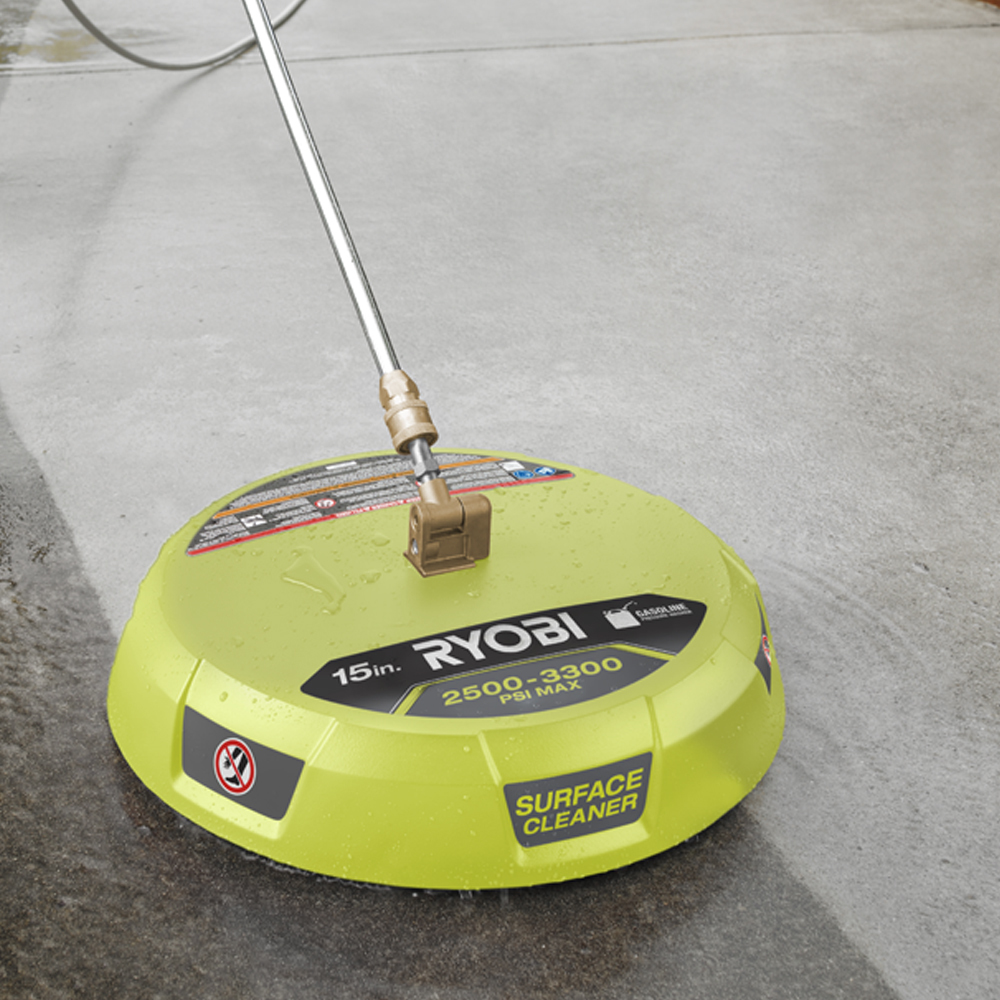 Clean 4X Times Faster Than a Standard Nozzle
Streak-Free Surface Cleaning
Dual Rotation High Pressure Water Jets
Easily Attaches With 1/4" Quick-Connect Spray Wand
Specifications
Max Pressure Rating: 3300 PSI
Diameter: 15"
Connection Type: 1/4" Quick-Connect
Includes
3300 PSI 15" Surface Cleaner
Nozzle Cleaning Tool
Operator's Manual
Reviews
15" Gas Pressure Washer Surface Cleaner
15" Gas Pressure Washer Surface Cleaner
is rated out of
5
by
197
.
Rated

5

out of

5
by
WinePress
from
Great Value, Ease of use and Incredible Results!
I have the ryobi 3300 psi gas power washer and purchased this surface cleaner to do my driveway and sidewalks. I also bought the turbo tip to do edging, since this cleaner will not go all the way to the edge. I think that the surface cleaner did just as good as the turbo tip, but at a much faster rate. I didn't think I would get the results, nor did I think my driveway / sidewalks were just power washed by a professional company just 2 years prior. My dad has one from another company, and he's completely unhappy with his other brand. He used my Ryobi and loved it.
Date published: 2020-05-08
Rated

1

out of

5
by
Turtle Bags
from
Stopped spinning, just a paperweight now
I should have read more reviews before purchasing this surface cleaner. I purchased this over the winter, in anticipation of using it now in Springtime! Took it out of the box, hooked it up to my Pressure washer, the nozzles were spinning for about 10 seconds when they stopped spinning. Definitely a design flaw with this attachment!!!! Super upset that I've given my hard earned money to a giant corporation and, in return I received a defective design flawed item! I love everything I've purchased in the past from Ryobi, however, this attachment should be pulled from the shelves until the design is perfected.
Date published: 2021-05-06
Rated

5

out of

5
by
6Lefty6
from
Time saver!
At $80, I wasn't sure if the 15" Surface Cleaner would be worth buying. As soon as I put it to use I knew I made the right decision. I cleaned two concrete pads,a 12'x20' and a 24'x40', two porches and a 50' sidewalk. It worked best if you do edges with a spray tip first then use the surface cleaner. Move slowly, I found it was easier to pull it around, with less stress on the wand then to push it. It works alot faster than moving the wand back and forth without all the streaks. It worked so well that my neighbor asked to borrow it as soon as he saw how nice it worked.
Date published: 2019-05-19
Rated

1

out of

5
by
Padams
from
Completely unreliable
Should have read the 25 reviews on Home Depot with the same problem I experienced today BEFORE purchasing; worked great from the start but this didn't make it 2 hours of use on a simple driveway job before the sprayer stopped spinning; 2 more hours of cleaning the nozzles, assembly, filter and re-cleaning, still won't spin. When customers continuously complain about the same problem, the manufacturer needs to step up and fix it. I can't believe Home Depot continues to sell these!
Date published: 2020-03-31
Rated

4

out of

5
by
Wille
from
Really works!
I bought one of these a month ago. It worked great on my driveway, sidewalk and patio. Not only did it clean off the dirt build-up, but it removed uneven marks left from the last time I pressure washed with a spray gun and nozzle. And the surface cleaner is a lot quicker than a spray gun. After I finished at my house, I did my elderly neighbor's driveway. Right as I was finishing up, the cleaner started to vibrate. I took it apart and discovered some excess loctite in the water passage to the nozzles. I removed that as well as some loctite pieces that ad migrated to one of the nozzles. After reassembly, the cleaner once again worked fine. Four stars because of the required loctite cleanup; otherwise, would have been 5 stars.
Date published: 2019-07-09
Rated

1

out of

5
by
Tjsven
from
Lost pressure
Worked great till it lost pressure ... checked and appears o rings failed
Date published: 2019-06-26
Rated

5

out of

5
by
jrbrewer
from
Amazing!
I bought this along with the Ryobi RY802900 2900 PSI gas pressure washer a couple months ago when I had to make my driveway look like a Hollywood smile (silly HOA nonsense). I drove around the neighborhood and saw people outside ALL DAY washing their driveways with just the regular pressure washer wand. Thanks to the 15 inch surface cleaner, I cleaned mine in a FRACTION of the time. In fact, I ended up letting a couple neighbors use it because I felt bad for them and knew it would take them hours to finish without it. I almost enjoyed the job thanks to this thing. If you go too fast you'll have to go back over what you did a second time because it will leave spirals on the concrete. If you notice that is happening, just slow down a little bit. Problem solved.
Date published: 2019-08-22
Rated

5

out of

5
by
Ottoaritter
from
Works better than I expected!!!
I purchased this item hoping it would deliver as promised on the details on the packaging. I was very pleasantly surprised on it's performance. I initially purchased it to clean the deck. Here it saved me hours of pressure washing time using the wand. Our deck is 800 sq/ft. All you have to figure out is the speed that you have to move the cleaning head. I then used it on the driveway and here I saw similar time savings. I am very pleased with this tools performance and wish I had purchased it 10 years ago!!
Date published: 2019-07-31