+6
2 Cycle 520 CFM Jet Fan Blower
Model: #RY25AXB
+6
The most powerful handheld gas blower. Period. The RYOBI 2-Cycle Gas Jet Fan Blower uses innovative Jet Fan Technology, a three stage fan design that optimizes air flow to generate an amazing 520 CFM and 160 MPH. The variable Speed Trigger and cruise control help you easily adjust to any area, from wide open yards to landscape beds. RYOBI makes lawn maintenance a breeze.
Features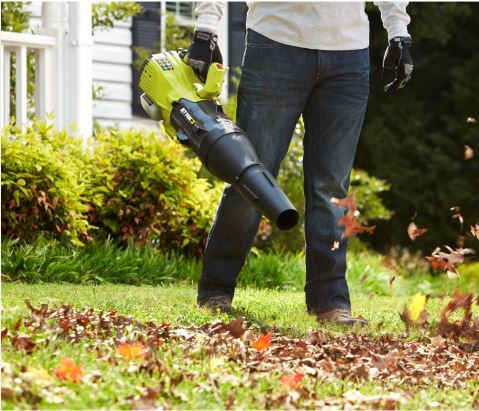 2-Cycle Jet Fan Blower
3 Stage Jet Fan Design Generated Maximum Clearing Power
Full Crank Engine Provides Longer Engine Life
Vaiable Speed Trigger for User Control of Air Flow
Three Position Cruise Control Locks Trigger in Place
Anti-Vibe Handle Provides Greater User Comfort
Hanging Hook for Convenient Storage
Specifications
CFM: 520
MPH: 160
Trigger: Variable Speed
Gas/Oil Ration: 50:1
Reviews
2 Cycle 520 CFM Jet Fan Blower
2 Cycle 520 CFM Jet Fan Blower
is rated out of
5
by
2295
.
Rated

4

out of

5
by
BarryD
from
POWERFUL! Kudos to Ryobi!
I purchased this blower for a couple of reasons. The price point for a blower that produces 520 CFM of air at 160 mph was one. The 3 years warranty was the other. I have owned many blowers over the years. None have come close to what this baby will do. I blow a lot of leaves and debris at my home. This blower has reduced my work time in half. It just simply moves the material quickly. I gave it only 4 stars due to it being a tad heavy. (can't give it 4.5 stars which is what I would rate it). However, the weight isn't a problem because you will complete the job in half the normal time. Way to go Ryobi!!! Love this blower!!
Date published: 2016-11-11
Rated

5

out of

5
by
Bryce
from
Well worth it!
I purchased this blower about a month ago and have put about 4 hrs of hard use on it and am very impressed. It has fired up very easily every time and runs smoothly and flows a Lot of air. I filled up a gallon can of 92 octane (non ethanol) -commonly found at kwik trip or shell stations-with a bottle of the oil supplied and a couple oz of seafoam. Works like a charm for any small engine. When you buy a leaf blower you want to look at the amount of cubic feet per minute (cfm) not the mph. This is definitely the machine to get for any household or even for a small machine to use in the professional settings.
Date published: 2016-11-12
Rated

5

out of

5
by
sdmahr
from
Nice Surprize ! !
My 6 year old Ryobi 4-Cycle Blower finally ran out....and I saw this one online. I had to dig around to actually find one in stock as it was unavailable for order online and HomeDepot site didn't show any inventory at local stores. After inquiring at the store the Manager knew where they were, (they were NOT on display), and I was able to purchase. All I can say is WOW. Makes every other blower I have owned seem like a toy. Easy starting, comfortable to hold in use, and MOVES debris. At this price point there is no competition.
Date published: 2016-09-08
Rated

5

out of

5
by
wzoucha
from
Didn't expect this from the price.
I've only had this blower for a week so my review of the durability isn't set in stone. However, during the past few days I've put it to work. I've cleaned my gutters, garage floor, driveways and sidewalks a few times and it performed tremendously. I have to watch my trigger finger when I'm going over the river rock next to my sidewalks because it will move some decent sized stones, crazy powerful. I have a very thick canopy of trees on my property and I'm constantly cleaning leaves and branches off of my walkways and this product is saving my sanity. I can't wait for it to snow so that I can clean my drive in seconds and not have any shovel marks on my pavement.
Date published: 2017-07-31
Rated

5

out of

5
by
LawnJon
from
Powerful/Easy Handling
Bought my Ryobi about a month ago and use it about once to twice a week. It really gets the job done when it comes to power. I like that it is not a guzzler on the 2 Cycle TrueFuel I use for it. It handles very well with minimal vibration to the hand and is easy to carry around the yard, at least for me. I really like that I do not have strain myself getting into a tug of war battle with the blower, it starts up so easily in no time. Really the only annoyance I face with it is the attachment that twists its self off and blows away when using it in full throttle. Other than that, this product is incredible and at such a good price point too.
Date published: 2020-04-22
Rated

5

out of

5
by
Tryme85
from
Amazing Blower!!
My brother had purchased one months ago and demonstrated how good it was while drying a metal rack we had just cleaned, I purchased one to check out how well it was with leaves, it wasn't much more expensive than the one I had purchased years ago the had quit this year, but the performance is incredible! Super light weight and a lot more powerful than my previous blower I paid $100 for! I would say more powerful than some back pack blowers I have used in the past! It was blowing leaves like nothing, twigs, sticks, acorns, pinestraw, dog poop, small rocks. Nothing can get past this blower! Highly recommended for anyone in need of a reliable blower!
Date published: 2020-11-17
Rated

4

out of

5
by
gijoe54
from
My blower
Needed to purchase a blower and after reading reviews on about 6 different brands I decided on RYOBI. I was given a pressure washer years ago by a friend and I had a few questions on it. I called customer several times and I always got someone in a timely fashioned my questions were answered very quickly and precise. Well today before I started this bad boy, I called the 800 number and with in a few minutes I had a knowledgeable person the other end. He answered my question. I started the blower following the easy steps and it worked like a charm. I am very pleased, has all the power I need. I like the color, too. I hope I didn't jinx my blower but I'm glad I chose this brand.
Date published: 2018-03-24
Rated

5

out of

5
by
Rubald
from
Best 2 Cycle Handheld Blower
Researched in depth on buying a gas powered residential leaf blower. So many to choose from and wanted a good product for a good value price. With this Ryobi Jet Fan Blower, I think I found it..... After using the blower, I realized with the Jet Fan Blower I did not have the muscle tiredness from fighting the torq of most blowers. Also loved the locking throttle control. Start up out of the box was easy, following unit starting instructions. Air flow is straight thru from back of engine and out the nozzle, giving more than efficient airflow for most chores. Happy with my purchase, and would recommend, if you are looking.......
Date published: 2019-12-29