+8
2 Cycle Full Crank Curved Shaft String Trimmer
Model: #RY252CS
+8
Introducing the RYOBI 2 Cycle Gas Curved Shaft String Trimmer with a full crank engine for 2X longer life. This string trimmer accepts RYOBI Expand-It Universal Brand Fit attachments adding versatility to your trimmer. Simply attach a cultivator, blower, or even a hedge trimmer to the power head and quickly move from project to project. Save time, save space and save money with theRYOBI Expand-It System. RYOBI makes string head reloads easier with the REEL-Easy String Head; thread your string, twist the head, and resume trimming. Users will experience easier starting with the Zip Start carburetor and included Ethanol Shield 2 Cycle Oil. Backed by a 3 year warranty, trust the RYOBI 2 Cycle Gas Curved Shaft String Trimmer for your outdoor trimming needs.
Features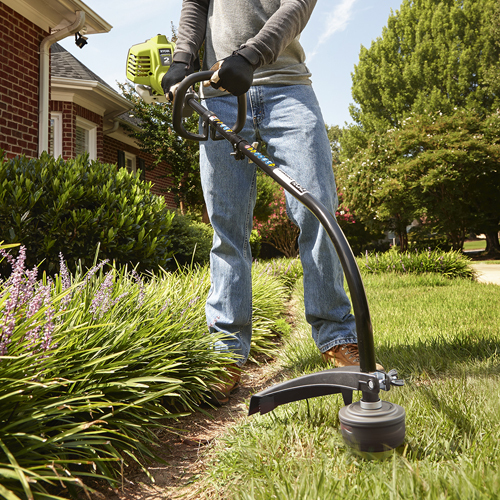 Full crank engine for 2X longer life
Zip Start carburetor for easier starting
Attachment capable: accepts universal brand fit attachments
Reel-Easy bump-feed string head for faster reloads
Includes
Power Head
Curved Shaft Trimmer
REEL-Easy String Head
2 Cycle Ethanol Shield Oil
Reviews
2 Cycle Full Crank Curved Shaft String Trimmer
2 Cycle Full Crank Curved Shaft String Trimmer
is rated out of
5
by
1490
.
Rated

5

out of

5
by
Ironlung
from
works great out the box at a great price!!!
I bought this product yesterday and couldn't wait to try it out. Now when i first went to buy a trimmer i bought the electric one cause i have all RYOBI cordless power tools. I got that one home and went right back and picked this one up. When i first saw it was when i went to return the other product, and i was blown away. Why didnt i see this one before? it is everything and more that i could ask for. The trimmer works excellent and was actually fun to use. The idea that i can buy other attachments to add to this is just a bonus. I would recomend every home owner in america to buy one of these. I promise you will not be disapointed!!!!!
Date published: 2017-10-01
Rated

2

out of

5
by
nicky2016
from
Sting Feeder
I bought the Ryobi 25cc model #RY252CS and am very disappointed with the bump "string feeder" that came with it. The original line lasted 4-5 minutes before I had to refill with replacement line. Also I have to stop engine often and take head off and realign feed thru holes because string line breaks off and no more line can be fed. Question: Why does Ryobi offer a "Reel Easy String head" for this trimmer...........because the one that comes with the it doesn't work very well. I am very disappointed with this product and Home Depot should step up and correct this problem!
Date published: 2016-05-18
Rated

1

out of

5
by
saratoga57
from
poor design!
i have this trimmer for 2 seasons in florida and have replaced the trimmer head 4 times already, the first time , after 2 months of use they sent a replacement for free the others i have ordered at my own cost. just hand tightening the head after restringing ( which is not that easy either) i have found it almost impossible to get the head off without a pair of pliers and a vise to hold it. Eventually the bolt inside the head gets stripped and you have to cut it off( what i was told to do by support the first time this happened). this happens way too frequently especially for the long season we have in florida, very frustrating!
Date published: 2017-08-29
Rated

4

out of

5
by
yanks22
from
Good Tool
Bought this recently and only used 4 times. The Price was Fair and Assembly was Fast and Easy. Starting the Unit became easier with more use but the Idle was rough in the beginning. Overall, seems like a Good Value but Time will ultimately tell. Disappointed with the Gas Tank Location on the bottom of Engine, as Fueling is awkward and tends to spill. Also, because the Plastic Fuel Tank is located under the Engine, when setting the Trimmer down, the Tank is in direct contact with the Ground and is the Support for the Trimmer, which is a Concern for Durability for Rupture, Leakage, etc. of the Tank. My last Ryobi Trimmer lasted 16 years so I am optimistic.
Date published: 2019-07-08
Rated

5

out of

5
by
vanman
from
great machine for the price
Moderate to heavy home use. I just recently purchased my third Ryobi string trimmer. I've been averaging eight years before they get to theùe carburetor tuned to keep it running. I also just found out that methanol in the gas we use has a nasty habit of eating the gaskets in the carburetors and that's why we can't keep them tuned over long periods of use unless we use a fuel additive to counter reactor effects of it destroying insiders of the carburetor. So hopefully I can go well beyond 8 years with the new one. And in all fairness the old ones could have went longer also. But to make a long story short awesome machines for a Great Price.
Date published: 2017-09-28
Rated

4

out of

5
by
Krazy Eddie
from
Great price, powerful and light weight trimmer.
After looking at several other trimmers, I purchased this one. It offered better features such as being able to use a edger or blower attachment. It also had the same size engine as many other brands at an better price, also it was lighter which my wife liked, but I'm not letting her use my new toy. It was super easy to assemble and fact they give you almost everything (gas not included) to get it running even 2 cycle oil for your first gallon of gas! I must say, it is an impressive little trimmer! So much so I have been trimming my neighbors lawn's with it! I still don't think they know who's been trimming their lawn's, but I won't mow for them.
Date published: 2018-06-21
Rated

4

out of

5
by
JBRLandPlan
from
Affordable and Ryobi stands behind their product!
I've had this trimmer for nearly a year and a half. I bought it mostly because my last 780r Ryobi trimmer ran true for 18 years! It did shock me, however, when the RY252CS failed to start last month. But after taking it into Home Depot for repair Ryobi came to the rescue standing by their 2 year warranty replacing the carburetor at no charge. Good customer service is a rarity these days and I am so appreciative of the responsiveness and attention given to my situation. The 5 stars only reflects the 1.5 year life of the original carb. I am a Ryobi customer for life!
Date published: 2017-04-19
Rated

5

out of

5
by
Anonymous
from
Super easy to start
I bought this weed eater 3 years ago, stored in a shed that has no insulation and she starts in a breeze every summer, no tuneups and I am very hard on my things. Very durable and very lightweight! You can also get a brush trimmer and a shoulder strap if you'd like. I am extremely amazed at this product and it's low price! Not to mention the attachments! 15-20 sec you can turn yourWeed eater into a hedge trimmer, leaf blower, chainsaw, tiller, edger, and a few more I believe. The gas is amazing in this thing! I can run that baby in full throttle and get through me and my neighbours house in les than an hours time for over an acre.
Date published: 2020-06-07