+6
2 Cycle 20" Chain Saw
Model: #RY5020
+6
With its powerful 50cc engine, you can trust the RYOBI 20 in. 2-Cycle Chain Saw to get the job done fast. This saw features an anti-vibe handle to provide added stability and comfort while in use. As an additional safeguard, it has an inertia-activated chain brake to stop the chain automatically and a SAFE-T-TIP bar to protect against rotational kickback. Servicing is made easy by the tool-less air filter cover and side-access chain tensioner. The adjustable automatic oiler will ensure a longer bar and chain life. With its durable carrying case, transport and off-season storage are simple and convenient. The smooth operation and 3-year warranty make the RYOBI 20 in. 2-Cycle Chainsaw the ideal choice for tackling a variety of cutting jobs.
Features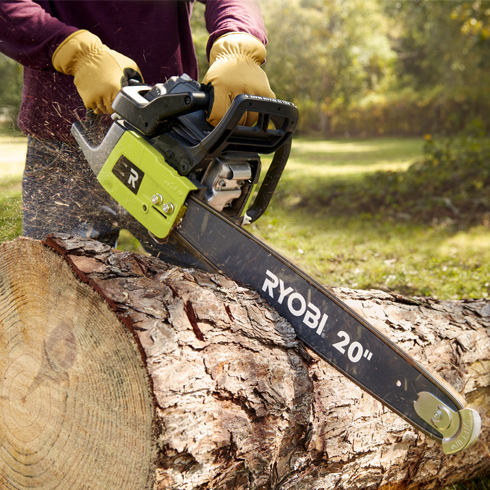 Powerful 50cc Engine for Fast Cutting
Anti-vibration Handle for Increased User Comfort
Adjustable Automatic Oiler for Longer Bar and Chain Life
Tool-less Air Filter Cover for Easy Service
Side Access Chain Tensioner for Easy Adjustment
Inertia-Activated Chain Brake Stops Chain Automatically
Safe-T-Tip Protects Against Rotational Kickback
Carrying Case for Easy Transport
Specifications
Engine Type: 2-Cycle
Weight: 10.7 lbs.
Engine Size: 50cc
Bar Length: 20"
Chain Pitch: 3/8" Low Profile
Chain Gauge: .050"
Drive Links: 62
Includes
2 Cycle 20 in. Chain Saw
2 Cycle Engine Lubricant
Bar & Chain Oil
Scrench
Scabbard
Carrying Case
Operator's Manual
Reviews
2 Cycle 20" Chain Saw
2 Cycle 20" Chain Saw
is rated out of
5
by
69
.
Rated

4

out of

5
by
peter398
from
Seems to be a solid purchase, but possible issues
I bought this about a month ago. I really struggled to get it started the first time, even called in for help (on a weekend, no support), but it finally turned over and worked basically well the first day. However, I did notice that after about a half-hour of on-again, off-again use, I could not get it to run at full throttle without backing off the trigger a little. The second use was much shorter, and there were no issues. Finally, I did notice that there was oil leaking after storing following the first use. Not sure what's going on, but it might be chain oil leaking from the cutting blade area. I need to monitor this to see if it's a significant issue.
Date published: 2020-07-04
Rated

4

out of

5
by
Nunzio
from
Great saw for homeowners
I was given a large load of extremely hard hickory wood which my smaller saw couldn't handle. I thought this Ryobi 20" Chainsaw with its 50cc engine might work. It worked good. More than enough power to handle the hard wood. I can't give it 5 stars because the factory chain included with it was useless. It failed after only two cuts. The Oregon chain I purchased with it was a perfect match with the Chainsaw. Again, the chainsaw had plenty of power, wasn't too heavy, and the chain catcher built into the saw worked great when the factory chain let loose. I would highly recommend the Ryobi chainsaw for the average homeowner with normal firewood to cut or trees to trim on their property.
Date published: 2019-06-21
Rated

4

out of

5
by
mom0six
from
Powerful and easy to use!
Bought this the other day. Works well! It has the power we needed for large logs at an affordable price! ONLY COMPLAINT...the blade was so dull when it arrived. We expected to use it as soon as it arrived, and that was not possible! We had to buy another blade, because we didn't know how to sharpen the blade it came with...disappointed about that, but other than that, we feel it was a great purchase. Had someone show us how to sharpen the blade and now we have to chains to alternate.
Date published: 2019-09-28
Rated

5

out of

5
by
Surf411
from
Great saw for the money
Simple review: buy this saw if you don't use it for work. Best homeowner saw - period!
Date published: 2018-12-25
Rated

5

out of

5
by
Elreyrey
from
Very Happy
This saw is a Tiger, with power to spare. I especially like the chain tension screw being on the side instead of next to the chain as my other saws. This makes it much easier to make adjustments. Starting is easy for a two cycle engine. My only complaint, if it's really a complaint is that the saw comes with a storage/carry case. I neither need, nor want, the case which I'm sure added to the saw's price. However, there is a lot of saw for it's price.
Date published: 2020-05-21
Rated

5

out of

5
by
BilWith1L
from
Light-weight, powerful.
Have used it for hours cutting up tree trunks in my yard. Replacing an electric McCullugh that was a work horse. Obviously, this is not tethered to a cord that gets in the way. The anti-shock handle keeps my hands from getting tired. I suggest getting a much better chain. The original was beat in an hour, actually melted and jammed up. With a new echo and even Oregon chain, it cuts through like a champ. The price was great. Highly recommended
Date published: 2018-12-31
Rated

5

out of

5
by
TheFlea
from
Impressive
I recently purchased this Ryobi 20" chainsaw to buck-up six mature fruit trees that had died due to lack of water. I am most impressed with the ease of use, strong motor and great instruction manual. I live at 5k ft elevation and this has presented no problem in starting and running smooth. I relied upon previous review to help make my selection and have been rewarded with an excellent piece of equipment.
Date published: 2020-10-02
Rated

5

out of

5
by
champolino
from
Great Little Saw
Three months ago, I was debating whether to go with a lesser known brand with a lot of good reviews, similar price but it's length and cc's were slightly more than this 20" Ryobi. Although I had read and saw positive reviews for this saw and I know and trust the brand from having had a couple of their other power tools i decided that going a little bigger while saving only a couple of bucks was the way to go....huge mistake that ended up costing me more in the end. I have about a quarter acre of wooded property at the back of my house and little by little we've been cutting and limbing trees trying to expand our limited backyard by a couple of feet and really also just trying to get some more sunlight on the property so we could enjoy it more. I started this project with the larger saw and from day one, it labored cutting 8"-10" thick trees which I assumed it was normal but then after the 5th tree it also started to leak oil, stalling and i didnt feel as tight. I knew it wasn't the right saw for the job so i put the job on hold, fast forward to last month and my son gave me a gift certificate for Father's Day so i decided bite the bullet and buy another saw, but this time i think i got the right one! As soon as i saw the case and then took it out, i knew it was just so much better quality. It came assembled, instructions were simple and even had a fuel additive included. My wife and I took a day off, rented a 50ft bucket lift and put the Ryobi to work. It started right up and man, it was cutting wood like butter! I coulnd't believe how effortlessly it performed compared to my other larger more powerful saw. It went all the way through a few 12" trees with getting jammed. In total we cut 6 trees and tens of thick tree limbs and branches with no issue. Applying the tension and cleaning afterwards was easy, IMO it felt better, safer and solid...overall just a great little chainsaw that I wish I had purchased from the get go.
Date published: 2020-07-26