+4
18V ONE+™ 9 IN. Edger WITH 1.3AH BATTERY & CHARGER
Model: #P2310
+4
Maintaining a crisp edge on a your lawn is a breeze with the RYOBI ONE+ Cordless Edger. This tool is perfect if you are tired of messing with gas or cords! Simply pop the battery in and your off and running! This edger comes with a 9" dual serrated blade and a 4-position adjustable depth control. The included lithium ion battery will ensure that you get fade free power from start to finish! Best of all, this battery can be used on any tools in the ONE+ family!
Features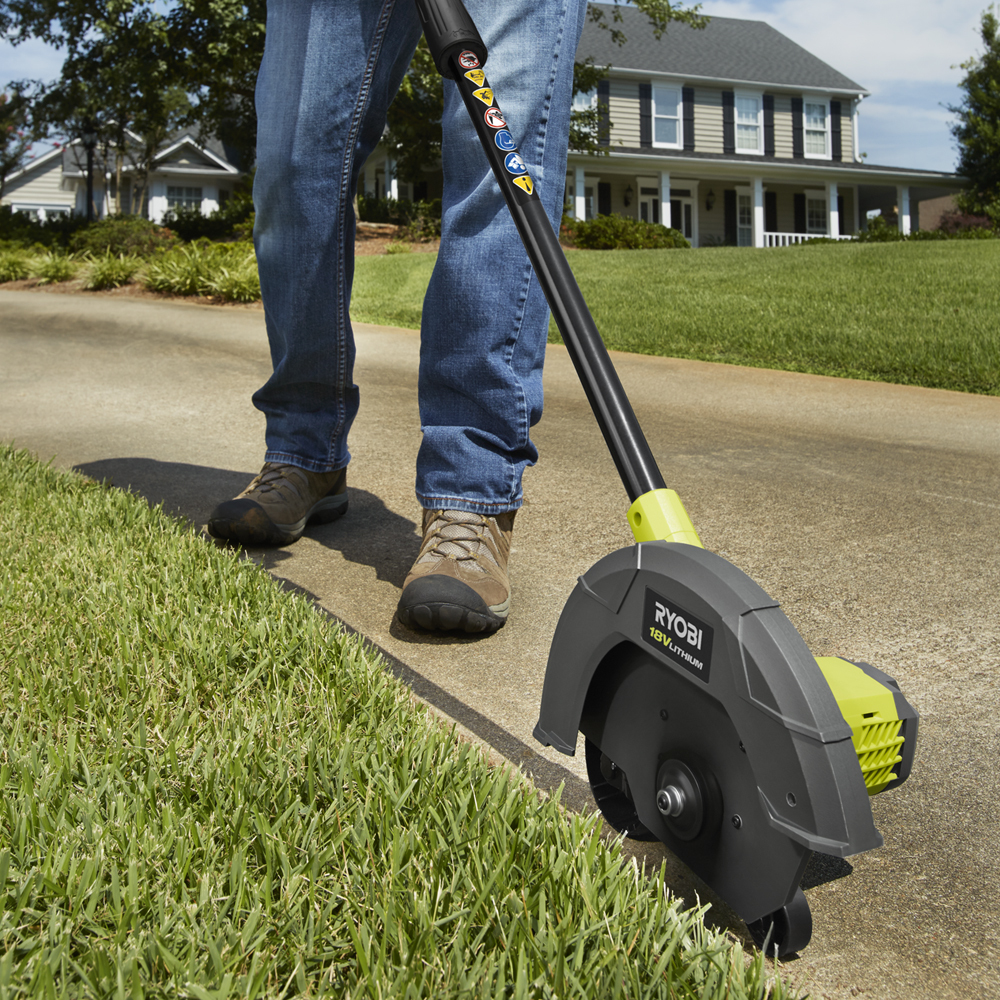 RYOBI ONE+ Cordless Edger
Works with all Ryobi ONE+ tools and batteries
ONE+ 18-Volt lithium-ion battery and a 1-hour quick-charger included
4-position adjustable depth control
9 in. reversible edger blade
Light weight for user comfort
Front and rear wheel for added stability
Overmold handle for added user comfort
3-year warranty
Specifications
Power Source: 18v Battery
Blade Length: 9 in.
Max Cutting Depth: 2.5 in.
Includes
18V Edger
Edger Blade
18v Lithium-Ion Battery
18v Charger
Operator's Manual
Reviews
18V ONE+™ 9 IN. Edger WITH 1.3AH BATTERY & CHARGER
18V ONE+™ 9 IN. Edger WITH 1.3AH BATTERY & CHARGER
is rated out of
5
by
741
.
Rated

5

out of

5
by
DaveD
from
Perfect tool for what I need
I recently moved from New York where my grass was Kentucky Blue grass. Edging with a string trimmer was not a problem. Here in Georgia the grass is a vine like Centipede type and my Craftsman string trimmer uses a lot of .060" string to cut through the vines. I bought my first Ryobi because my friend back in NY swears by the One+ 18V tools. Using the Ryobi Edger made edging up my sidewalk and driveway go quickly, it was easy and it looks so professional. My wife likes the edging job too and now wants me to edge the flower gardens where the adjustable depth will really come in handy. I am looking forward to getting many more of the One+ tools.
Date published: 2016-09-29
Rated

4

out of

5
by
Audie0907
from
Edger
I love Ryobi products—I own quite a few of them. I've only had an issue with plastic breaking on one of the products, but the customer service is amazing so the issue hasn't hindered me from continuing to purchase Ryobi products. This edger works great, however, the battery doesn't last long enough to complete the job. I have only a small area of sidewalk, and only one side of my short driveway that needs edged so I was surprised the battery died (at full charge) and the project didn't even get halfway done. Thankfully, I can swap out the battery since I have plenty of them...but a 40v battery would've been better for this product.
Date published: 2020-05-31
Rated

5

out of

5
by
jeffinaustintx
from
Works better than expected
Got this via Home Depot - home delivery and put it to use the day it arrived. Super impressed. I was skeptical that the 18 volt would not have enough power to cut through the grass but I was so wrong. We have used this everywhere - along the side walk, around the garden and around the pool, all with excellent results. I was originally looking for a 40v version but the 18v is perfect. We already have 5 batteries on hand for the number of other Ryobi tools that we have so we have plenty of reserve power for big runs. I am soooo glad we bought this - highly recommended!
Date published: 2018-03-29
Rated

4

out of

5
by
Yardman Steve
from
Nice tool, but ....
I bought this tool because using my string trimmer as an edger was driving me bat-s--- crazy with the line breaking off. This little guy does the trick and saves me a truckload of frustration. Nice clean cuts, very easy to handle with the convenience of battery operation. The only caveat: If you don't have any low-draw Ryobi tools, go get one to use with the 1.3 amp battery that comes with this model. Even with a full charge you don't get more than five minutes out of it. I switched to a 4-amp battery and the thing just goes on and on and on ... Thinking of going to 6-amp and it should go on and on and on and on ...
Date published: 2020-08-24
Rated

5

out of

5
by
Mrr04004
from
Great value and power!
I bought this since I had already had old (blue) Ryobi one+ tools so I figured I would just use the batteries I already had. Well they would only last about 5 to 8 minute. So it was a slow start, but I decide to buy a new lithium battery and this powered through the grass/dirt that was overgrown in the sidewalk by 3 inches on each side. I did have to really pull on some the grass to get it up, would an expensive gas edger been more efficient, maybe maybe not but for the price and grass never been edged before I am very happy with my purchase and will like consider more cordless yard equipment over gas in the future.
Date published: 2020-07-18
Rated

5

out of

5
by
Jdnpdx
from
Did the job well!
Worked great, but this is a consumer product and not for pro landscapers. The yard has been neglected and probably not edged in 10+ years, this edger did a fantastic job. Over 1000 linear feet of edging and in most spots cutting off 8-12" of over growth. I did go through 7 fully charged batteries, but thankfully I own several Ryobi 18+ tools. Happy to have added this to my collection.
Date published: 2016-04-16
Rated

5

out of

5
by
Russ
from
Much better than edging with a string trimmer
I have one of those yards that tries to overtake the sidewalk very quickly. No matter how much I use the string trimmer to cut back the grass, it seems to creep back onto the walks in no time at all. Growing up, my parents had gas powered edgers that worked great to keep the grass line well manicured. I purchased this edger in hopes that it would do the same. Since I already own quite a few Ryobi batteries, I wasn't worried about running out of power. It also helped that this edger came with a battery and charger too. I have to say that I am impressed with how well this works! The max depth of the cut is about an inch and a half, which is more than enough. The guide wheels help to keep things straight as well as keeping the depth consistent. Definitely easier than using the string trimmer, and much easier than using a gas powered edger. I wish I had one of these years ago! My yard now looks like a professional did the work. Definitely recommended!
Date published: 2016-04-21
Rated

4

out of

5
by
jameseric
from
Eager for grass, but power too
I am glad to have the tool. Also glad to have bought an after-market Li-ion battery (4.0A) to use with it. Because as has been noted, maintaining the revs needed to do a polished looking trim job requires sustained battery oomph -- way longer, I am sure, than the one that the complete version of this tool, comes with. It isn't a commercial tool, isn't capable of the torque that a 2-stroke gas engine would supply. But for use in an actual neighborhood, it's just fine: a source of homeowner satisfaction, that my finishing the edges of my lawn is bringing far fewer decibels into my neighbors' sensitive ear-drums, than anybody else on a Saturday morning.
Date published: 2020-10-21