+4
18V ONE+™ 280 CFM Jet Fan Blower (Tool Only)
Model: #P21081A
Over 175 ONE+™ Tools – All work with any RYOBI ONE+™ 18V battery
2X more power and 50% more run time than the previous model
Jet Fan Design for power up to 280 CFM and 100 MPH
+4
Over 175 ONE+™ Tools – All work with any RYOBI ONE+™ 18V battery
Features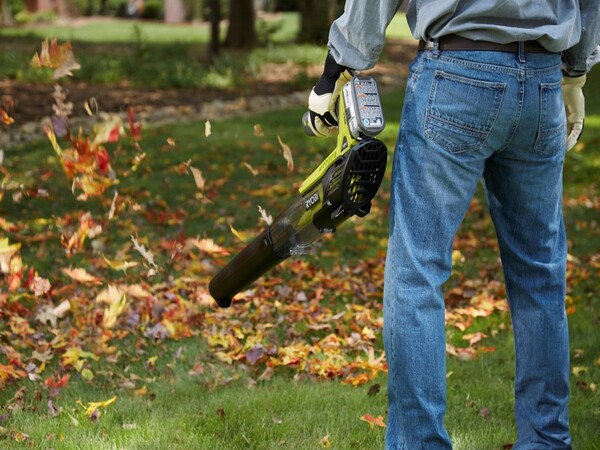 More Power and Longer Run Time
2X more power and 50% more run time than the previous model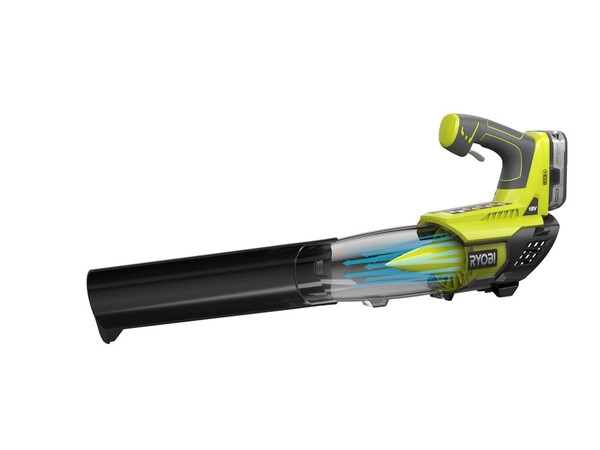 Jet Fan Technology
For increased airflow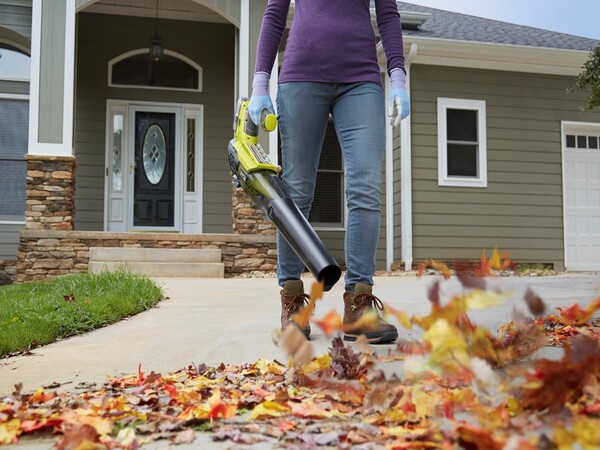 Performance
Delivers up to 280 CFM and 100 MPH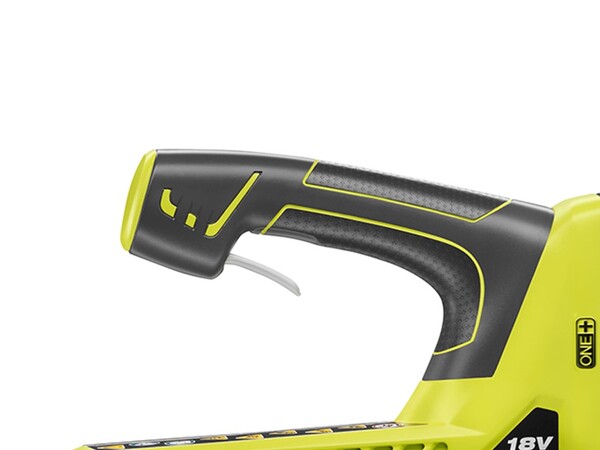 Variable Speed Trigger
For ultimate user control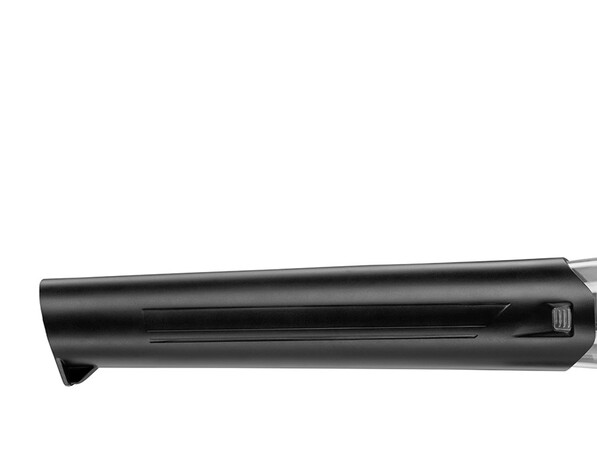 Debris Scraper
For loosening stubborn dirt and leaves
System Compatibility
Over 175 ONE+™ Tools – All work with any RYOBI ONE+™ 18V battery
Specifications
Dimensions
Weight

4.7 lbs.
Details
Battery Platform

18V ONE+

CFM

280

Decibels

70

MPH

100
Warranty
Warranty

3 Year Limited Warranty
Includes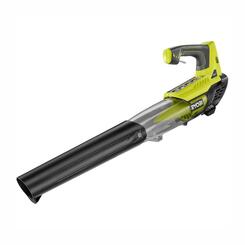 18V ONE+™ 280 CFM Jet Fan Blower
[#<ProductFeature id: 3428, title: nil, content: "18V ONE+™ 280 CFM Jet Fan Blower", photo: "820c7c4f-dc81-4593-907e-fe13a273ee50.jpg", created_at: "2020-10-30 22:45:51", updated_at: "2020-10-30 22:45:51", product_id: 1415, sort: 0, enhanced_type: "included_item", enhanced_group: nil, enhanced_icon: nil>]
Reviews
18V ONE+™ 280 CFM Jet Fan Blower (Tool Only)
18V ONE+™ 280 CFM Jet Fan Blower
is rated out of
5
by
3178
.
Rated

5

out of

5
by
AndyinTN
from
Excellent blower. From a former landscaper.
I am a former manager of a landscaping company, so I'm used to really powerful backpack blowers. I bought this because I needed something I could clean up around the house. I have a lot of trees, and plan on doing more frequent cleanups this fall as to not put undue expectations on a smaller blower. I also decided to go electric to get away from the mess and pollution of a gas model. I was surprised at how well this product worked even on wet leaves in my gravel driveway. I was done in no time. The best part is I didn't have to mess with getting gas or exhaust fumes all over myself. Just pull the trigger an the Job is done. Nice little blower.
Date published: 2017-09-03
Rated

5

out of

5
by
davecaff
from
lightweight
I bought this blower last month when I had to have rotator cuff surgery and my wife had to try and start my gas powered leaf blower. IMPOSSIBLE! I couldn't start it either. I saw the light weight Ryobi blower at Home Depot and realized that this would be perfect.I brought it home ,charged it and plugged in the battery. WOW! My wife loves it. There is no pulling and pulling and not starting. This has been a great purchase for my wife and I. And the best news is that it holds a charge and works great. I would recommend this for everyone, especially us seniors LOL.I have now gone green and also purchased trimmer-edger and the hedge clippers. Thank YOU RYOBI!!!!!!!!
Date published: 2017-06-28
Rated

5

out of

5
by
DaveMGR
from
More Power!
I had purchased a battery blower of another brand. When I tried to use it I realized my wife's hair dryer has more power than it did. Returned that one. I have a Ryobi trimmer, which I like, and decided to try a Ryobi blower. Good price and the 100mph/280cfm caught my eye. Out of the box the unit showed a full charge, but the performance was mediocre, at best. Oh no! Not another item to return. But, I charged the battery, in spite of the status light, and tried again. Viola! A blower with enough power for what I need done. Nice design. Comfortable. Not too heavy to use for 15-20 minutes at a time. Yes, I recommend this blower.
Date published: 2018-06-12
Rated

5

out of

5
by
David G88
from
Great power and lasting battery
Just purchased this to replace an aging cordless B&D blower, on which the battery barely holds a charge and only puts out about 1/2 its original power. Since a replacement batter is no longer available, it was time to upgrade. I already own several Ryobi 18V tools and have been very happy with them, so I figured low risk of being disappointed with this model blower. I charged up the battery and this thing has great power. I have only used it once so far, for about 15 minutes, and there is still plenty of juice. Having other 18V tools is a big plus as I can always grab one of my other batteries if I run this one down. (And vice versa for my other tools.)
Date published: 2018-03-17
Rated

5

out of

5
by
Brewster
from
Perfect for my needs
I bought this after owning the 18V ONE + trimmer/edger for a couple of weeks and liking it. This blower is perfect for me to clean the garage quickly and blow off the driveway, sidewalk and deck after mowing. Snap on a battery and get it done in a few minutes with no cord or firing up the gas blower which is an overkill. Love the variable speed! Makes it easy to adjust to the right amount of air being pushed. Not as powerful as the gas blower but has more than enough power for anything I do and it's so easy to use. Had a corded blower in the past but the 100' cord got in the way constantly and wasn't long enough to reach the far end of my sidewalk. Great tool if it lasts.
Date published: 2017-07-18
Rated

4

out of

5
by
ExplorerAtHeart
from
Good Power, Nice Balance. Needs minor tweaks.
I bought this unit yesterday from Home Depot and already believe that I should have bought it sooner. Was *almost* easy to set up. It has very good power. The balance in hand is great. However, I can't help but recommend some improvements. First, it needs couple of additional attachments: a 1" round tip/extension, and a 3"x0.5" rectangular tip/extension. The blower has other uses and the big snout does not serve them all well. Second, the trigger looks easy to break. Will that mean a new tool? Ugh! Third, the fit of the snout attachment need refining. Mine was easier to attach with the tip of the snout facing up. I had to force it to fit the right way. Still, I am a happy camper.
Date published: 2020-07-11
Rated

5

out of

5
by
kandi
from
Blew me away!
My patio had become riddled with leaves and weeds and was driving me crazy! So after careful review, and research I decided Ryobi was the one to transform it from a disheveled brick underlayment, to a summer oasis! I can not believe the job this blower does! It almost literally blew me away!
Date published: 2021-06-20
Rated

5

out of

5
by
3Ben
from
Easy-Peasy
I have gone "whole hog" on the Ryobi one plus system and I love it! Used to pull extension cords all over the place or mess with gas and oil mixtures but NO LONGER thanks to Ryobi. Even though the blower, edgers, trimmers aren't quite as powerful as their corded or gas predecessors but for my uses they are powerful enough and they are SO EASY to use. I suggest you bite the bullet and buy the Ryobi supercharger and several batteries. I bought two each of the 2 amp hour, 4 amp hour and 6 amp hour batteries and keep them ready to go. Also bought drill, power inflator, hedge trimmer, nail gun and I am sure I will get more tools that work with this system.
Date published: 2018-10-22