+5
18V ONE+ 2300 Watt Electric Start Inverter Generator
Model: #RYi2322E
No hassle electric start engine using the included 18V ONE+ battery
Clean power safely operates sensitive electronics through (2) 120V outlets and (2) USB outlets
Bluetooth Monitoring Using the GENCONTROL™ App
+5
Convenient, Quiet, and Portable Power
Features
Integrated Bluetooth Technology
For the ultimate user experience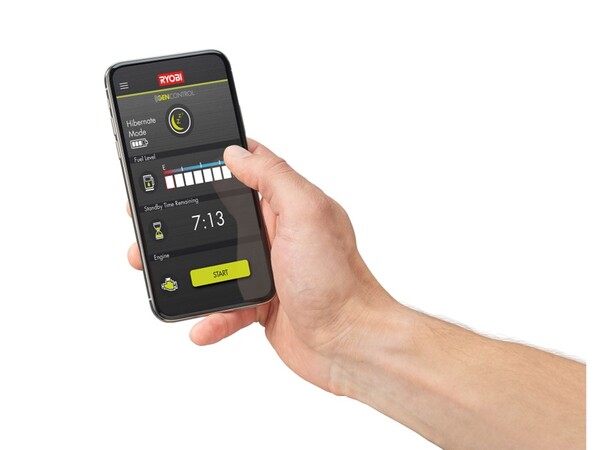 GenControl Reset Button & On-Board Reset Switch
Provide added convenience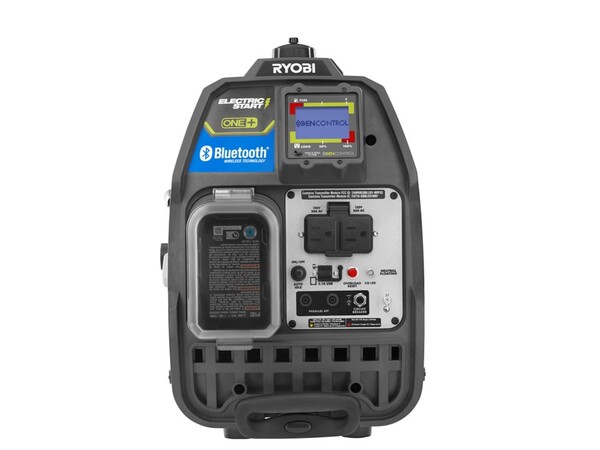 Auto-Idle Technology
Provides greater fuel efficiency and extended run time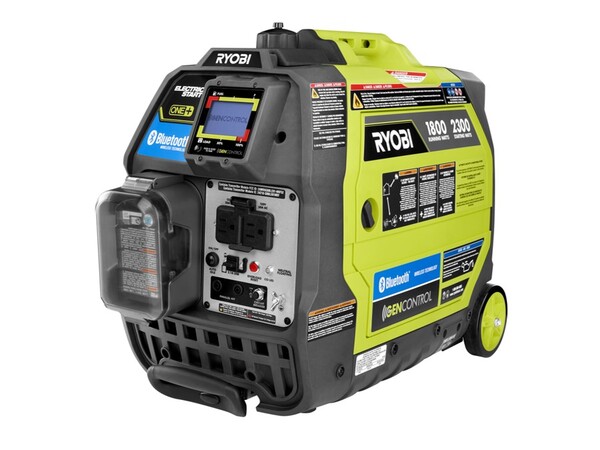 Automatic CO Shutoff with CO Sensor
For increased safety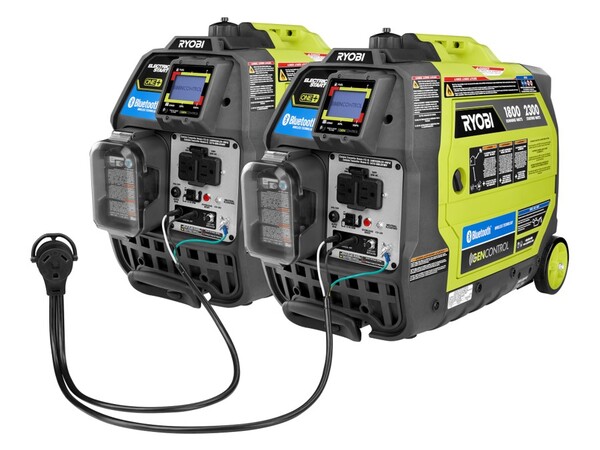 Parallel Kit Capability
For twice the power when a second generator is paired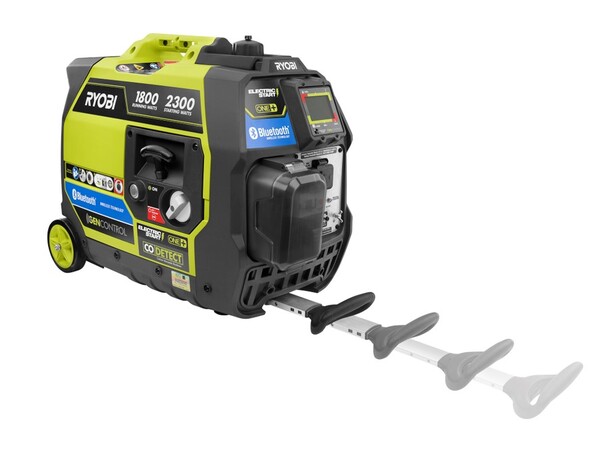 Extended Handles & Rear Wheels
For easy transport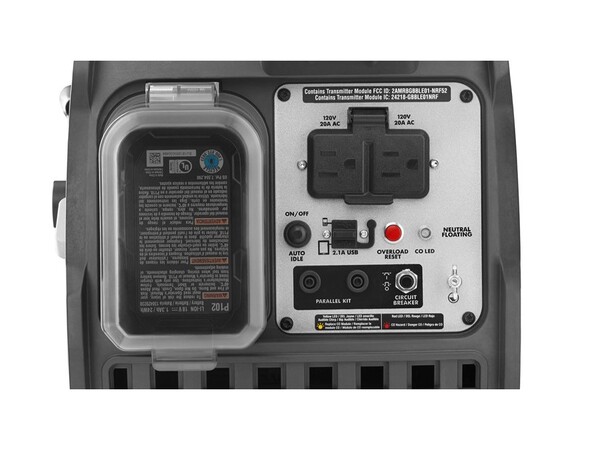 Clean Power
Safely operates sensitive electronics through 120V and USB outlets
Push Button Start
Electric start capable
Specifications
Dimensions
Running Watts

1800

Starting Watts

2300

Fuel Tank Capacity

1.2 Gallons

Run Time at 25% Load

10.3 Hours

Outlets

(2) 120V AC 20 Amp & (2) 5V DC 2.1 Amp USB

Weight

57 lbs.

Warranty

3 Year
Includes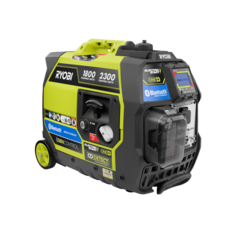 18V ONE+ 2300 Watt Electric Start Inverter Generator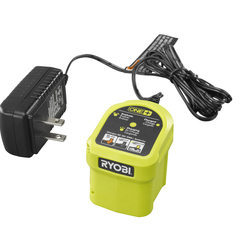 18V ONE+ Dual Chemistry Battery Charger
[#<ProductFeature id: 3689, title: nil, content: "18V ONE+ 2300 Watt Electric Start Inverter Generat...", photo: "51c48a2e-f13f-4be9-bf3b-eec59074590e.png", created_at: "2020-12-01 03:02:49", updated_at: "2021-01-07 02:27:41", product_id: 1492, sort: 0, enhanced_type: "included_item", enhanced_group: nil, enhanced_icon: nil>, #<ProductFeature id: 3690, title: nil, content: "18V ONE+ 1.5 Ah Battery", photo: "9f3c4d46-8897-40f6-ba8f-c102d141bd1e.jpg", created_at: "2020-12-01 03:02:51", updated_at: "2020-12-01 03:02:51", product_id: 1492, sort: 1, enhanced_type: "included_item", enhanced_group: nil, enhanced_icon: nil>, #<ProductFeature id: 4154, title: nil, content: "18V ONE+ Dual Chemistry Battery Charger", photo: "853cc48f-597c-4826-8b51-7756a969f715.jpg", created_at: "2021-01-07 02:31:35", updated_at: "2021-01-07 02:31:35", product_id: 1492, sort: 2, enhanced_type: "included_item", enhanced_group: nil, enhanced_icon: nil>]
Reviews
18V ONE+ 2300 Watt Electric Start Inverter Generator
18V ONE+ 2300 Watt Electric Start Inverter Generator
is rated out of
5
by
6
.
Rated

5

out of

5
by
Shmagegster
from
Easy to start
I just purchased it and ran it for an hour today. I love the bluetooth monitoring app. Its a relief that I don't have to pull start it if I don't want to, and can rely on it to start for the ole lady. I do feel like the lack of onboard charging of the starting battery, and lack of remote starting through the app were missed opportunities here though.
Date published: 2021-01-21
Rated

4

out of

5
by
Chucki
from
excellent machine if you can get it started
this is my third purchase of this 2300 watt generator,2 were for customers. These generators do not start easy,in fact will not start in very cold temperatures. The second purchase was for a customer to be used in a power failure.Out of the box it did start after way to many pulls. A few weeks later i went to demo unit and would not start at all. Took unit to home depot repair and was told right away you have bad gas. They checked unit and a week later was told unit is ready for pick up. Problem BAD GAS and charged about $75.00. Took unit back to customer ,put fresh gas in and started with way to many pulls.Customer not to happy. My third purchase was the electric start unit. This unit did start out of the box with way to many tries that drained battery alot. Im not to happy at this point .Called customer service and was told if you dont want unit to return it. A few days later weather is 33 F and tried to start unit and no start .Tried using true fuel and no change .Had idea to use starting fluid ,removed air cleaner cover ,gave it a quick shot and started instantly .HOW ABOUT THAT !!!!!!!! Tried several times over next few days and without starting fluid it would not start. When this unit is running it is a great machine. I am bringing this unit to a customer with instructions to use starting fluid on first cold start .These 2 customers are senior women who live alone and are using these machines in a power failure to keep heat/refrg and lighting going. My first purchase was for my personal use and besides starting issues i thought it was perfect. Needless to say i did alot of running around and phone calls and came up with a fix on my own. Calls to customer service did nothng and when you talk to repair dept at Home Deopt its always bad gas..I would still recommend this generator,i would like to add they electric start is genius.But you will need to use starting fluid for quick starts in cold or any kind of weather. I would like a responce on this P.S. i am a licensed electrical contractor and have done many generator hookups with all size generators. This Ryobi is my personal favorite
Date published: 2021-02-13
Rated

5

out of

5
by
Matthew Nesheiwat
from
THE BEST ELECTRIC GENERATOR IN THE WORLD
I bought this product from The Home Depot and love it. During Christmas, I drove around town with Christmas lights wrapped around my car and a Ryobi plug-in radio. The power was amazing it never faded when I used my 4AH 18v battery, I only used to trust gas-powered generators, chainsaws, leaf blowers, and string trimmers, but Ryobi has turned me electric. Their power and performance are impeccable good enough to rival professional brands like DeWALT and Makita
Date published: 2021-01-15
Rated

5

out of

5
by
Anonymous
from
Compact but powerful generator!
We had an emergency power outage in our campground, ran to pick up a generator so we had heat and power. We had our choice between 3 brands and I'm super happy we chose Ryobi. Started right up, provided plenty of power for our travel trailer and the Bluetooth feature gave us peace of mind for the next few days. Highly recognized!
Date published: 2021-03-22
Rated

5

out of

5
by
Boinaverde18
from
Really good and so hippy. I like it the services and the app. Great
Date published: 2021-04-27
Rated

5

out of

5
by
Parked2857
from
Quieter then my Honda 3000 ..awesome product...never looking back
Date published: 2021-02-12