+5
18V ONE+™ 2 Gallon Chemical Sprayer
Model: #P2803A
+5
The RYOBI ONE+ Chemical Sprayer is the perfect union of portability and versatility. With its pump optimized for cordless efficiency, it sprays 40 Gal. per chLarge with no pumping required. An adjustable spray nozzle makes it the perfect tool for a variety of applications and the durable wand detaches from the handle for 1 or 2 handed use. Featuring a 2 Gal. tank and a cap that conveniently doubles as a mixing cup, the RYOBI ONE+™ Chemical Sprayer is completely efficient from prep to clean up. This product includes the tool only; battery and charger sold separately. Backed by a 3-year limited warranty.
Features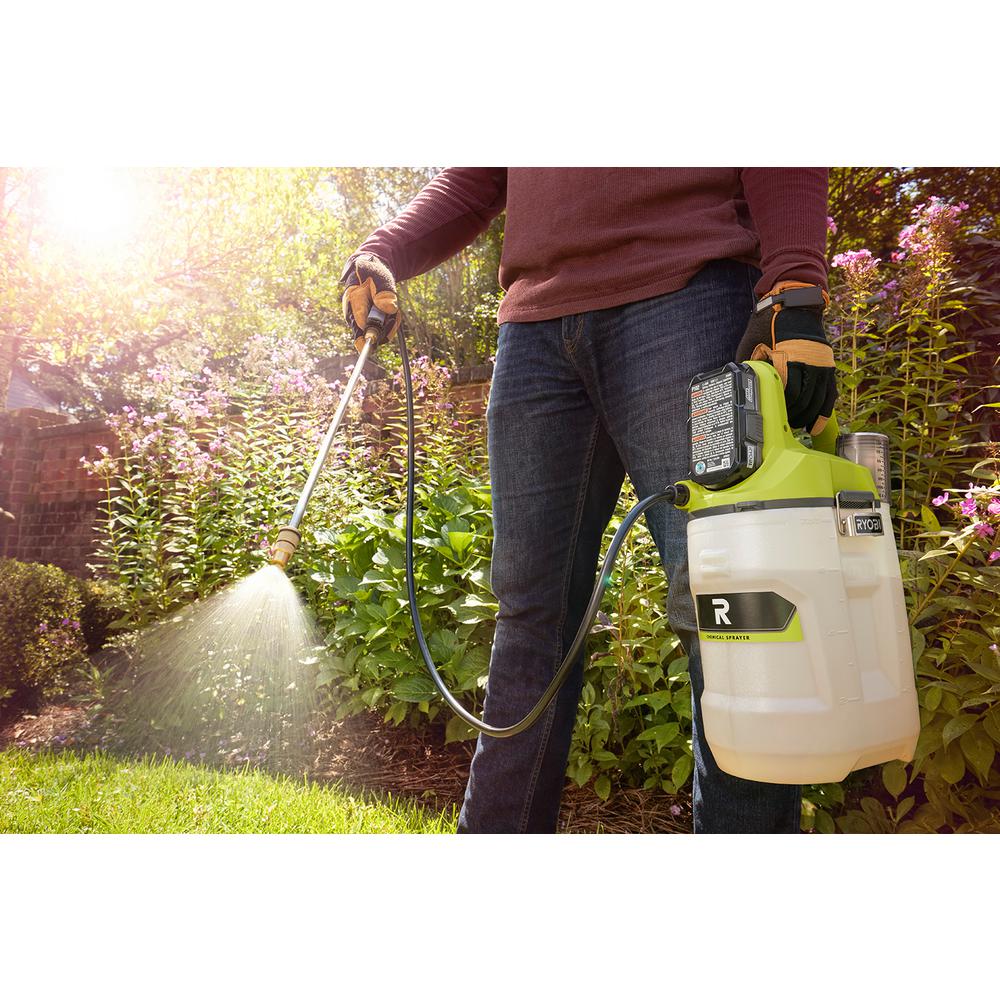 Over 175 ONE+™ tools – all work with any RYOBI ONE+™ 18V battery Efficient pump optimized for cordless performance Adjustable nozzle for customized application 2 Gal. removeable tank with on-board measuring cup 1 or 2 handed use
Specifications
Power Source: 18V ONE+™ Battery
Tank Size: 2 Gallons
Pressure: 45 PSI
Tank Material: High Density Polyethylene
Hose Length: 54"
Nozzles: Adjustable
Warranty: 3 Year
Includes
18V ONE+™ 2 Gallon Chemical Sprayer
Reviews
18V ONE+™ 2 Gallon Chemical Sprayer
18V ONE+™ 2 Gallon Chemical Sprayer
is rated out of
5
by
42
.
Rated

5

out of

5
by
coffeemanrr
from
No more pumping
Wow I purchase this chemical sprayer a couple of weeks ago and it's the best. Cuts down the time it takes to complete a job easy to use love the measuring cup that is included and also the built in design for storing the handle when not in use. I has a stainless steel wand and brass tip great quality. Put this on your wish list this year.
Date published: 2020-11-12
Rated

5

out of

5
by
Termite1
from
a real labor saver
Replaces my 2 gal. hand pump sprayer...no contest! Produces an even, consistent spray pattern without repeated stops to pressurize a tank by hand pump. Enormously speeds up and eases the task. Great machine. I would like to see a screen added to the the 'replacement seals' package. This screen is at the tank end of the pick-up tube and will require clearing or cleaning to maintain sprayer performance. This maintenance requirement should be addressed in the Owner's Manual. This screen is about 3mm diameter and easily lost. Also, I really appreciate Ryobi's 18 volt +1 broad product line offings. Most manufacturers are busy making their most recent product obsolete while Ryobi is working to continue building on a solid product base. Well done and thank you.
Date published: 2020-10-03
Rated

1

out of

5
by
tkd_studio
from
Stopped working after 3 months
We used this unit to spray our disinfectant solution on our mats after Taekwondo training. It was good while it worked, but it just stopped working yesterday after about 3-months. It sounds like the pump/motor is running but the suction is lost.
Date published: 2020-10-04
Rated

4

out of

5
by
RetiredRyobiLover
from
When I ordered this sprayer, I assumed the pump motor would be activated by triggering the spray wand. Instead, the pump is running under pressure the whole time, even without the wand being triggered. The new sprayer works great right out of the box, but I have to wonder how long the pump or other components will last with this design. I have a very large arsenal of Ryobi tools built up over the years that I am very happy with. I hope after 3 or 4 years, I can feel the same about this sprayer.
Date published: 2020-09-23
Rated

5

out of

5
by
Pete155
from
No more pumping
I purchased the two-gallon kit that comes with the extra tank and the backpack. Two gallons gets heavy so the backpack is a real arm saver. I keep bug spray in one tank and weed killer in the second. It's easier to switch tanks than to have to constantly pump. I read some complaints about the measuring cap. I've had no problems, it's convenient to have the measuring cup attached to the tank and it appears to me to be sturdy. I wish I purchased this sooner.
Date published: 2020-11-06
Rated

4

out of

5
by
DHod
from
Way easier to use than pump sprayer
Bought this for spraying garden and trees. So far it has worked great with water and dish soap mixes but 8 believe it will work reliably with anything that is not a thick liquid. The nozzle adjusts from wide spray to straight stream. The pump runs non stop when turned on. It does not pressurize the tank and then run off tye pressure it just runs a pump when on with a trigger to start flow. The trigger on the wand also has a nice lock feature to lock it in and save your hand muscles from cramping after a few minutes. Makes it much easier to spray for long periods. The shoulder strap also helps with the tank weight when it's full. Buy the 2 gallon instead of the 1 gallon for the slight price difference because you can always just put 1 gallon of fluid in the tank if that's all you need and if you need more your not refilling as much.
Date published: 2020-10-17
Rated

5

out of

5
by
JustBob
from
Nice features
I live on a large property that has a couple of very steep slopes. It's often awkward to carry a pump sprayer and sometimes hard to find a spot to pump it up without sliding down the hill. I bought this with the carrier and and now I can concentrate on keeping my balance on the hills. I bought an extra tank so that I can put different chemicals in with out worrying about mixing them. I just label the tank and there is no mixing them up.
Date published: 2021-01-01
Rated

5

out of

5
by
mmroadking
from
Great Sprayer Great Customer Service
I needed a sprayer that would give a consistent spray rather than losing pressure and having to pump every few minutes. I ordered this sprayer to fit that bill. The sprayer works great and allows for the adjustment of whatever I am spraying. When it arrived the sprayer wand was damaged in shipping. I called customer service and they sent me a new one in a couple of days. Customer service is everything to me and Ryobi hit all the marks.
Date published: 2020-12-08