+7
18V ONE+™ 12 IN. STRING TRIMMER WITH 2AH BATTERY & CHARGER
Model: #P20100
20% More Power than Previous Model
Lightweight and Easy to Handle at Only 6 lbs.
Variable Speed Trigger to Maximize Power or Runtime
+7
Lightweight and 20% More Powerful than the Previous Model
Features
Compact and Lightweight Design
For user comfort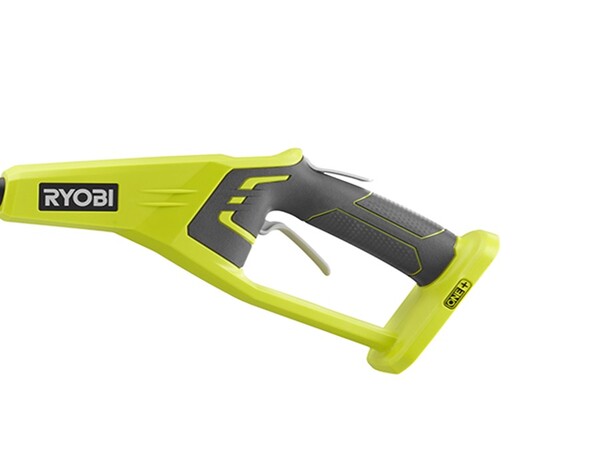 Variable Speed Trigger
For ultimate user control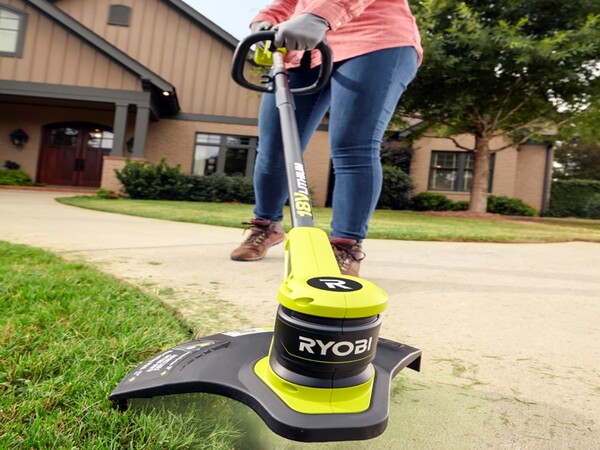 Adjustable Cutting Width
Adjustable cutting from 10" - 12" allows for increased run time or increased productivity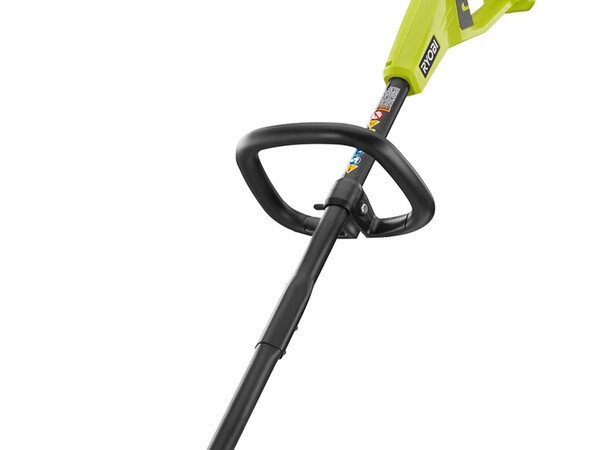 Adjustable Front Handle
For user comfort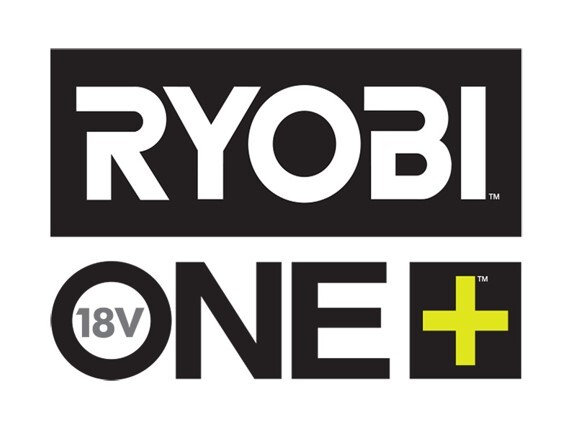 System Compatibility
Over 175+ ONE™ Tools – All work with any RYOBI ONE+™ 18V battery
Specifications
Dimensions
Battery

18V 2.0 Ah Battery

Cutting Swath

10 - 12"

Line Advancement

Auto-Feed

Weight

6.8 lbs.

Warranty

3 Year Limited Warranty
Includes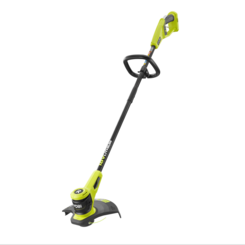 18V ONE+™ 12 IN. STRING TRIMMER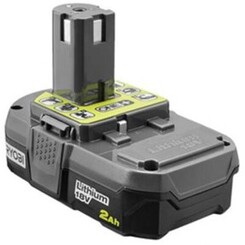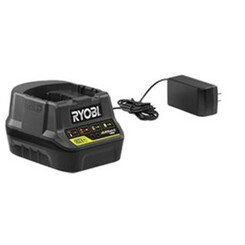 [#<ProductFeature id: 3478, title: nil, content: " 18V ONE+™ 12 IN. STRING TRIMMER", photo: "e18669a6-31bb-40dc-b261-3be6571a60f4.png", created_at: "2020-11-11 21:36:07", updated_at: "2020-11-11 21:39:29", product_id: 952, sort: 0, enhanced_type: "included_item", enhanced_group: nil, enhanced_icon: nil>, #<ProductFeature id: 3479, title: nil, content: "18V ONE+™ 2.0 Ah Battery", photo: "cde8c889-fb2c-4236-a1ae-811faf45091d.jpg", created_at: "2020-11-11 21:36:08", updated_at: "2020-11-11 21:36:08", product_id: 952, sort: 1, enhanced_type: "included_item", enhanced_group: nil, enhanced_icon: nil>, #<ProductFeature id: 3480, title: nil, content: "18V ONE+™ Charger", photo: "aed266e6-175b-4dc4-99b2-91878a0977c4.jpg", created_at: "2020-11-11 21:36:10", updated_at: "2020-11-11 21:36:10", product_id: 952, sort: 2, enhanced_type: "included_item", enhanced_group: nil, enhanced_icon: nil>]
Reviews
18V ONE+™ 12 IN. STRING TRIMMER WITH 2AH BATTERY & CHARGER
18V ONE+™ 12 IN. STRING TRIMMER WITH 2AH BATTERY & CHARGER
is rated out of
5
by
447
.
Rated

5

out of

5
by
Zeroturn
from
Perfection, Power, Ease of Use
I purchased this String Trimmer/Edger in April and have used it on my 1/3 acre lot surrounded by mature forest with weed line along edge of yard. No problem cutting tall weeds on edge of forest and edging could not be easier for a 65 year old. maintains straight cut and proper depth for my walks, patio, and driveway. Line advance works perfectly and have used very little line in the four times I have used this tool. Battery has plenty of power and have never run out of power while using to trim and edge. I will note when edging I run on low speed as that is all that is needed. Cudos to Ryobi team for a Perfect Tool! Have a Blessed Day Doug
Date published: 2019-05-20
Rated

3

out of

5
by
SIDETRACK
from
Almost Prefect...
I bought this to replace a "Weedeater" trimmer whan the gas line disintagrated while I was using it. It was a little lighter--I could use it one-handed. This battery is heavier than the motor on the Weedeater. The Ryobi model advances the line automatically--another plus. The instructions state--to advance the line, release the trigger switch, wait 2-seconds and then press the trigger and the line will advance 1/4". So, I am using it and moving from area to area running it on slow so the line won't advance--but it does. It just KEEP GETTING LONGER THE LONGER I AM RUNNING IT ON SLOW. Customer Service's fix for this problem--DON'T RUN IT ON SLOW!
Date published: 2019-08-31
Rated

5

out of

5
by
bobyinredding
from
Grass, weeds, and small woody plants too!
Just bought this last week and tried it out on grass and Scotch Broom - a woody pest bush, and it worked using the string trimmer going back and forth going from the top to the base of the plant. Bought the plastic spinning blade option and can't wait to give that a run - but it's raining now. Haven't tested the length for the battery but I have several so don't care too much about that. I have the 10 inch older model which does grass nicely but the bump feed doesn't really work. Weight is fine and using it seems second nature.
Date published: 2018-03-14
Rated

3

out of

5
by
Andy214
from
String jams up regularly. Dislike the autofeed
Overall the product is fine for the price. The string does jam up on a regular basis, requiring me to open the base and adjust the coil to release the snag. I also really dislike the autofeed feature and not having control of the string being extended. This seems really wasteful as it activates it everything you pull and let go of the trigger.
Date published: 2018-08-21
Rated

4

out of

5
by
HeaviestD
from
Good Trimmer with Ample Power
This is a great trimmer. I have no issues with power; the trimmer has cut everything I've needed it to. The only issue is battery life. This came with the small 2 amp battery, which is enough to do just under half my yard (1/3 acre). I have multiple batteries due to owning several other Ryobi tools, which means that I only have to switch the battery out so it hasn't been a real issue. That said, if you have a large yard and only the battery that comes with the trimmer, you may need to charge the battery a couple of times to finish. I would highly recommend buying an extra battery just in case.
Date published: 2020-06-05
Rated

5

out of

5
by
javalover
from
Everything I need, great model.
For the longest time I was using my B&D cordless and it finally died. So sad, but a great opportunity for me to FINALLY go out and get a RYOBI trimmer. I don't have a lot of grass area for trimming, so I only needed a GOOD basic model that would be powerful and reliable, doing the job properly. Well... this certainly was a GREAT surprise ! The unit is well balanced, light and easy to handle. The job is quick and I don't have to worry about old battery technology where I'm having to suffer through the battery slowly discharging. It had more than enough power (at 100% capacity throughout the trimming) to do the job! This POSITIVE experience will certainly have me reconsider my power-tool options and building my RYOBI inventory! Thanks RYOBI !
Date published: 2020-08-02
Rated

3

out of

5
by
Jeffg5150
from
Yet to prove itself
I bought this because I could use the battery on my drill. I have tried to use it three times now, and it has only completed the job once. This is the second unit....I took the first one back to Home Depot because the battery would not charge. I live in a condo with a small yard (takes 3 minutes to mow the front), so we aren't talking about a huge job here. Overall not too impressed.
Date published: 2018-09-01
Rated

5

out of

5
by
charles847
from
Powerful performance without the cord
I purchased this last winter and used it all of summer 2019. I was blown away with the power with this trimmer. I was using unbeknownst to me a severely underpowered 18v trimmer from another brand for years. The performance from this trimmer felt like that of a gas powered trimmer, but without the weight and fumes. It took me a couple of yard mows before I got the hang of using a more powerful trimmer, but now I love using this thing. The trimmer cuts really well, the string bumps out with out problem, and I like the design of it. I would totally buy this all over again.
Date published: 2019-10-16