+3
18V ONE+™ 1 Gallon Chemical Sprayer
Model: #P2800A
+3
To easily distribute herbicides, pesticides, and fertilizer in your yard, the RYOBI 18V ONE+™ Chemical Sprayer is the perfect tool. With no pumping required and a translucent 1 gallon tank, monitoring fluid levels is simple. This chemical sprayer has a durable brass nozzle that adjusts for multiple spray patterns and a detachable tank for removing excess liquid and cleaning. For additional convenience, the chemical tank cap doubles as a measuring cup and the tool can be used one handed or two handed depending on user preference. Backed by a 3 year warranty.
Features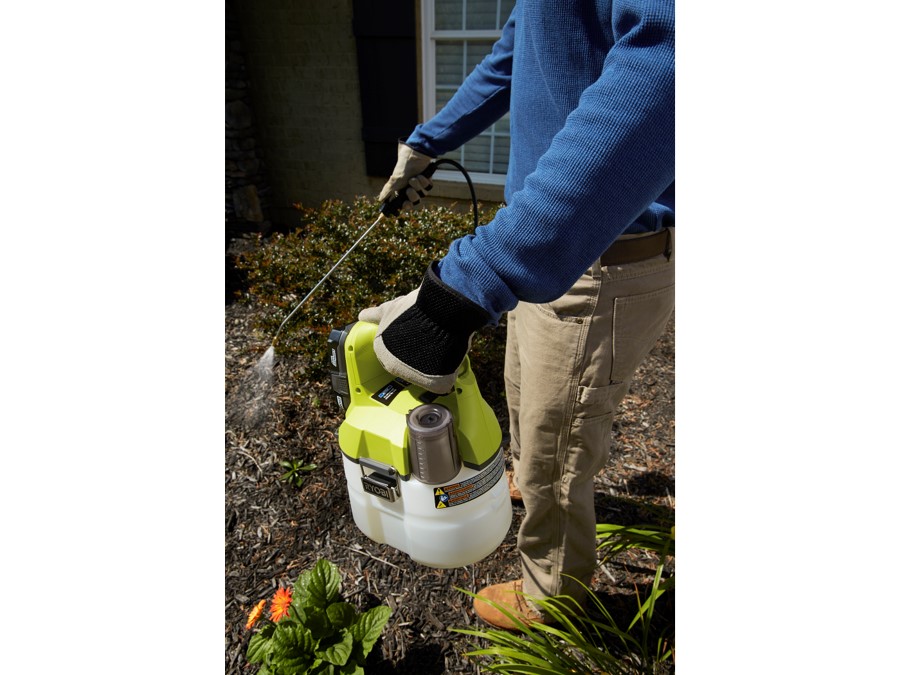 • Over 175 ONE+™ Tools – All work with any RYOBI ONE+™ 18V battery • No pumping required • Translucent 1 gallon tank • Durable brass nozzle adjusts for multiple spray patterns • Tank easily detaches for removing excess liquid and cleaning • 4.5" hose with 45 PSI
Specifications
Power Source: 18V ONE+™ Battery
Tank Size: 1 Gallon
Pressure: 45 PSI
Tank Material: High Density Polyethylene
Hose Length: 54"
Nozzles: Adjustable
Warranty: 3 Year
Includes
18V ONE+™ 1 Gallon Chemical Sprayer
Operator's Manual
Reviews
18V ONE+™ 1 Gallon Chemical Sprayer
18V ONE+™ 1 Gallon Chemical Sprayer
is rated out of
5
by
26
.
Rated

1

out of

5
by
steve1944
from
Disappointed
My first was bought in 2019, at first I just tried it with water and was able to get a decent spray pattern, when I went to acutal spray chemicals with it about 10 months later I ciuld get a very weak stream only and no spray pattern. I went to Home Depot to get it sent for warranty repair, 4 1/2 months later I went to check and the repair depot closed it out as they couldn't repair it (no one contacted me). Home Depot did give me a new one to replace it but I had to argue to get the diagnostic fee credited (which they did do as well). I can only hope the new one works better when I really go to use it in another 8 or 9 months. It works now.
Date published: 2020-09-22
Rated

5

out of

5
by
Anonymous
from
Great sprayer much better than those big tank ones
So quick and easy to use and you don't have to stop every every couple of minutes to pump it up like the big tank sprayers, I Love my Roybi
Date published: 2020-10-24
Rated

5

out of

5
by
IamSam
from
Very Practical
I bought this product along with an extra 2gal. tank. It is very practical. I use it to spray weed killer along the perimeter of my property. I use it while I ride with my mower along a 2-Acre yard. The smaller 1-gal tank I spray pesticide around the house. Very convenient to just pop the other tank to the sprayer (after i empty the line for a bit). I charged the battery when the tool arrived and I have sprayed about 10 gallons and the battery is still strong.
Date published: 2020-10-22
Rated

5

out of

5
by
ValerieD
from
Service exceeds expectations
I bought the 18 volt chemical sprayer and was sadly disappointed. I reported this and I was surprised to receive an email. Alex and Casey on the RYOBITOOLSREVIEWS team truly cared about my experience. We exchanged several emails and I was sent another chemical sprayer. I used it today and loved the power that was maintained throughout my job. It is service like this that I received from Alex and Casey that make me a Ryobi fan and will tell all of my family and friends. They wanted the old sprayer sent back, but due to Covid I was hesitant to go to the post office. They didn't blink an eye and still sent me a replacement. tools are man-made and there will be malfunctions from time to time… Ryobi stands by their products 100%.
Date published: 2020-10-13
Rated

5

out of

5
by
El Sacto
from
Works Great!
I tried this unit out on a lawn weed spray and found it very easy to set up and use. It put out a nice and strong spray that worked well for my task and I am sure it would work just fine on shrubs and plants. It was also easy to clean afterwards and it was a pleasure to use after years of working with my pumper spray and hose end sprayers.
Date published: 2020-10-19
Rated

5

out of

5
by
MarkRetreat
from
Great value
Was looking for a sprayer that was not astronomical in price. Excellent price great machine
Date published: 2020-10-21
Rated

5

out of

5
by
oras
from
no more hand pumping
simple and easy to use. No stopping to ump up pressure with other sprayers
Date published: 2020-10-21
Rated

4

out of

5
by
Swim Ref
from
Sprays Great
The sprayer is easy to use and the spray is powerful and consistent. It is easy to add chemicals to the container. The measuring cup cap is very handy. I own a large number of Ryobi tools non-corded tools and outdoor products. The only negative item is the battery is very difficult to attach and almost impossible to get off of the sprayer. I have to hit it with my hand.
Date published: 2020-10-15