+2
18-Volt ONE+ Lithium-Ion Cordless String Trimmer with 1.5 Ah Battery and Charger Included
Model: #P20130
Shaft rotates for convenient edging function
10" cut swatch for easy trimming of smaller yards
Simple press-and-turn conversion to edger mode
+2
Lightweight, Easy to Use and Easy to Store
Features
Compact and Lightweight Design
For User Comfort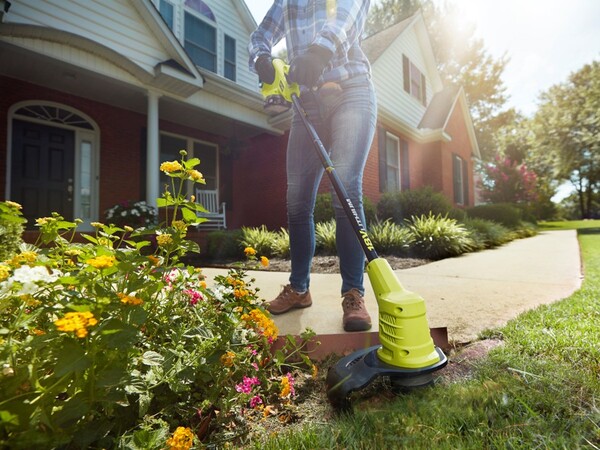 Cutting Width
10" cutting width that is ideal for light-duty jobs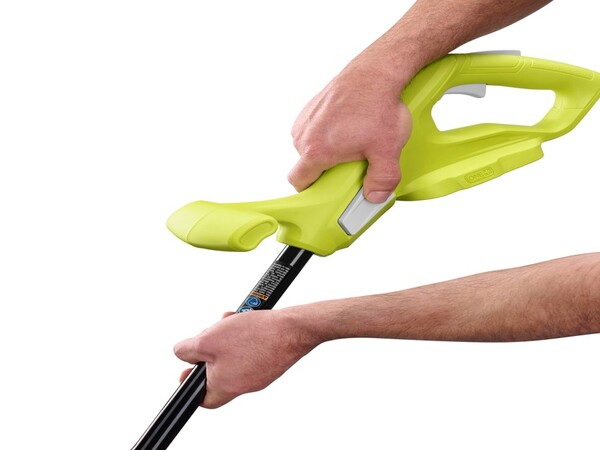 Rotating Shaft
Easily switch between trimming and edging
System Compatibility
Over 175 ONE+™ Tools – All work with any RYOBI ONE+™ 18V battery
Specifications
Dimensions
Battery

18V ONE+™ 1.5 Ah Battery

Cutting Swatch

10"

Line Advancement

Auto-Feed

Weight

6 lbs.

Warranty

3 Year
Includes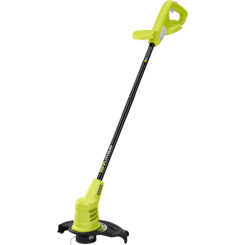 18V ONE+™ Cordless String Trimmer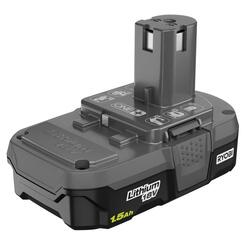 [#<ProductFeature id: 2975, title: nil, content: "18V ONE+™ Cordless String Trimmer", photo: "a33c9c4c-d7b4-41b7-8d5c-a2fdc890f27f.png", created_at: "2020-09-09 20:54:31", updated_at: "2020-09-09 20:54:31", product_id: 1408, sort: 0, enhanced_type: "included_item", enhanced_group: nil, enhanced_icon: nil>, #<ProductFeature id: 2976, title: nil, content: "18V ONE+™ 1.5 Ah Battery", photo: "47e7b92d-7f91-40ae-892b-29f26cc9b990.jpg", created_at: "2020-09-09 20:54:33", updated_at: "2020-09-09 21:01:44", product_id: 1408, sort: 1, enhanced_type: "included_item", enhanced_group: nil, enhanced_icon: nil>, #<ProductFeature id: 2977, title: nil, content: "18V ONE+™ Charger", photo: "a81cdcd9-5ddd-4c4a-a522-5a4c868fb3e7.jpg", created_at: "2020-09-09 20:54:34", updated_at: "2020-09-09 20:54:34", product_id: 1408, sort: 2, enhanced_type: "included_item", enhanced_group: nil, enhanced_icon: nil>]
Reviews
18-Volt ONE+ Lithium-Ion Cordless String Trimmer with 1.5 Ah Battery and Charger Included
18-Volt ONE+ Lithium-Ion Cordless String Trimmer with 1.5 Ah Battery and Charger Included
is rated out of
5
by
404
.
Rated

5

out of

5
by
Summertime
from
Perfect for beginners!
I am doing my yard for the first time in a long time. I don't have a lot of upper body strength and this trimmer is sooo light weight! It's easy to assemble and start using right away. Perfect if you have any physical limitations due to the long handle and incredible light weight. From unboxing to using was about an hour because we had to charge the battery. Assembly took about 5 minutes. Love the easy switch from trimmer to edger with one rotation of the handle. cant go wrong with this trimmer. (Full disclosure we have a medium sized yard less than 1/2 an acre. Loads of fence line trimming and many borders.)
Date published: 2020-09-13
Rated

5

out of

5
by
lefty9284
from
easy to use
i bought one back in 2013 and used it all the time. it just wore out. i loved it so much that i decided to replace it with a new one. the new one is a little better built in my opinion. it's light weight and easy for me to use. we have 2 houses that we take care of along with a pond and a picnic area. i am in love with not only the weed trimmer but i also bought the battery powered chainsaw. i use that at least once a week to trim up some brush around our pond area. i have used the chainsaw to trim up our fruit trees. if i can use it then anyone can use it. my 11 year old grandson has used the trimmer and he has also used the chainsaw with supervision.
Date published: 2021-06-08
Rated

5

out of

5
by
RebeccaW
from
Lightweight & Easy to Operate
I've always struggled to start our old gas-powered trimmer, so this battery-operated model is an absolute delight! At only 4lbs, it was easy to carry around the yard, and the battery lasted long enough to trim my entire yard. Battery charges in about an hour, and is easy to click on and off the trimmer. I love that there's an added string trimmer on the guard, so you know exactly how long to cut the string.
Date published: 2021-06-15
Rated

5

out of

5
by
Anonymous
from
Amazingly lightweight and hard working
I am a Ryobi consumer and have several tools. I will say when I opened the box and noticed a spring was not here it should have been and the small size of this trimmer I was skeptical. So I put the spring in the handle connection, charged the battery and decided to see if this was a good purchase or not. This trimmer is amazing and the battery life is exceptional. I was able to trim my double lot size yard and even starting chopping the high grass down. Still had power left over and my arms, back and neck were not sore from packing and operating the trimmed. I only stopped because I had somewhere to go. Great value at $70 and no pull rope to start it like my DR Trimmer.
Date published: 2021-04-05
Rated

5

out of

5
by
mreaves59
from
I LOVE these tools!
I am not good with the old-timey oil-and-gas mixture types of yard tools. I always get too much of one or the other. So I thought I'd try the Ryobi - never liked"cordless" power tools b/c they're weak - and figured what the heck, worst-case scenario I'd bring it back to Home Depot if it was unsatisfactory. Let me tell you, I was so impressed with the Ryobi trimmer I went right back to the store and bought the leaf blower, and we love both of them! Lightweight and easy to use for my wife, no mixing up fuel like a chemist for me - we are Ryobi customers for life!
Date published: 2020-09-11
Rated

1

out of

5
by
Frustrating
from
Piece of crap
Bought this early in February so I would have come spring time when I needed. Used it for the first time a week ago. Would not advance string and then the string has to be restrung as it goes inside. Won't work at all in the side mode. Returned and got a second once this one is the same. However now i can't return because my 90 days are up. I can only go 4-6 feet and it doesn't have enough string and or it goes completely inside. I have tried everything the manual says. WOULD NOT RECOMMEND THIS PRODUCT EVER. I do own Ryobi blower, and a drill and like them. Ryobi needs to do something about this trimmer.
Date published: 2021-05-22
Rated

4

out of

5
by
Jim232021
from
Easy to use.
I bougjtvthis because of the ease of having a battery that works on multiple tools and it is very light to use. And was just tired of using a gas weed trimmer.
Date published: 2021-06-16
Rated

4

out of

5
by
Payam
from
Easy to assemble, light weight and effective.
It is my first time to buy and trim my yard. It was easier than what I thought with this product.
Date published: 2021-06-15