+2
EXPAND-IT™ 15 IN. Articulating Hedge Trimmer Attachment
Model: #RYAHT99
+2
The RYOBI articulating hedge trimmer attachment, part of the Expand-It Attachment family, works with most brands of attachment-capable string trimmers. The 9-position articulating head allows the user to adjust the blade angle to fit all varieties of hedges. The 15 in. dual-action blade delivers comfortable trimming and a 3/4 in. cut capacity. All backed with a 3-year warranty, the Articulating Hedge Trimmer Attachment is a must-have for any landscape enthusiast.
Features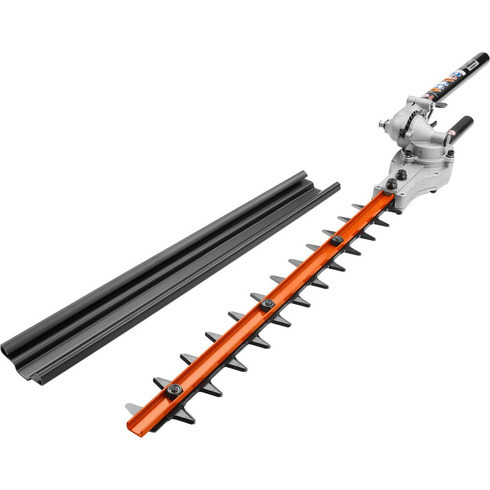 RYOBI 15" Articulating Hedge Trimmer Attachment
9 position pivoting head
15 in. dual action blade
3/4 in. cut capacity
Works with most brands of attachment capable trimmers
Specifications
Blade Length: 15 in
Blade Gap: 1 in
Fits Brands: RYOBI, Toro, Troy-Bilt, Craftsman, Poulan, Poulan Pro, Yardman
Includes
Hedge Trimmer Attachment
Operator's Manual
Reviews
EXPAND-IT™ 15 IN. Articulating Hedge Trimmer Attachment
EXPAND-IT™ 15 IN. Articulating Hedge Trimmer Attachment
is rated out of
5
by
159
.
Rated

4

out of

5
by
Downhillracer
from
Good reach, great for light garden work
I purchased this trimmer attachment to trim a tall cypress tree hedge. The trimmer has plenty of power and is very good on the smaller branches and provided a nice flush clean trim, it was easy to cut. I tried it on some thicker branches on some bushes and seemed anything over 3/8" proved challenging as the trimmer wants to shove the branch out of the cutting groove so you have to go over it several times before it cuts, or it kind of chews on it. So I would recommend this for light duty trimming only. I added a short extension and with the rotating head design was able to top the hedge without using a ladder, that is a very nice feature.
Date published: 2020-08-01
Rated

5

out of

5
by
fx1mark
from
I like it !
I was shopping for an attachment to help me clear brush. some of the hedge attachments out there didn't get good reviews because of build quality. This hedge attachment has excellent build quality. So far I am very pleased. it cuts weeds and small brush easily without throwing it all over me like a string trimmer does. The only negative is any brush larger that about a quarter of an inch you have to hold the hedger against it until it chews through it. that can be tiring, I will still get my brush cutter out for larger brush.
Date published: 2016-09-04
Rated

5

out of

5
by
nmyron
from
Yet another win for Ryobi
When it comes to power tools, I like value for money. I don't like the idea of my garage filling up with several different power tools and handfuls of engines.I picked this up two years ago to trim my boxwood hedges, and it has not disappointed. Instead of having yet another gas engine hanging around my garage or shed, I have this little guy hanging up, I can plug it into my S430 powerhead, and now my string trimmer is a hedge trimmer and I'm off. Saves money (no more additional engines to maintain, tune and feed), saves time, and lets me find additional purposes for the powerhead I own. Great products for great prices, and that's why I come back to Ryobi time and time again.
Date published: 2017-07-23
Rated

5

out of

5
by
RikR
from
A real time saver
I was not expecting delivery until Monday, but it arrived today, Saturday! So, I immediately put it to a test on the small trees at the corners of my house. This thing is built like a tough piece of commercial equipment. Adjusting the angle is simple, even when at the top of my step ladder. Setting up my ladder on two sides of my trees I was able to reach everything. The articulated head made it easy to hold the motor head at a comfortable angle while cutting at the angle I needed. The combination of this tool and the Ryobi 40 volt motor head is perfect. This is much better than trying to use my regular hedge trimmer and my long pole with the pull cable clipper. Worth the price.
Date published: 2017-09-14
Rated

4

out of

5
by
Ed1234
from
Well constructed for the price.
Needed this articulating hedge trimmer attachment to cut a hedge on a hill that ranged from 12 ft. off the ground to 8 ft. off the ground and was 5 ft. wide. Worked great and got the job done after 3 hours of using it. Was a little heavy to use, but would expect it to be a little heavy out on the end of the gas powered weed eater and if it was made much lighter it would be to cheap to last for any long term use. Will cut 3/4" diameter shrubs but you do have to work at it and let it cut for 15 seconds or so. Articulating angle is good and entire attachment can be rotated in shaft of weed eater in 90 degree increments if needed, depending on how your needing to use the hedge trimmer: overhead, vertical, down on the ground, etc. so that the gas tank stays upright.
Date published: 2019-07-16
Rated

5

out of

5
by
janihoff
from
Perfect tool
I bought this to fit on my expand-it head that I use for many different tools. This one is my favorite. Not only is it great for reaching farther and makes trimming the hedge easier, I can now trim my ivy/honeysuckle/grass on my extensive hill much easier than with the weed wacker. Being able to change the angle and a large cutting area, probably makes my job time less by about half. I've only had it for a few months, but assuming it holds up - the perfect tool!
Date published: 2017-06-17
Rated

1

out of

5
by
BHorn
from
Very disappointed in this tool
I ordered this tool to help me trim my many hedge bushes. The next day delivery was awesome! I tried using it on my 40V Ryobi Power Head. I found it to be very front end heavy and awkward to try to use. It made my arms, shoulders, and back very tired and sore after extended use. It did not make a clean cuts and would not cut through even smaller stems than stated in the advertising. I was very surprised. It did not cut and trim nearly as well as my old Black and Decker corded hedge trimmer. It appears to be very well built and constructed but it did not work well for me. I returned it and got my money back.
Date published: 2018-07-10
Rated

4

out of

5
by
jeshdirks
from
Excellent Attachment
I bought this as an "Expand-It" attachment for the string trimmer unit. Overall, I'm very pleased with the performance. My only issue keeping this from being a 5-star is that the articulation only rotates one direction. This works fine on the side of a hedge but causes you to hold it upside down to level the top of a taller hedge.
Date published: 2016-04-29