+4
13.5 Amp 16" Electric Cultivator
Model: #RYAC701
+4
The RYOBI 13.5 Amp 16" Electric Cultivator delivers power and versatility. It's 13.5 Amp motor starts with the push of a button, cultivates paths 11" - 16" wide and trenches up to 8" deep. The 6 durable heavy-duty steel tines deliver performance season after season and are ideal for larger landscaping jobs around the home. It's lightweight design and folding handles make setup and storage after the job a breeze.
Features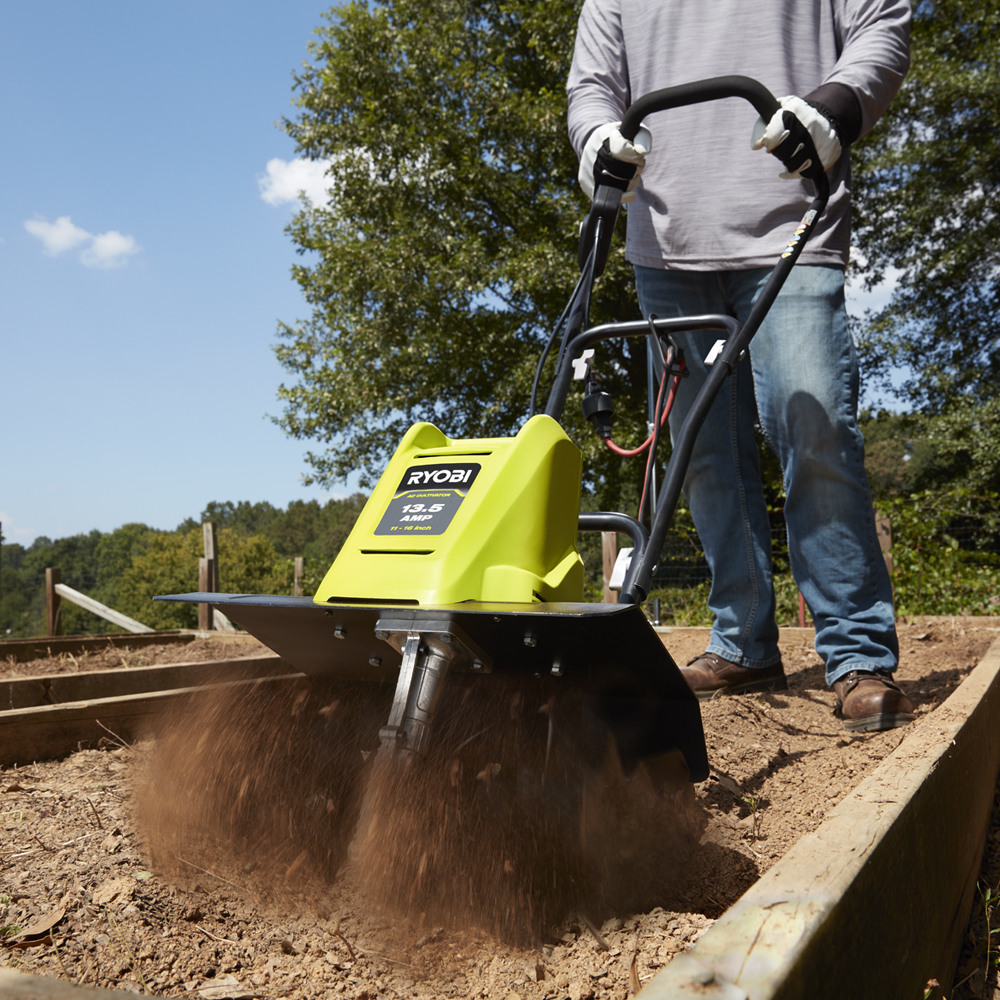 11" - 16" Adjustable Tilling Width
3 Position Depth Adjustment
6 Heavy-Duty Steel Tines for Durability
Folding Handles for Compact Storage
Push Button Start for Ease of Use
Specifications
Motor: 13.5 Amps
Tilling Width: 11" - 16"
Tilling Depth: 8"
Weight: 30.9 lbs.
Warranty: 5 Year Limited
Includes
13.5 Amp 16 IN. Electric Cultivator
6 Heavy-Duty Steel Tines
Assembly Hardware
Operator's Manual
Reviews
13.5 Amp 16" Electric Cultivator
13.5 Amp 16" Electric Cultivator
is rated out of
5
by
85
.
Rated

4

out of

5
by
Dublinmike
from
Powerfi; for 13.5 Amps
I was looking to replace my 2-stroke garden tiller with an electric one. I did some research and found the less expensive ones (around $100) were too light based on the online reviews. My custom flower garden is not the native adobe but it still becomes packed. You will need to push & pull to break up the soil but the 13.5 amp does a fine job. It will bounce some, so start the machine in a softer area if possible. Height adjustment is very easy. The reason I gave 4 stars is due to the safety button. To start the machine the button has to be depress which forgoes using two hands to hold the bar. Hint: to save money ask to open a store credit account to receive the discount.
Date published: 2019-03-21
Rated

5

out of

5
by
The pirate captain
from
Powerful little cultivator
I purchased this a month ago to use in my garden. The soil can be quite firm and is heavy with clay. I went out to cultivate the garden and till in the plants into the soil. Turned on the cultivator and off it went. It tore up the soil and mixed it well. In areas that were packed down I had to go over more than once to work the cultivator in deeper, but it worked great. It is really nice that you can easily adjust how deep it cultivates. The electric motor has a lot of power. I did find it helpful to have someone help manage the cord while you are working. It may seem small but it really works well.
Date published: 2020-10-20
Rated

5

out of

5
by
Jeff Gherity
from
Perfect
I recently bought this for our new house, the back yard was unfinished. My wife wanted a small patch of real grass around the back porch so we started working the ground by hand but it was so hard. We went to a home improvement store for trees and I ask the associate where the tillers were, I went thinking I was going to purchase a gas powered one and low and behold there was the Ryobi cultavater since I use Ryobi tools for work and they work great I thought why not try it. it was priced right so I bought it. It was easy to assemble and use and since I didn't have to go very deep it was perfect.
Date published: 2020-05-16
Rated

4

out of

5
by
KK55
from
Great small cultivator
The cultivator is a great value for the money. I used it to break up the hard dirt bare spots in my backyard in preparation to plant grass seed. My neighbor used it to till up his annual garden plot, & was very pleased with the result. We each used it hard for several hours over several days, & it never got hot or bogged down in any way. The cultivator is light in weight, which makes it easy to handle, but also is a slight drawback. The work is slower, but it will definitely do the job. That's the only reason I didn't give it 5 stars. I really like the convenience of the cultivator, that you just plug it in & get to work; never again having to deal with pull-starting, fuel, oil, the mess & storage issues. I think the convenience is a very fair trade off for the job taking slightly longer.
Date published: 2020-03-21
Rated

4

out of

5
by
rrnelsonjr
from
Great little machine
I had my doubts when I bought this but after using it I was impressed. The area that I wanted to put my garden in had some rock it it bit this machine tilled right through it. Most of the rock was right below the surface and when the tines would hit the rocks it would bounce a little then the rocks would come right out. Once the rocks were out and nothing but dirt was left it chewed up the soil beautifully. I love the fact it's electric. I don't have to worry about a gummed up carburetor when I store it for long periods of time.
Date published: 2020-03-29
Rated

5

out of

5
by
The Tillernator
from
Amazing torque for electric motor
Having gone thru several 2 cycle tillers over the years I decided to go "green" and try the ryobi 13.5 amp version of their cultivator. Boy was I surprised at its sheer power and pull. My only complaint and its not really a complaint is that it could be a tad bit heavier so when it hits roots or large boulders etc it doesn't buck like a bronco on rodeo night. No worrying about mixing gas, or hoping it will start next season or adding co2 to the atmosphere. Plus the folding handle means it will fit in my shed during winter. Ryobi you have done it again, Thanks!!
Date published: 2021-03-27
Rated

5

out of

5
by
hebotrout
from
Powerful
Tiller showed great power potential the few times I used it. In answer to some questions, it worked fine on 100-foot outdoor extension cord, 12 gauge I believe. Instructions could have been clearer on setup of tines.
Date published: 2019-07-11
Rated

5

out of

5
by
2cartalkers
from
Massive torque
This Ryobi cultivator replaced my Troybilt gas cultivator that was plagued with starting problems due to ethanol in the fuel. No more adding fuel, checking and changing spark plugs, engine oil and air filters; hooray! I love the torque this baby has, it outperforms and digs deeper than what I had before. A push of the button and hang on because it wants to do what it does best----turn over soil at an amazing pace. Couldn't be happier!
Date published: 2019-04-17