+3
13 AMP ELECTRIC 16" MOWER
Model: #RYAC160
+3
Go green and cut clean with the Ryobi 13 Amp 16 in. Electric Mower. An alternative to traditional gas operated mowers, this electric powered mower is environmentally friendly and maintenance free with no gas, oil, filters or spark plugs. This portable and light weight mower is just 32 lbs. and has collapsing handles for quick and easy storage The single point height adjustment allows you conveniently adjust the height of your deck from 1 - 2-1/2 in. Backed by a 3-Year manufacturer warranty.
Features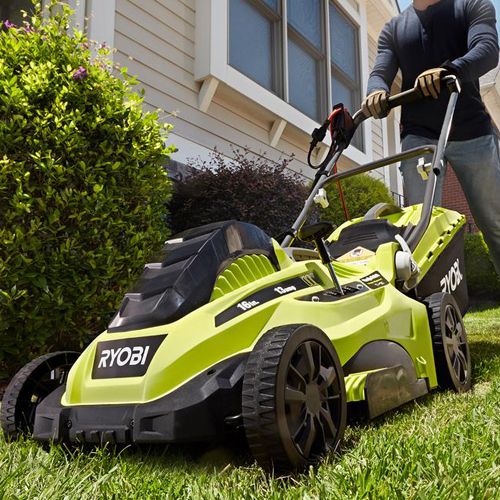 Portable and Lightweight Design for Easy Storage
Hassle-Free: No Gas, Oil, Filters, or Spark Plugs
3-Year Limited Warranty
Specifications
Power Type: Corded Electric
Amps: 13
Deck Size: 16"
Mowing Function: Mulching and Bagging
Cutting Height: 1" - 2.5"
Weight: 32 lbs.
Includes
Lawn Mower
Grass Catcher Bag
Operator's Manual
Reviews
13 AMP ELECTRIC 16" MOWER
13 AMP ELECTRIC 16" MOWER
is rated out of
5
by
155
.
Rated

4

out of

5
by
Varajuan
from
First Electric Mower
Purchased this electric mower as an alternative to gas powered mowers. Took a bit to get it assembled as the diagrams in the instruction book were not on the same page as the step by step instructions. Had to keep referring back to illustrations. But eventually figured it out. Used it the first time today and it works great. It is a smaller mower than what I had and the grass collecting bag needs emptied a bit more often, but I have a very small yard so it works. Runs much quieter than gas mower, no need to wake the neighbors. It weighs so much less than my old gas mover, so it is much easier to move around. Will be interesting to find out its durability.
Date published: 2019-08-25
Rated

4

out of

5
by
Bonitopia
from
Great all around mower!
I bought this mower a few weeks ago when we moved into our new home. It has served us well here on our 1/4 acre lot. Super easy to assemble right out of the box, we hit the lawn running. Having a variety of settings made it easy for us to handle the first couple of times since the grass was pretty thick and high in spots when we got to the back yard. The mower is very light and easy to maneuver once you get the hang of working with the cord. Its also very easy to clean. Even my mother at 68 finds it very easy to use. It has been a little wet here in NC, so we haven't been able to use the bag yet. It mulches pretty nicely and we love the option to bag if needed. Glad I bought this one.
Date published: 2018-08-25
Rated

5

out of

5
by
Khume
from
Wonderful just wonderful
I'm 74 this month, I moved back to Ohio from Texas, my yard was mess, on SS couldn't afford to keep having it done. I had another brand name electric that I gave to friend and hen I went south. I was concerned with my age if I could Evan do the yard anymore. Thanks be to God I saw HD carried these as it cut wider and was same price as my other one. I truly can't believe the difference. Easy to put together. Lawn was a good 4-5 " deep, cut thru that sucker in a heart beat on level 3 and gave that lawn a brush cut on 1 (LOL) thank you Ryobi, I didn't kill my self, lawn is looking good and I'm happy as a clam.
Date published: 2019-10-09
Rated

5

out of

5
by
Raven13
from
Wonderful mower!
I've used this mower several times in the past month. I have a neuromuscular disease which makes it hard for me to do things like this. This mower is so light, I was finding it easy to mow one-handed when resting the other arm. Very concise job! I love that it's electric and therefore more earth-friendly without the hassle of gas/oil... nice and simple. The catcher bag is compact allowing for ease-ful trips to debris pile. I have to admit that I like how my mower, blower and weed eater match... ! I'm guessing the neighbors appreciate that this mower is not loudly obnoxious like most are.
Date published: 2020-05-11
Rated

5

out of

5
by
SacramentoBuyer
from
Super light and super powerful
I had a twenty year old craftsman that was heavy and difficult to maneuver. I knew it was time to purchase a new lawn mower, so I spent several weeks researching good mowers at good prices. Ryobi kept popping up over and over again so I decided to take the bait, and was pleasantly surprised. Assembly was very simple and took less than 15 minutes. As soon as it was put together I took it out for a test. It was super easy to maneuver, cut my grass evenly and was much quieter than my old electric mower. I'm very happy with this purchase. Thank you Ryobi!
Date published: 2020-04-19
Rated

4

out of

5
by
Willie2
from
Quiet and light weight
I bought this Ryobi corded lawnmower to replace a mower that recently died. The reason I was looking for a corded mower is that I have to carry it up to my back yard. Battery powered mowers weighed 50+ pounds and this one is about 30. Also, my yard is fairly small, (about 1200 sq-ft) so using a cord is not that big of a deal. So, for my review. Pros: This mower is quieter and lighter than my old mower. It seems to cut the grass well and push the clippings into the bag. Cons: This mower, although rated as more powerful than my old 19" mower, can get bogged down much more easily. Also, did I say it was light? It can tend to bounce across the lawn unless your yard is perfectly flat. Overall impression: A good mower for a small, flat yard.
Date published: 2020-10-18
Rated

5

out of

5
by
Rotti7498
from
Super
I never thought that I would be a fan of electric mowers and I was looking for a manual reel mower when I bought this one. After comparing features on the push mower as compared to this one I had to choose the electric . For the same very reasonable price I got a small easily manuverable mower with a catcher. Took it out of the box, attached the handle adjusted the cutting height with one move and got a great cut on grass that was getting out of hand. This tool is outstanding just like all of the Ryobi tools I have ever owned.
Date published: 2020-06-07
Rated

5

out of

5
by
Mags J
from
Great Results & Light Weight!
We bought the 13AMP Electric 16 inch mower about a month ago and so far are loving it! Our grass had gotten out of control while trying to decide which mower to buy and just life happening. So we were anticipating a rough first cut. My husband put it up on 4 on the mulch setting and off he went cutting. He was super thrilled with how easily it cut through the tall grass and weeds and how light weight it was to use! We have used it several times now since purchasing it and have been very happy with the results thus far.
Date published: 2019-05-09