+2
11 AMP ELECTRIC 13" MOWER
Model: #RYAC130
+2
Go green and cut clean with the Ryobi 11 Amp 13 in. Electric Mower. An alternative to traditional gas operated mowers, this electric powered mower is environmentally friendly and maintenance free with no gas, oil, filters or spark plugs. This portable and light weight mower is just 23 lbs. and has collapsing handles for quick and easy storage. The single point height adjustment allows you conveniently adjust the height of your deck from 1 - 2 -1/2 in. Backed by a 3-Year manufacturer warranty.
Features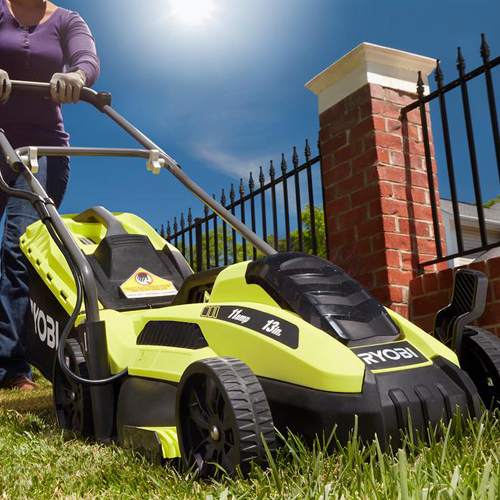 Portable and Lightweight Design for Easy Storage
Hassle-Free: No Gas, Oil, Filters, or Spark Plugs
3-Year Limited Warranty
Specifications
Power Type: Corded Electric
Amps: 11
Deck Size: 13"
Mowing Function: Mulching and Bagging
Cutting Height: 1" - 2.5"
Weight: 26.8 lbs.
Includes
Lawn Mower
Grass Catcher Bag
Operator's Manual
Reviews
11 AMP ELECTRIC 13" MOWER
11 AMP ELECTRIC 13" MOWER
is rated out of
5
by
637
.
Rated

5

out of

5
by
PA28
from
A mower for all seasons
Since purchasing this mower I have gone through lawn maintenance cycles involving mowing short grass, long grass, grass with an abundance of weeds and dealing with fallen leaves. In each this mower proved able to handle the job efficiently and effectively. Indeed, it mulched the fallen leaves so well that neither blowing nor raking missed spots was required. Its light weight makes it easy to handle mowing chores and transporting it to different areas requiring attention. And I don't miss the noise and odor produced by my old gas-powered mower one bit. Considering the versatility, construction and price of this unit, it's a great value for the price.
Date published: 2018-11-17
Rated

5

out of

5
by
Aleed413
from
Tiny But Powerful!
I bought this mower on a fantastic sale through Home Depot for $100, just received it yesterday and man it is FANTASTIC! I did both my front and back grass which had gotten extremely long due to the covid 19 restrictions we had in our state and this little guy did not even hesitate. It is so lightweight that you don't even notice it's not a self propelled mower, it is quick and easy to turn on and handle. One of the biggest perks is it is SO quiet compared to any lawn mower I've ever used! It sounds as quiet as a vacuum cleaner when you use it. Highly recommend for small/medium sized lawns as it cuts my medium sized lawn seamlessly.
Date published: 2020-05-05
Rated

5

out of

5
by
jrosseddy
from
Worth every dollar for such a small and easy mower
I bought this mini mower through Home Depot and find it easy and simple to handle. Keep in mind that this unit is for small yards either flat, bumpy or with hilly conditions - so this is why I decided to use the smallest Ryobi mower on the market. It's all plastic and easy to carry up hills for those hard to reach places - even has a handle to boot. The motor is very quiet for those pesky neighbors worried about noise levels and the placement of the power cord is just about right for getting around tight corners - even the front of the machine is somewhat pointed like my old pocket rocket! Now if I could only find a why to take it around the block. Go for it!
Date published: 2019-06-05
Rated

4

out of

5
by
Chico Calico
from
Perfect for our small yard!
We have a small side yard that I can mow in about 20-30 minutes with this mower. There are a few patches where the grass is extra thick but so far this mower has gotten through it all with only minor slowing of the blades. If I could make one change it would be for a larger bag but I know that it would mean a much less balanced machine with the bag is full. Overall I'd recommend in for those with small yards. Anything bigger that what we have and I'd want a mower that can make a wider cut. I also got this item on sale, can't complain about a brand new mower for $70!
Date published: 2018-06-28
Rated

5

out of

5
by
Martrw
from
Completely satisfied
I purchased this electric corded lawn mower to cut my 30ft x 20ft back lawn as well as grass lattice that separates 2 ft2 cement pavers. Previously I had a new push reel mower that cut poorly. I must carry the mower up 14 steps so light weight was important. I was a little concerned as I bought it online and thought it might be cheap plastic. Out of the box it was nearly fully assembled - only need to insert the handle (without tools). Within 5 minutes I cut the grass. It was light and has a handle that is well placed to carry the 23 # up my stairs. Now I have cut my lawn twice. It is really a pleasure. It is quiet - about as loud as a vacuum cleaner. It is a solid serious machine, not a toy. The grass is very evenly cut. I use the mulching feature - and if the grass is dry it cuts it such that there is no clumping. I agree with another reviewer that the height adjustment is a little low - my only criticism. It works really well to trim the grass lattice - much better than when I weedwacked it. It also can trim grass right up to a wall so I have essentially no edging. I've never had a corded mower before, but once you developed a strategy it is not ackward at all for a small lawn like mine. Overall I feel like this is a 8-9/10 product. I would highly recommend it for a small lawn like mine.
Date published: 2017-07-08
Rated

4

out of

5
by
pinchgem69
from
Great Mower for small yars
I tried the cordless Ryobi model but encountered nothing but problems. I ended up returning that one and getting this one. It is tiny, but mighty, cutting my entire yard with out issue. I have used the bag and mulch options with no real issues (we get a lot of rain here, so getting to the grass before it gets too long can be an issue). Working with the cord can be annoying, but its beats dealing with gas and oil and if you get a long enough cord (I have 100ft cord) you can cut the lawn without too much trouble. It does have issues with extra long grass, but what mower doesnt and you can get it down pretty easily
Date published: 2019-10-01
Rated

5

out of

5
by
MemphisDaddy
from
Easay to use, works well
Lightweight, pushes thru the grass easily, bag attaches and empties easily. Compact, folds and stores in my small storage shed easily. The mulching feature is nice - I did not realize it also had this feature, the block is easy to remove and install, does a great job mulching grass int small pieces.More quiet than I anticipated. The height adjustment seems to be a bit tight but just needs adjustment at one place and it's ready. I would like to to be able to get a bit closer to the wall - I'll need a string trimmer. I have a VERY small lawn (150 sq ft) and am an older gentleman - this fits the bill. The help I received at Home Depot was very helpful and helped my decision
Date published: 2021-05-28
Rated

5

out of

5
by
Frankie_Says
from
Great for tiny lawns
I bought this for the tiny lawn in front of my DC row home. It's perfect for small lawns like those outside of some condos too. It was the smallest mower I could find and it's easy to store. Operating it feels less like mowing a lawn and more like operating an upright vacuum. I was worried about the cord but found that I naturally operate it with one hand while holding the cord with the other, same as I do with a vacuum cleaner. It even sounds more like a vacuum cleaner than a lawnmower too. If you have a tiny lawn, you won't be disappointed, but if you have a big lawn, you almost certainly would be.
Date published: 2020-09-25