Posted by Dad Knows Best on 08/21/2014 at 7:33 PM in Lawncare, Outdoor Cleaning
As soon as I got my RYOBI 18V Pole Saw we had to take it out and try it.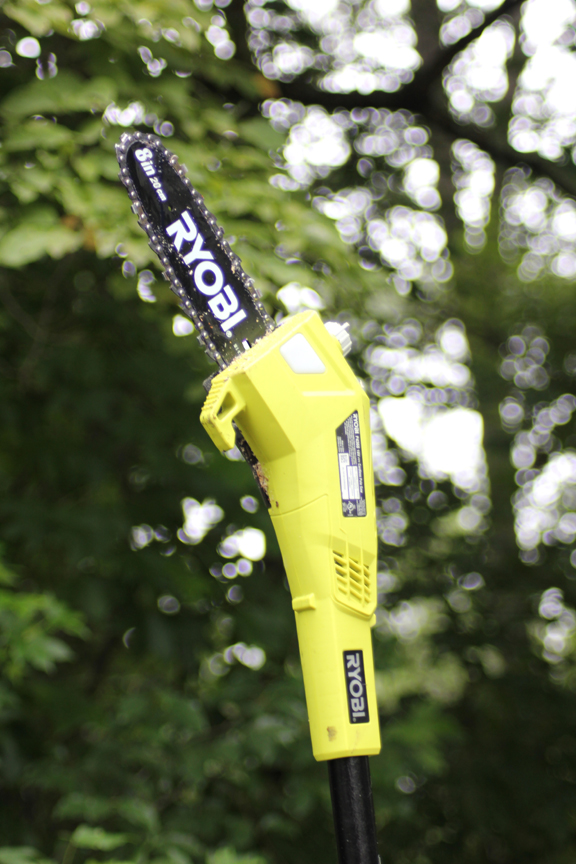 The timing was perfect being mid summer the trees are very overgrown so we had plenty to cut. It came out of the box and was easy to assemble in 5 minutes. This pole saw was really slick.
I was very impressed with how quickly it cut through branches up to 5 inches. We used it on anything from 2 to 5 inches with no problem.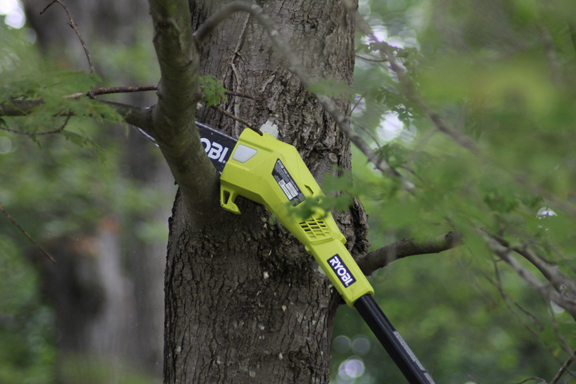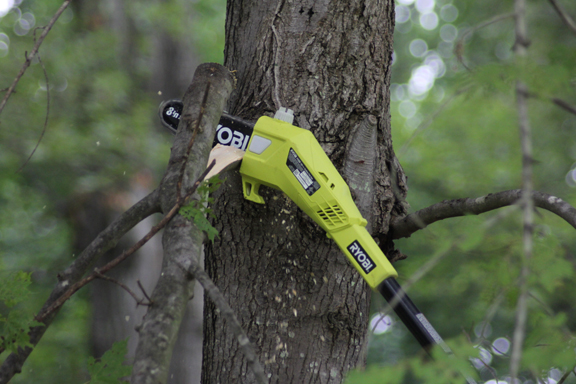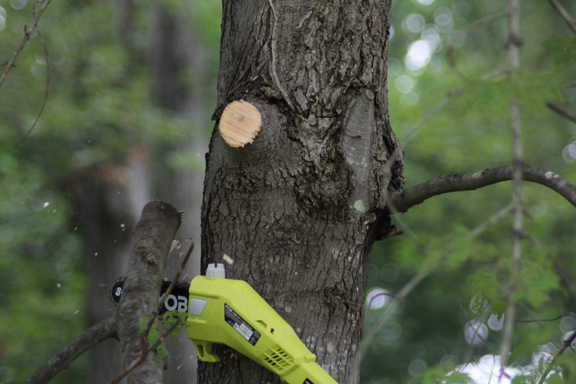 I was pleasantly surprised and pleased with the long battery life. It came with a really good quality chain that did not stretch at all after we were done using it.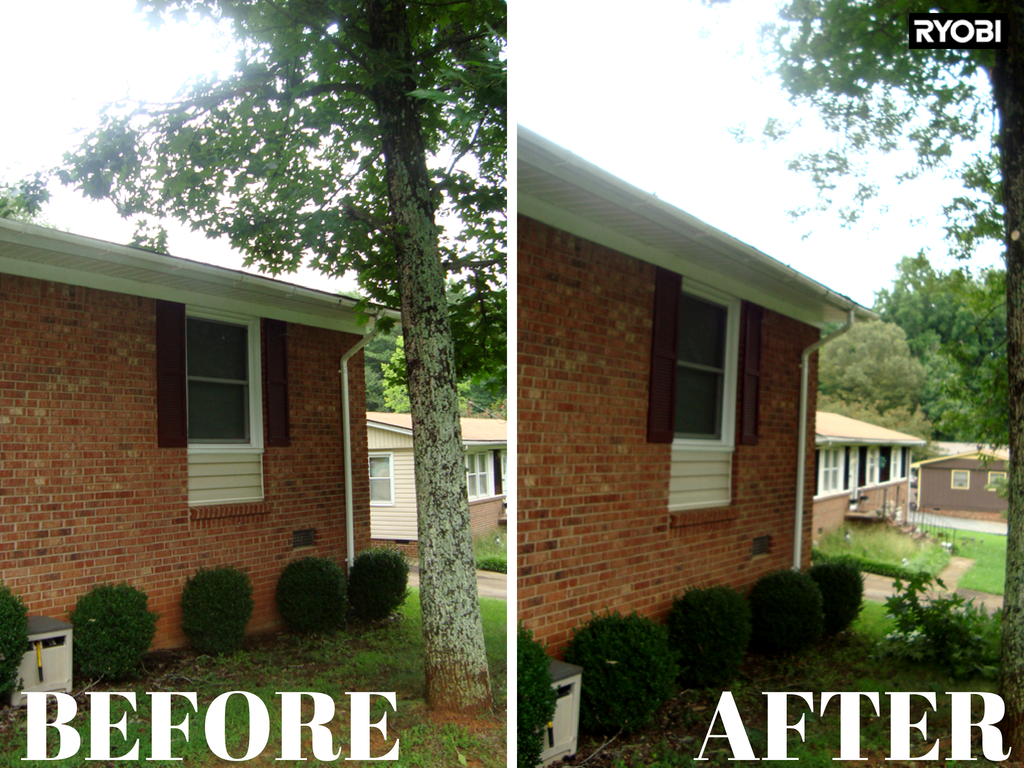 You don't realize how many branches you have to cut until you have to clean them all up! What took 45 minutes to cut then took 2 hours Read more
Posted by Keeping Portland Green on 09/10/2014 at 2:52 PM in Outdoor Cleaning
One of most useful tools any homeowner can have in their arsenal is a power washer. There are literally hundreds of uses for a power washer around the house. Cleaning driveways, grills, fences, decks, yard equipment, bikes, retaining walls, and so much more.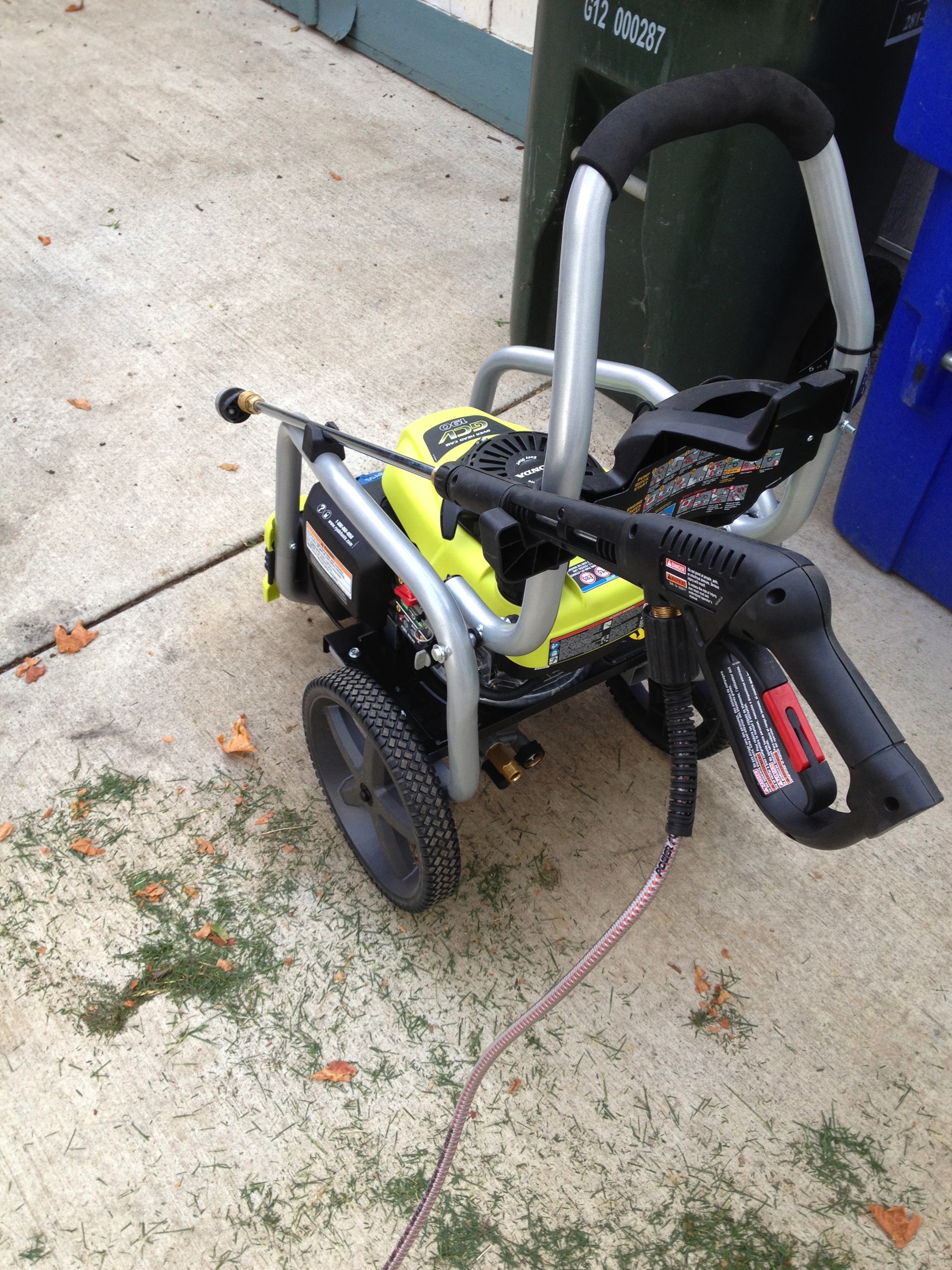 Recently I acquired the RYOBI 3100-PSI 2.5 GPM Honda gas powered pressure washer. Out of the box it was about 90% assembled, so I quickly put the remaining pieces in place and then filled the soap tray, connected the water and started the engine. Immediately after starting it I though there may have been something wrong, the engine was very quiet, however once I pulled the triggered it ramped up in speed to provide full power. This idling feature is Read more
Posted by Dad Knows Best on 09/19/2014 at 4:18 PM in Outdoor Cleaning, Tutorials
It was that time of year again. Summer is over in Western NY and we had to pull the boat out of the water and clean it before taking it home.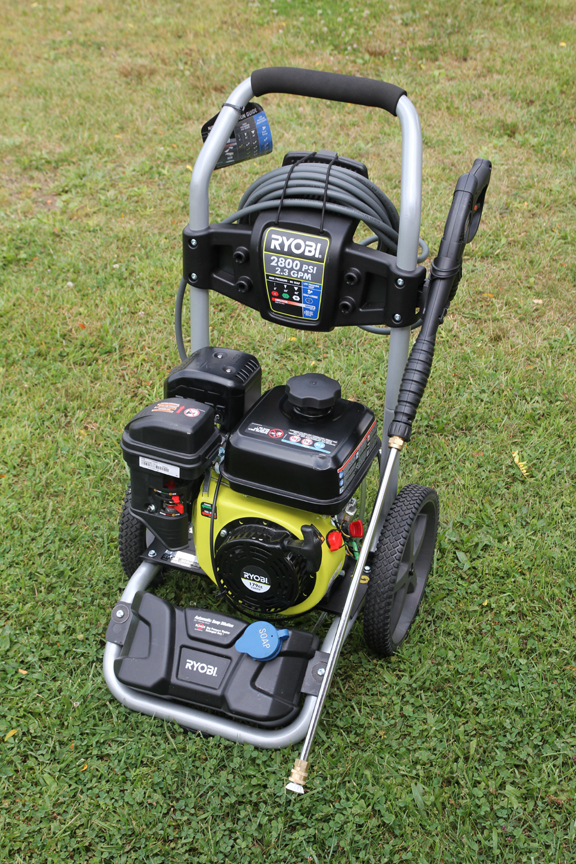 Cleaning the boat is always a chore and never much fun but the RYOBI 2800 pressure washer made it so much easier! It was very easy to assemble and then we were off to clean the boat.
It is setup really nice for holding the cleaning accessories. The hose winds up and attaches on the back for compact storage. Having a holder on the side for the gun was a nice feature, very convenient. The large wheels made it easy to move it around a 25ft boat and trailer to get the whole thing clean. It starts right up and runs super quiet. I was honestly impressed with how quite Read more
Posted by RYOBI Outdoor on 10/02/2014 at 2:28 PM in Lawncare, Outdoor Cleaning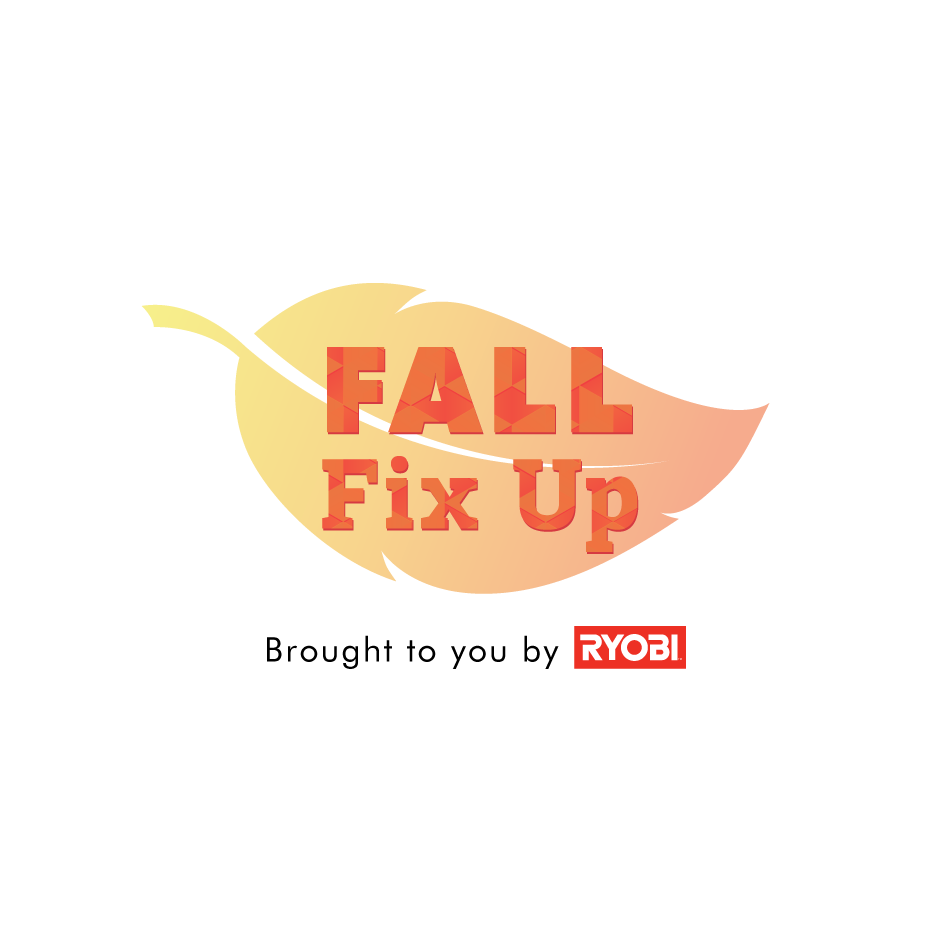 It's that time of year again. It's that Monday-night-football, pumpkin-spice-everything, flannels-and-bonfires-and-apple-picking season. It's also time to prepare your outside oasis for the colder months. Use some of our Fall Fix Up tips and tools to help get your yard sweater-weather-ready!
1. Lightly trim branches close to the house. Be careful not to over do it, but trim your trees enough that they will be out of reach this winter. Keep in mind that branches hang lower with snowfall, and whip around in heavy winds. You can use a number of tools to accomplish trimming. Select a RYOBI Chainsaw based on your preference for cordless, corded or gas; the diameter of the branches you're cutting; and the Read more
Posted by Dad Knows Best on 10/13/2014 at 4:27 PM in Lawncare, Outdoor Cleaning
Amazing Saw!!! After trimming the trees in my yard, we had tree limbs that needed to be cut into fire wood.
This RYOBI 40V saw is light weight and has incredible power.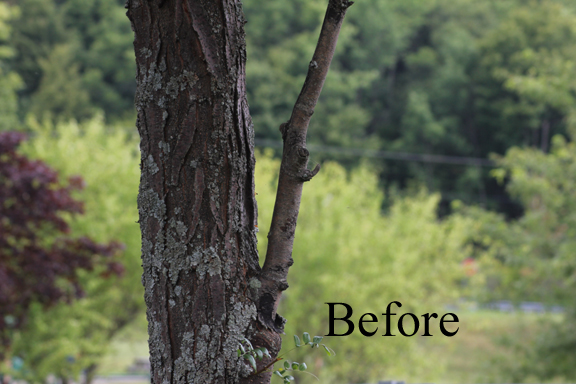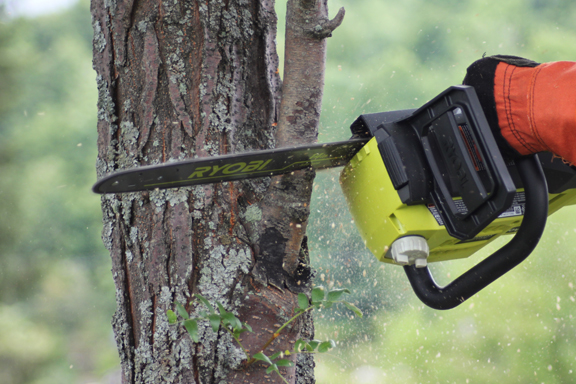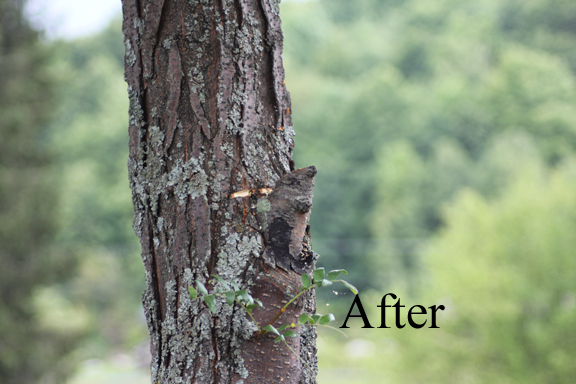 It cut through wood so fast we actually had to slow down just to get the picture to take. Otherwise by the time the picture clicked the saw was through the log.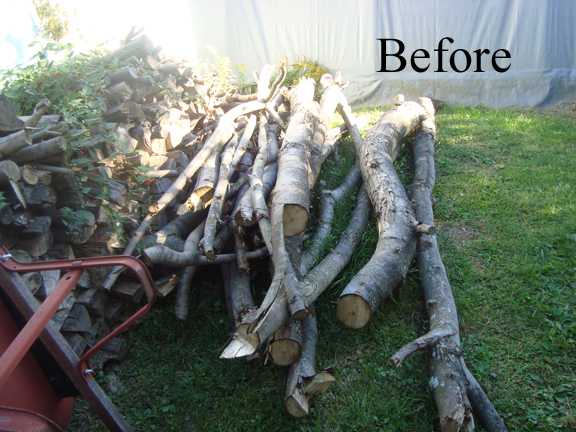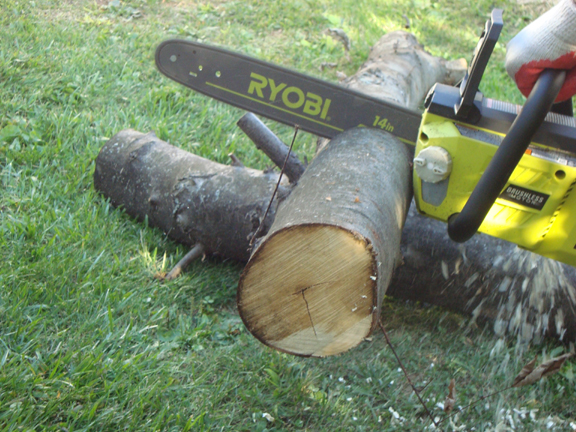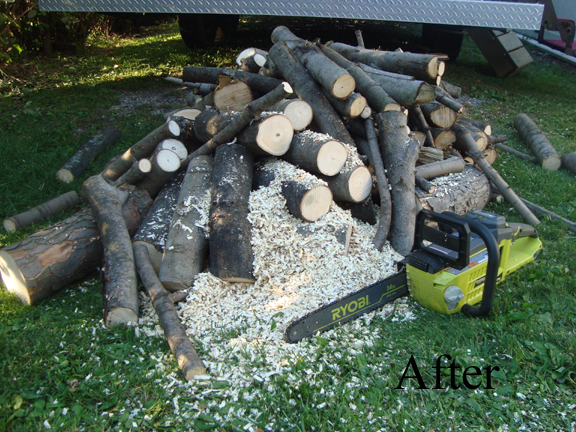 It had a very long battery life, cutting the entire pile of wood in the picture in about 15 minutes with battery to spare.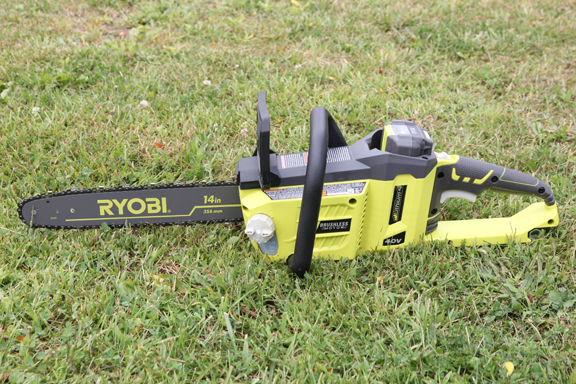 The recharge time on it is also quick. My RYOBI 40V Chainsaw made cutting through this pile easy work!
Posted by Dad Knows Best on 10/29/2014 at 3:35 PM in Lawncare, Outdoor Cleaning
No back breaking raking this year!!! Every fall the leaves cover the yard and my porch. This year instead of using a rake and spending hours doing back breaking labor.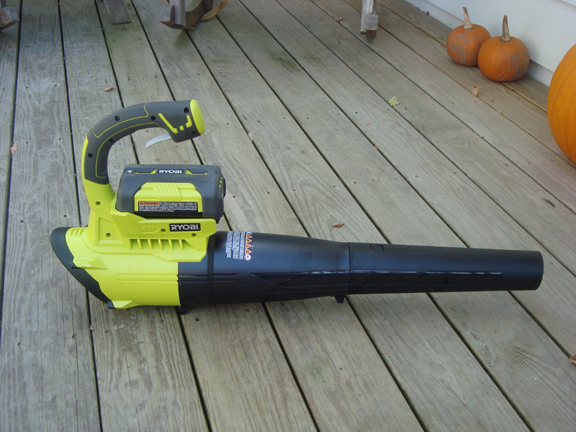 I used my RYOBI 40V blower and cleaned up the yard fast!
It took less than 20 minutes and I could see the lawn again.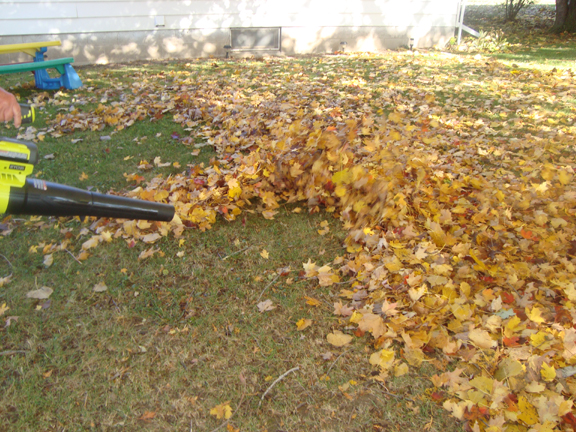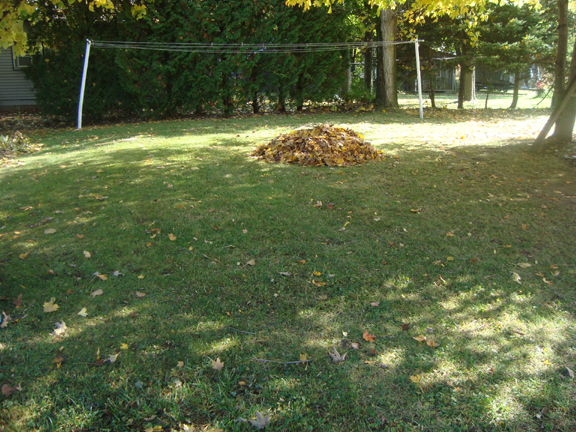 The porch was cleared in seconds!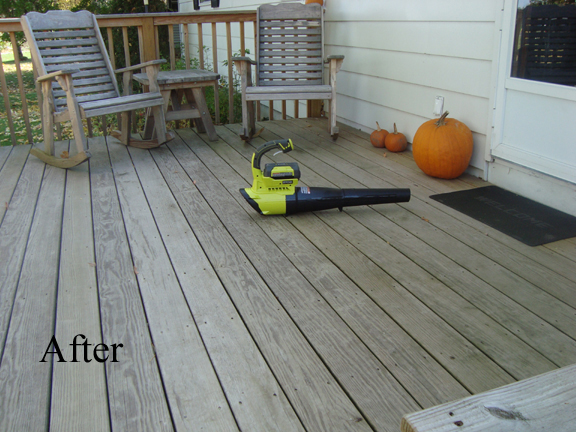 I love the RYOBI Blower's variable speed, the air could blow lightly when I needed it and vary up to a very strong air flow to move larger volumes of leaves.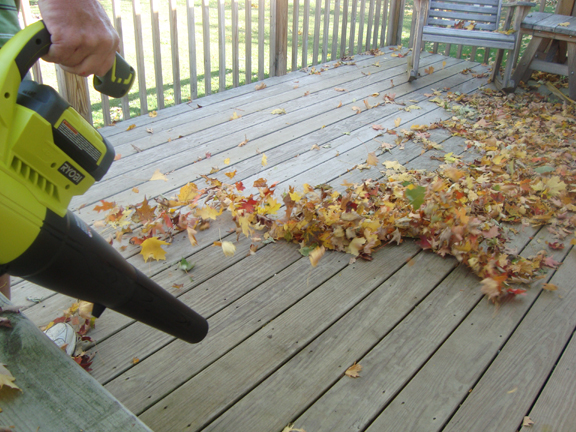 The light weight and curved design of the handle makes it easy work at the touch of your fingers. With the RYOBI 40V I won't have to use a rake again. I love it!
Posted by Dad Knows Best on 11/24/2014 at 10:21 PM in Outdoor Cleaning, Tutorials, Weather the Storm
Living in Western New York, the RYOBI 40 Volt Snow Blower is a must-have.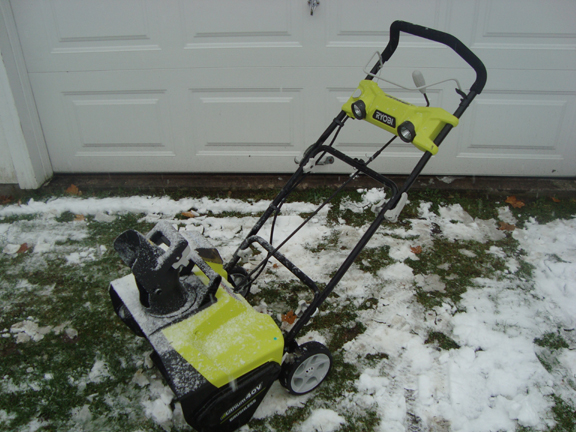 It was very simple to assemble and done in about 10 minutes.
You hit the button and it starts right up, runs smooth and is extremely quiet. So light weight you can use it on the deck which is so much better than throwing snow over the railing.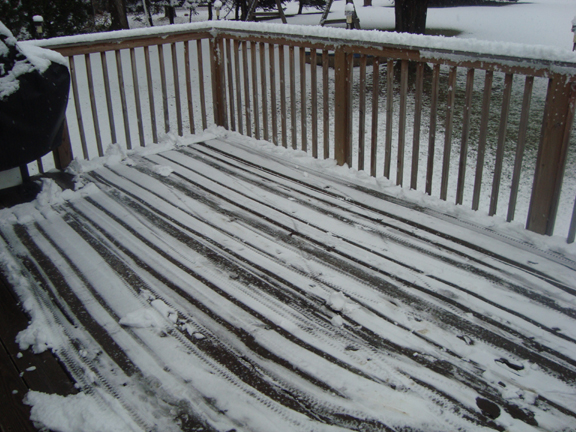 I love my RYOBI 40 Volt Snow Blower for cleaning the decks and sidewalks. It moves easily through the snow and is able to get pretty low on the deck. I cleaned my 120 ft. driveway with about 6 inches of snow in 20 minutes.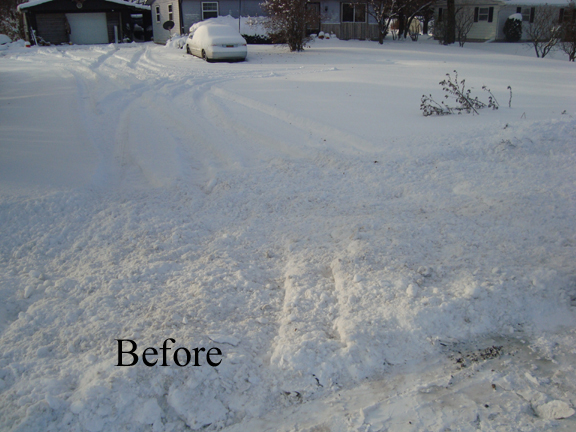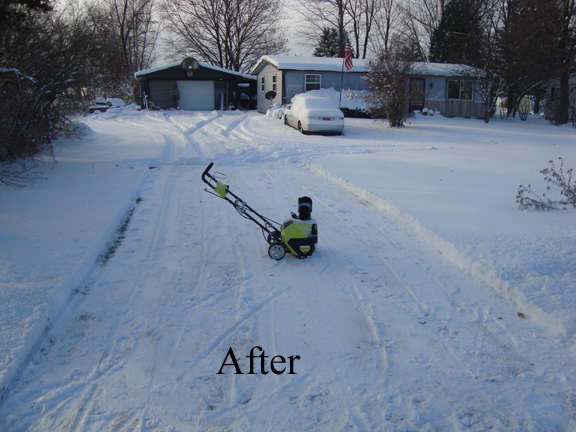 I was surprised how nice it went through wet and heavy snow without plugging up. It throws light snow with ease.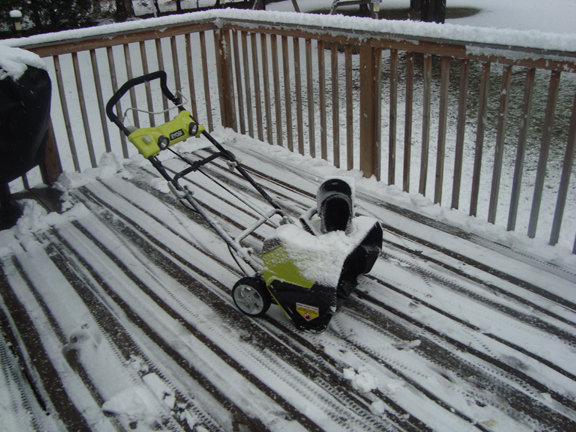 This is a great snow blower!
Posted by RYOBI Outdoor on 12/03/2014 at 10:06 PM in Outdoor Cleaning, DIY Inspiration
Create a DIY Holiday Wreath using RYOBI String Trimmer Spools!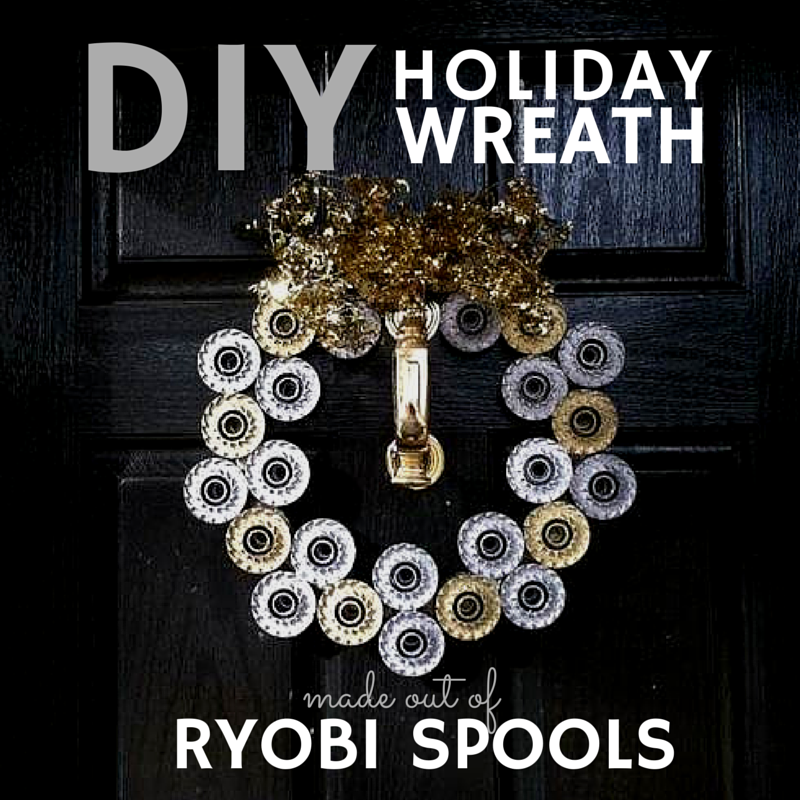 We made this cute holiday wreath using:
RYOBI Cordless String Trimmer Spools (30)
Glitter Spray Paint
Home Depot Bucket
Holiday Garland
Cardboard Box
Hot Glue Gun & Glue
8 Simple Steps:
1. Trace the top of your Home Depot Bucket on a flattened cardboard box.
2. Trace the bottom of the Home Depot Bucket about 1/2 inch inside of the 1st circle you made.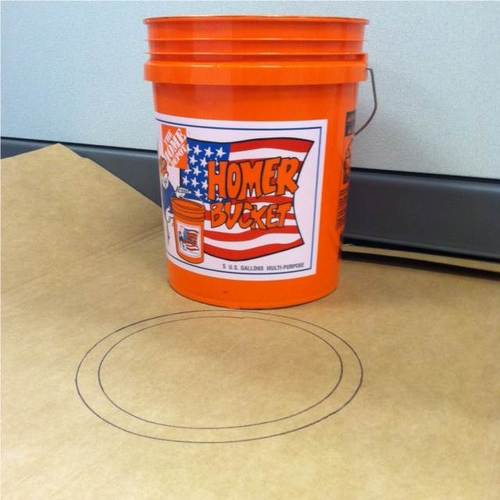 3. Cut around the outside of the larger circle and the inside of the inner circle so that you are left with a ring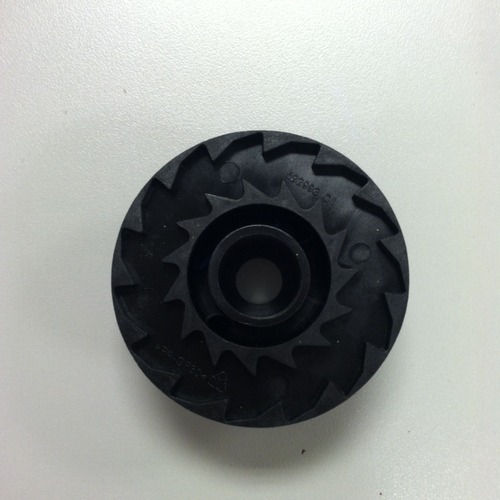 4. Spray paint your empty RYOBI spools with any fun holiday colors (found at The Home Depot) and let dry 20 minutes.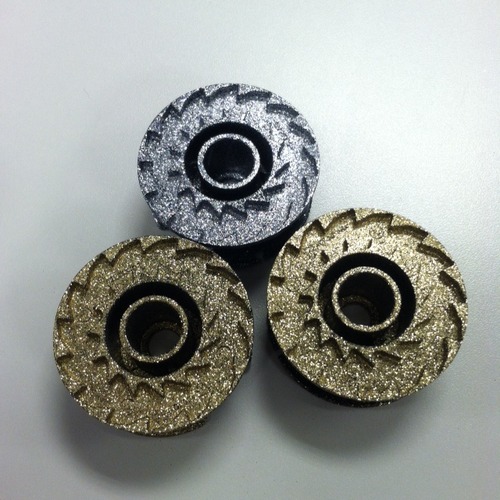 5. Lay out your spools in a pattern. We Read more
Posted by RYOBI Outdoor on 12/23/2014 at 5:51 PM in Lawncare, Outdoor Cleaning, Tutorials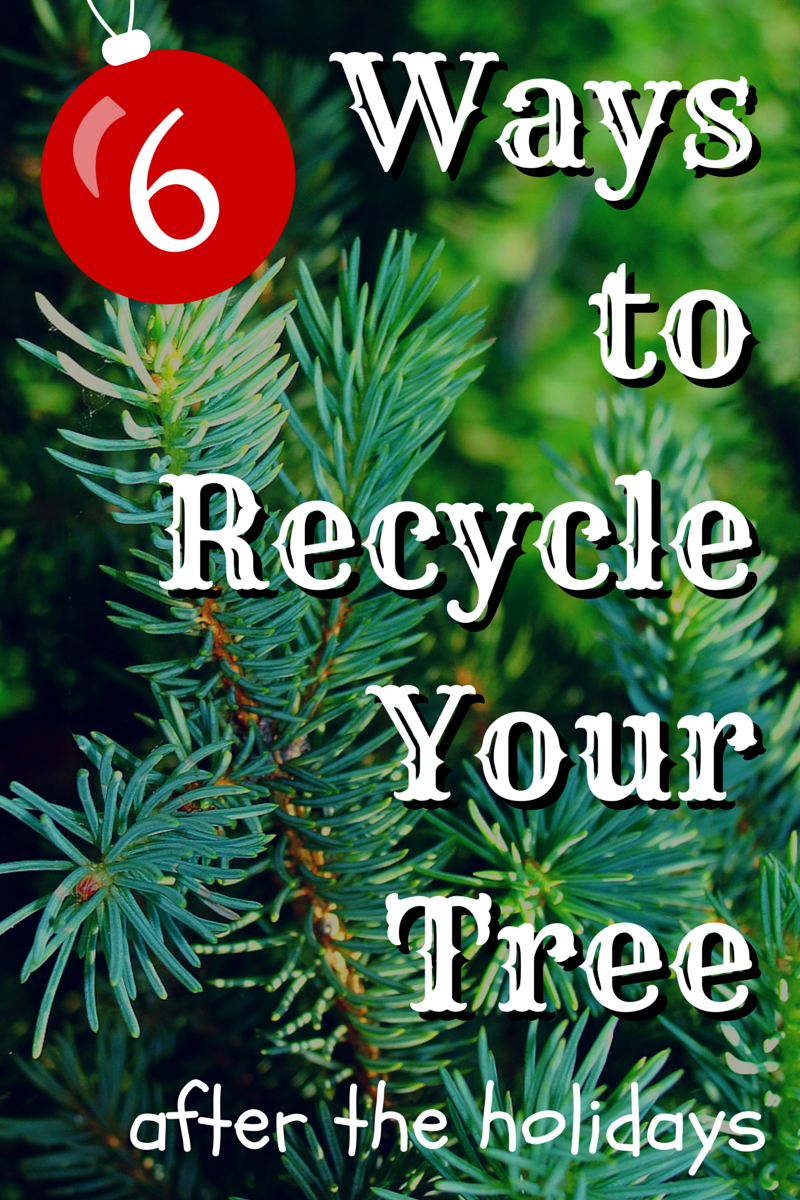 Don't just get rid of your real Christmas tree after the holidays - recycle it! Here are a few ideas of how you can use your tree after the presents are unwrapped and the new year has begun:
USE PINE NEEDLES AS MULCH
Pine needles are excellent mold free ground covering and work great for ground covering crops like strawberries.
INSULATE PERENNIALS
Cut off the boughs from your tree and lay them over your perennial beds for extra cover/protection during the winter.
EDGE YOUR GARDEN BEDS
Cut your tree trunk into thin (about 1.5 inches) circles and then in half. Line your garden bed edge with the half circles for a decorative, natural touch.
MULCH IT
Rent a mulcher and recycle your tree into Read more
Posted by RYOBI Outdoor on 12/30/2014 at 4:45 AM in Outdoor Cleaning
Get your shed or garage ready for your outdoor projects this year using 5 simple steps.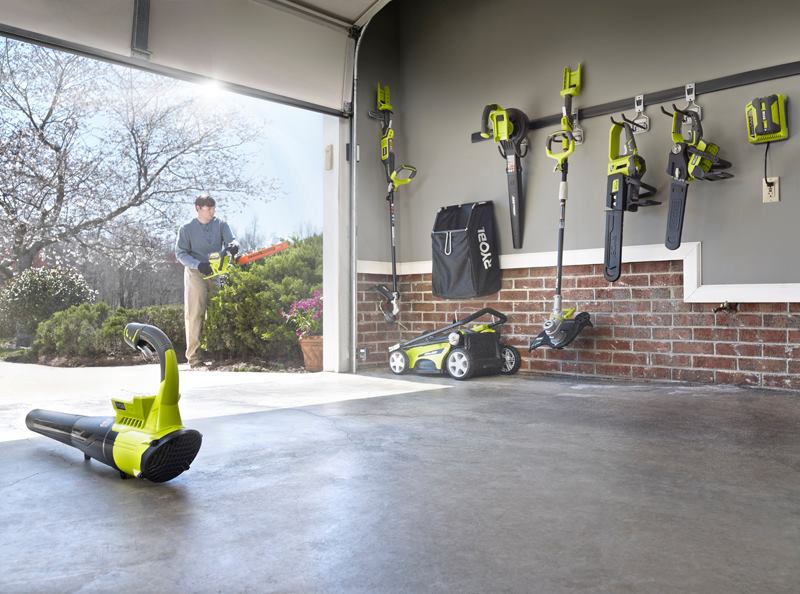 1. Take everything out of your garage. Go through all of your storage containers and boxes, to ensure that you need all of the items you're storing.
2. Set aside tools and items that you no longer need, no longer work, or need replacing. Sort your tools and items into piles to keep, donate and trash.
3. Of the tools you decide to keep, separate them so that similar/like tools are near each other. Organizing tools by project type will make your weekends easier.
4. Save space by hanging a pegboard on a wall in your garage or shed. This will allowed you to utilize your vertical space and hang your lighter garden Read more
Posted by RYOBI Outdoor on 01/16/2015 at 2:49 PM in Lawncare, Garden Talk, Outdoor Cleaning, Tutorials
Today, more than ever, it is important to pay attention to the type of gas you put in your small engine outdoor power equipment.
Ethanol is being added to fuel more frequently and in higher doses. Higher ethanol blends tend to be less expensive but they will really cause problems for your tools as time goes on. Would you rather save a little now and pay for it later, or pay a little more to have your tools running for much longer?
4 Facts About Ethanol:
1. Fuel with more than 10% ethanol can corrode metals and rubber that are found in your small engine. This causes the engine to break down quicker.
2. It is actually illegal to use gas with more than 10% ethanol in your small engines!
3. The more Read more
Posted by Dad Knows Best on 06/11/2015 at 4:46 PM in Outdoor Cleaning, Tutorials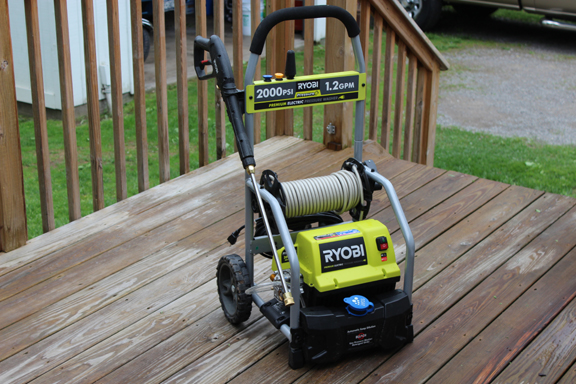 My RYOBI 2000 PSI Electric Pressure Washer did an excellent job cleaning the wood deck and wood furniture.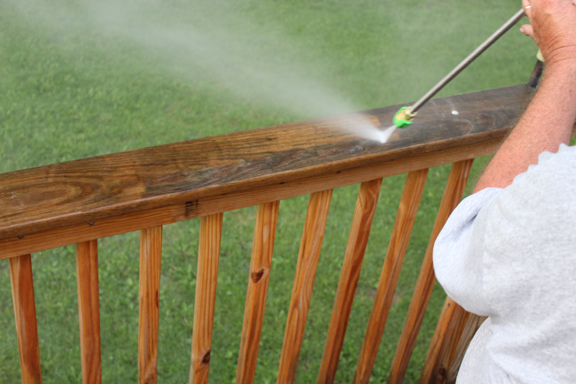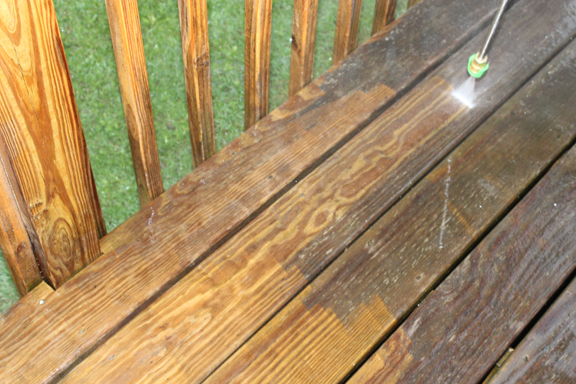 You could see the dirt just wash right off with the water pressure. The on-board soap tank made it really easy to use soap for cleaning too. The before pictures and after pictures are really impressive!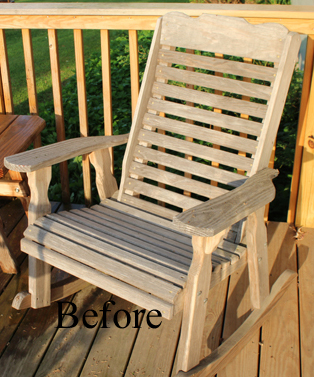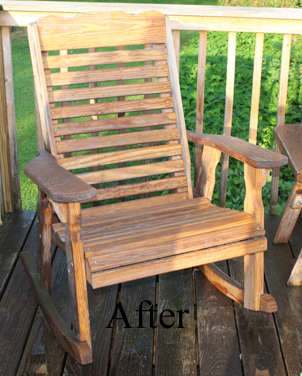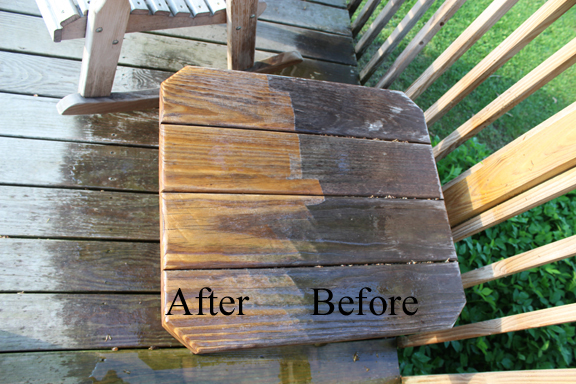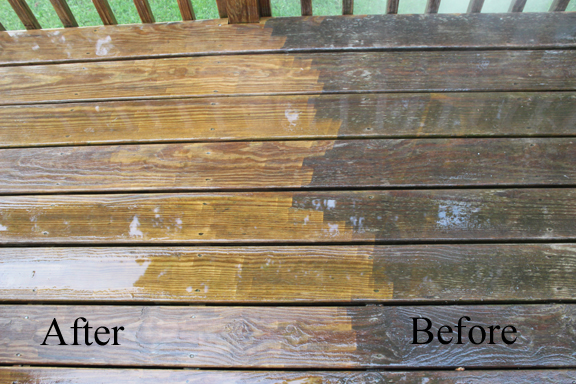 The large wheels on the pressure washer were very convenient and made it easy to move around as you work. It was very quiet when running.
The RYOBI 2000 PSI Pressure Washer has a reel to wind up the water hose and a holder for the wand on-board to keep everything neat. It has a long power cable with a GFI built onto the cord making it safer to use.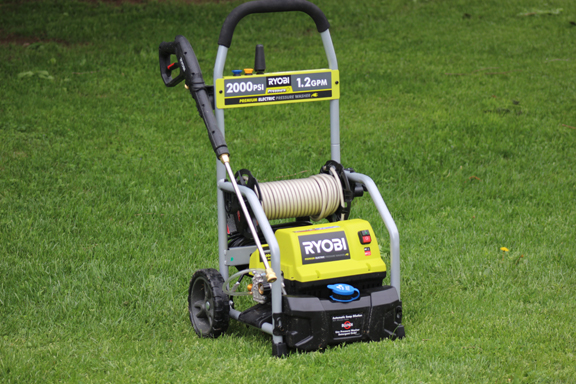 The RYOBI 2000 PSI Electric Pressure Read more
Categories
Blog Archives
Related Blogs