Return to Projects Listing
WORKBENCH
Hey guys! I am so excited about the workbench I built for the shop in my new house! My shop is still a work-in-progress but this was a huge improvement and much needed addition!
Steps
---
---
Next, build each leg and attach them to your frames. Each leg is made of a 2x4 and a 2x6 piece cut at 26.5" long. You can see here how everything lines up. I attached it all using wood glue and 2.5" wood screws.
---
I fit the bottom piece of MDF on top of the base like this before attaching my top piece. You may need a bit of help on this part because the MDF is so heavy. Just drop it in, and use the nailer to put 1 1/4" brads around the entire piece. I spaced mine about every 8".
---
Now add the larger piece of MDF to the top. It will lay on top of the top frame just like this. I used 1 1/4" brad nails on this part as well.
---
My final step was giving it a quick coat of paint and distressing it a bit. I chose to leave both pieces of MDF bare and only add a light coat of paint to my legs and frames. Once those dried, I used my Corner Cat sander to distress it a bit. Every good workbench should be cute, right??
Attach your casters and you are done! I spent around $140 on the entire thing. I cannot tell you how much I love this baby! I am able to have great storage on the bottom, and the perfect sized workspace on the top. I also love that I can wheel it out of the way easily. It's perfect! Thanks so much for stopping by!
For more how-to projects from Shanty2Chic, visit shanty-2-chic.com.
---
spacer
---
---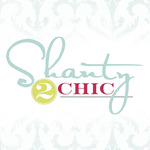 Project Information
Difficulty: Easy
Tools Used:
Materials Used:
2 - 2x6x8

7 - 2x4x8

2 - 4x8 sheets of 3/4" MDF

4 - 5" locking rubber casters

2.5" wood screws
also by Shanty 2 Chic
---
Related Projects