Return to Projects Listing
Wooden K-Cup Holder
Waking up is hard enough, finding your favorite brand of coffee in the morning shouldn't be! This simple and beautiful wooden k-cup holder is the perfect solution for those who like to have a variety of coffees, teas and ciders but don't want to dig through a bowl or drawer to find their particular cup of joe. This is a great storage solution and display option for your coffee bar. It can be customized to match any color, coordinate with any decor and built to hold as many k-cups as you need.
View Project PDF
Steps
---
Cut your 1/2" plywood into two pieces. These should be 12"x14" and 12"x3". The smaller piece should have one long side cut at a 12 degree angle. NOTE - the larger board will have a margin that is larger on one end than the other.
---
Mark your 12"x14" board with a grid to indicate the centers of your kcup holes. The first horizontal line is 1.5" from the top and four more lines are at 2.5" intervals. The first vertical line is 1.5" from the side and three more lines are at 3" intervals. The intersections where the lines meet is where the holes will be centered. Use your drill and 2.5" hole saw bit to drill half way through each marked spot.
---
Flip your board over and drill through the rest of the hole. Optional - use a palm router to smooth out each hole edge and make it clean.
---
---
Using a brad nailer, attach the smaller board to the larger board. Note that the larger margin on the larger board should be at the bottom. The angled cut on the smaller board should be next to the larger board so that the face of the larger board should angle backwards.
---
Load up your new storage solution with a variety of k-cups and enjoy your favorite cup of coffee while admiring your work.
---
spacer
---
---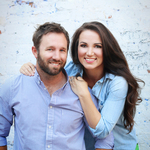 Project Information
Difficulty: Easy
Tools Used:
Materials Used:
wood glue

brad nails

12" Plywood
---
Related Projects