Return to Projects Listing
Wood + Iron Bookshelf
Ben and Jessie from Homemade Modern joined the set of Toolin' Around to build a simple and stylish book shelf out of wood and iron.
View Project PDF
Videos
---
Steps
---
STEP 1. Cut three pieces of 2x10 48" long. Cut grooves into the sides with a jig saw that are wide enough for the flange of the angle iron to fit in. Use the grooves on the first 2x10 to mark the locations for the other two pieces of 2x10 so that all the grooves line up.
---
---
STEP 3. Cut 24" long pieces of 2"x2" angle iron with an angle grinder. Drill holes through pieces of angle iron. Clean the angle irons before sealing with paste wax. Sand the wood with an orbital sander before staining. Screw through those holes and into the wood.
---
spacer
---
---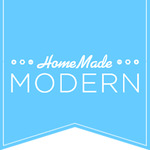 Project Information
Difficulty: Intermediate
Tools Used:
also by Homemade Modern
---
Related Projects