---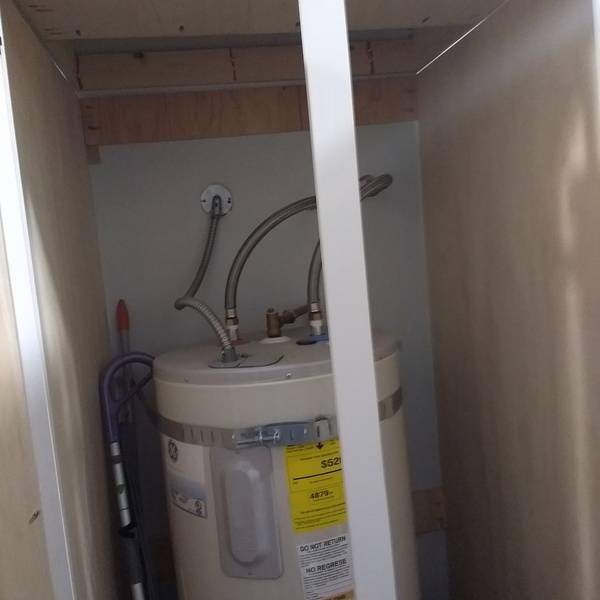 This project has to be one I'm most proud of! The water heater sits in the middle of the large room that I use for laundry as well as my gym. Such an eyesore! To top it off, it is directly below a vent.
I created this completely custom cabinet to hide it. Starting with the very top, I left space above the upper cabinet and placed an air deflector over the vent and then put a decorative metal grate for the air to still flow into the room. The upper cabinet has a gas strut to open and stay open since it flips upward. Finally, the bottom area is strictly for the water heater (and scrap towels!). The best part is that the upper and lower aren't even attached! I used moulding on the outside to make them look like one piece but you can completely remove the large bottom (has no back!) In order to replace or work on the water heater!
I love it and it makes my space look much nicer (now to just finish the rest of the room!)
Show More
---
---
Members Also Viewed
back to top?
Please confirm your email address.
Select some categories to pick the kinds of projects that show up on your home page:
Welcome to your RYOBI Nation quick start guide, a fast and easy way to see everything that's waiting for you!
Your feed shows the latest projects from the categories you've selected, right on your homepage!
Are you working on something awesome? Upload your DIY projects today, and share with other members.
We award monthly and annual prizes for the best projects, worth up to $2500 in RYOBI tools! That's a lot of hardware, and it could all be yours.
RYOBI Nation is a positive connection between people who are creating great things.
You can follow fellow members, like their projects, and comment to let them know they're doing a great job.
Come back to RYOBI Nation often to see what is new and to stay in touch.
If you're on a mobile device, don't forget you can add RYOBI Nation to your home screen for quick access to your project feed.
---
Water heater cabinet
by Bayside Six
Jul 31, 2018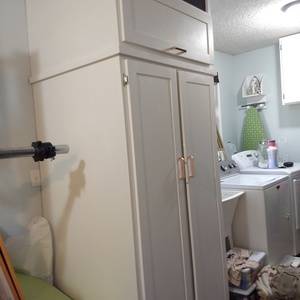 This project has to be one I'm most proud of! The water heater sits in the middle of the large room that I use for laundry as well as my gym. Such an eyesore! To top it off, it is directly below a vent. I created this completely custom cabinet to hide it. Starting with the very top, I left space above the upper cabinet and placed an air deflector over the vent and then put a decorative metal grate for the air to still flow into the room. The upper cabinet has a gas strut to open and stay open since it flips upward. Finally, the bottom area is strictly for the water heater (and scrap towels!). The best part is that the upper and lower aren't even attached! I used moulding on the outside to make them look like one piece but you can completely remove the large bottom (has no back!) In order to replace or work on the water heater! I love it and it makes my space look much nicer (now to just finish the rest of the room!)
Project Information

| | |
| --- | --- |
| Difficulty: | Intermediate |
| Categories: | Furniture, Storage & Organization |

Tools Used

18V ONE+™ AIRSTRIKE™ 18GA BRAD NAILER
5 IN. RANDOM ORBIT SANDER
VARIABLE SPEED DRILL
7 1/4 IN. CIRCULAR SAW