Return to Projects Listing
Tiki Bar Construction
Hi, I use your cordless circular saw, reciprocating saw and cordless drill to help create my BELLY UP BELIZE BAR in my basement man cave in honor of my wife from Belize.
After designing it myself on my CAD program, I used a frame construction, birch plywood for the shelving, bamboo flooring for the bar top and maple bar rail to rest your elbows. The half-octagon base was covered in bamboo matting and the base, footrest, utilized bamboo flooring and 4"-wide 1/2-bamboo stalks. Complete with electrical, an overhead bamboo trimmed canopy that disappears into the ceiling. and a 4' x 3' refrigerated area for a keg. The back mirrors are encased by shelves that showcase Belize Rum and a makeshift hula girl manikin doubles as the tapper, straight from her belly button!
The basement beam has been also covered in bamboo and matting to showcase memorabilia on one side and my baseball collection on the other side. All this and I won't even get into how your tools helped make my fountain, 10-foot long Belize Beer lighted poster and wood-carved bar stools!
---
---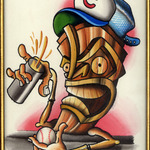 Project Information
Difficulty: Advanced
also by bellyup
---
Related Projects