Step: 1
BEFORE YOU BEGIN Supplies: • (1) 4 x 4 x 10 • (1) 2 x 4 x 4 • (1) 2 x 4 x 10 • (1) 2 x 4 x 12 • A box of #8 3 inch wood screws • An old door • A piece of glass • Rubber stoppers Tools: • RYOBI 10 Inch Sliding Compound Miter Saw • RYOBI Cordless Lithium Dril
Step: 2
Starting off you will need to measure the length of your door. Ours was 28 inches x 76 inches. (Don't assume yours is the same size as ours, make sure to adjust your supply list to your table size, not ours.) We wanted a 2 inch overhang on all sides for the table Using the RYOBI Miter Saw; • Cut the 4 x 4 post into (4) 30 inch sections • Cut the 2 x 4 x 10 into (1) 69 inch piece and (2) 24 inch pieces • Cut the 2 x 4 x 4 into (2) 21 inch pieces. • Cut the 2 x 4 x 12 into (1) 69 inch piece and (3) 21 inch pieces. The 21 inch pieces will be the inside supports. (Remember to adjust your measurements for your door size.)
Step: 3
Lay out both of your cut 2 x 4's that are 69 inches and the (2) cut 2 x 4's that are 24 inches so that they make a box. The 69 inch pieces should butt into the 24 inch pieces so that the box measures 6 feet x 2 feet.
Step: 4
Place a 4 x 4 in each corner. Square off the two pieces and screw each corner into your 4 x 4 with the 3 inch screws. (I'd use at least 3 screws.)
Step: 5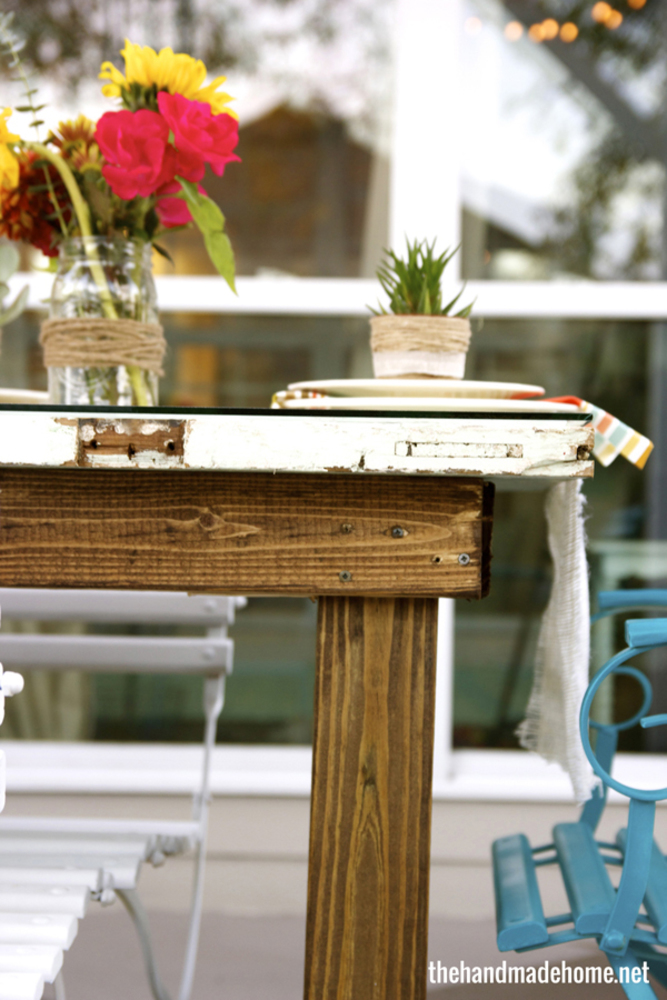 Butt a 2 x 4 that was cut to 21 inches up next to the inside of the 4 x 4 post on both ends and screw them in. Your 4 x 4 should now be sandwiched by the 21 inch & 24 inch 2 x 4 with the 69 inch 2 x 4 on the outside.
Step: 6
Take the remaining (3) 21 inch 2 x 4 pieces; place one in the middle of the table and the other two between that one and the end of the table frame. Screw them all in with the 3 inch screws, at least 2 screws on each board on both sides.
Step: 7
Turn the table base upright. Screw the door to the table base. You can use the 3 inch screws and screw in from the top or you can get some longer screws and come in from the bottom, but pre-drill the holes. You can also use a pocket hole screw on the inside.
Step: 8
Get some glass cut from your local glass store to the exact size of your door. Place some rubber stoppers on one side of the glass, this will be the side that sits on the door.
Step: 9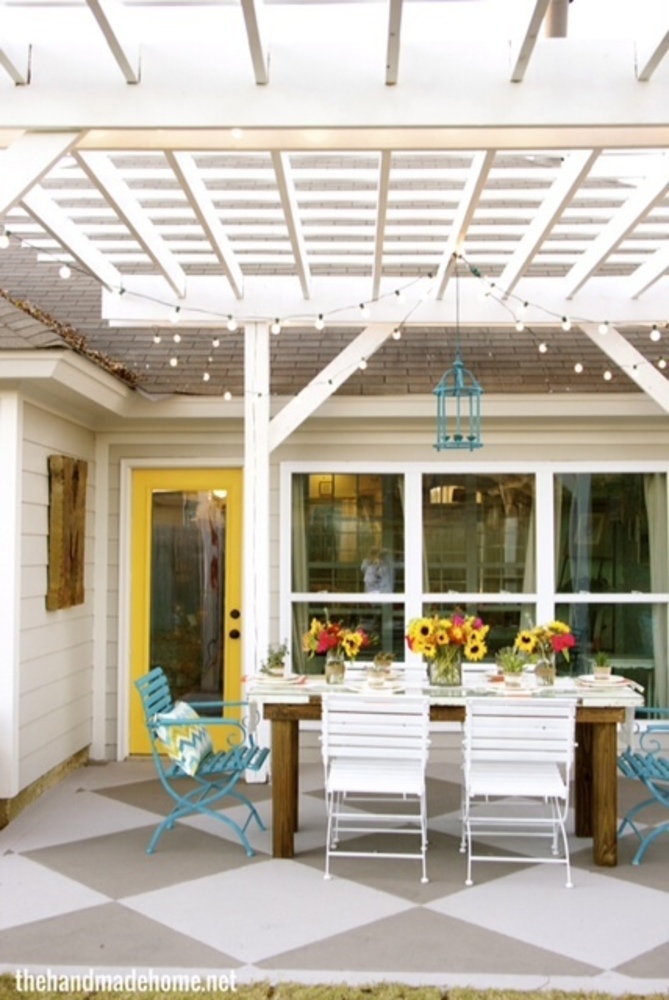 Set your tablescape and enjoy an evening with your friends.