---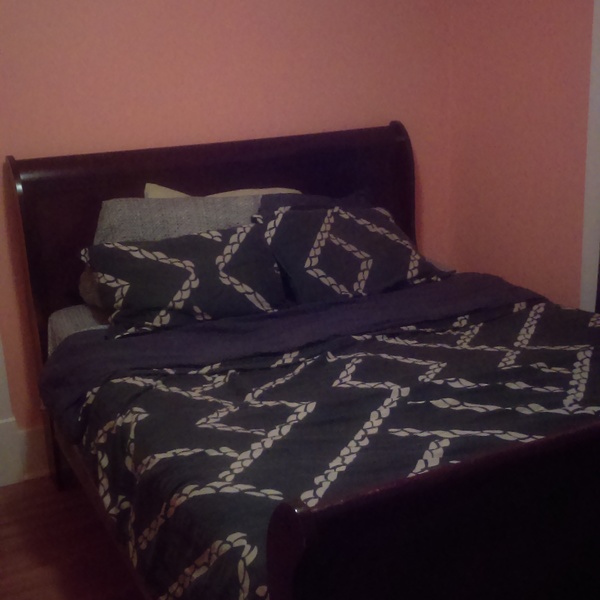 This was technically before my first project the Farmhouse Table, but it was more of a rebuild than anything. My husband and I had this old headboard and footboard for a sleigh bed that we had been saving for years. Hoping one day to find or buy a frame to put it on. I was on the internet looking at those cheap flimsy frames that you can add them to, and I was just fed up. I decided that this was something I could build myself. I have seen many bed builds on my favorite site Shanty 2Chic and I felt confident that I could finally make this bed happen.
My Bestie and I went to home depot and picked out some 2x lumber and cut it down to the appropriate length (this is where those queen bed plans came into help because I had no idea how long a bed rail was supposed to be) and then cut some slats to fit. I glued and screwed a cleat into the rail and then screwed the slats in. This was her first time using power tools-- ever and I think she's now addicted. I took a video of her using my Ryobi Miter
Some Bedclaws purchased from amazon for $14 finished off this "dare to repair" project. We eventually stained the wood using ZAR 123 "Moorish Teak" I already had it on hand from a desk makeover project and it was a pretty close match to the bed. I used some old english "dark" scratch cover to bring the head and footboard back to life
Show More
---
---
Members Also Viewed
back to top?
Please confirm your email address.
Select some categories to pick the kinds of projects that show up on your home page:
Welcome to your RYOBI Nation quick start guide, a fast and easy way to see everything that's waiting for you!
Your feed shows the latest projects from the categories you've selected, right on your homepage!
Are you working on something awesome? Upload your DIY projects today, and share with other members.
We award monthly and annual prizes for the best projects, worth up to $2500 in RYOBI tools! That's a lot of hardware, and it could all be yours.
RYOBI Nation is a positive connection between people who are creating great things.
You can follow fellow members, like their projects, and comment to let them know they're doing a great job.
Come back to RYOBI Nation often to see what is new and to stay in touch.
If you're on a mobile device, don't forget you can add RYOBI Nation to your home screen for quick access to your project feed.
---
Sleigh Bed (Rebuild)
by TheRainbowHouse
Apr 20, 2018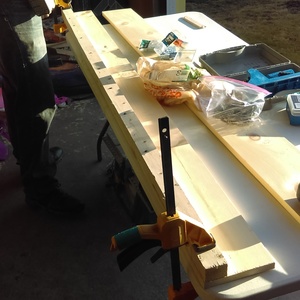 This was technically before my first project the Farmhouse Table, but it was more of a rebuild than anything. My husband and I had this old headboard and footboard for a sleigh bed that we had been saving for years. Hoping one day to find or buy a frame to put it on. I was on the internet looking at those cheap flimsy frames that you can add them to, and I was just fed up. I decided that this was something I could build myself. I have seen many bed builds on my favorite site Shanty 2Chic and I felt confident that I could finally make this bed happen. My Bestie and I went to home depot and picked out some 2x lumber and cut it down to the appropriate length (this is where those queen bed plans came into help because I had no idea how long a bed rail was supposed to be) and then cut some slats to fit. I glued and screwed a cleat into the rail and then screwed the slats in. This was her first time using power tools-- ever and I think she's now addicted. I took a video of her using my Ryobi Miter Some Bedclaws purchased from amazon for $14 finished off this "dare to repair" project. We eventually stained the wood using ZAR 123 "Moorish Teak" I already had it on hand from a desk makeover project and it was a pretty close match to the bed. I used some old english "dark" scratch cover to bring the head and footboard back to life
Project Information

| | |
| --- | --- |
| Difficulty: | Easy |
| Inspired By: | Shanty 2 Chic |
| Categories: | Furniture |

Tools Used

18V ONE+™ BRUSHLESS HAMMER DRILL/DRIVER KIT
18V ONE+™ MITER SAW KIT

Materials Used

2X PINE BOARDS
2X8X8 PINE BOARDS
1X PINE