Return to Projects Listing
Shower bench; plus storage for Towels, Bath Scale
I needed a place to sit after a shower to dress. Being a tall person a standard bench wouldn't do,
I decided to build a combination bench, plus towel storage. While in the planning stage i was
looking for a home for the pesky bath scale, that i kept stepping on. The bench is 24"X 24" X 20"
tall.
The 1x4 pine frame is joined with pocket hole joinery. the bottom and top rails have mitered corners.
It is stained with maple stain. It has a 3/4 plywood hinged top,and fixed bottom. The inside box is
made of 3/4 MDF, and spray painted black. The drawer at the bottom is a home for the bath scale
when not in use, I used standard 18" drawer slides for it.
---
---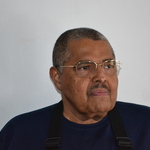 Project Information
Difficulty: Intermediate
---
Related Projects