Return to Projects Listing
Rat Rod Soap Box Derby Car
I built this for Heritage Days (Faribault, MN) 2014 Soap Box Derby. I figure if I'm not fast at least I'll look good losing! This is the 4th Car I've built now and each time it gets a little easier.
---
---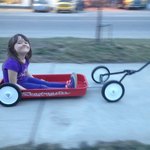 Project Information
Difficulty: Advanced
Tools Used:
Materials Used:
2x4's, 1/8" Hardboard, Fabric, Vinyl, iron pipe and alot of misc hardware.
also by Jeff Projects
---
Related Projects