---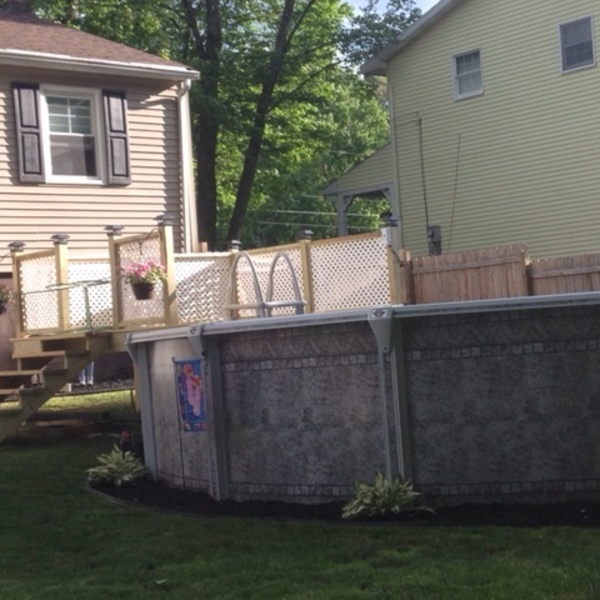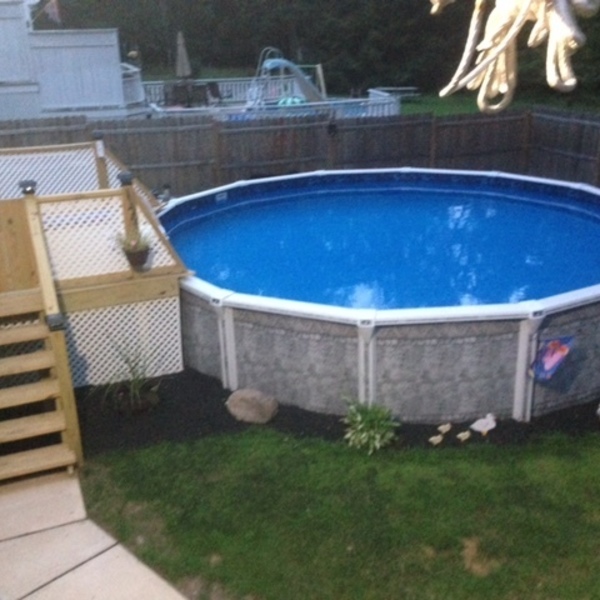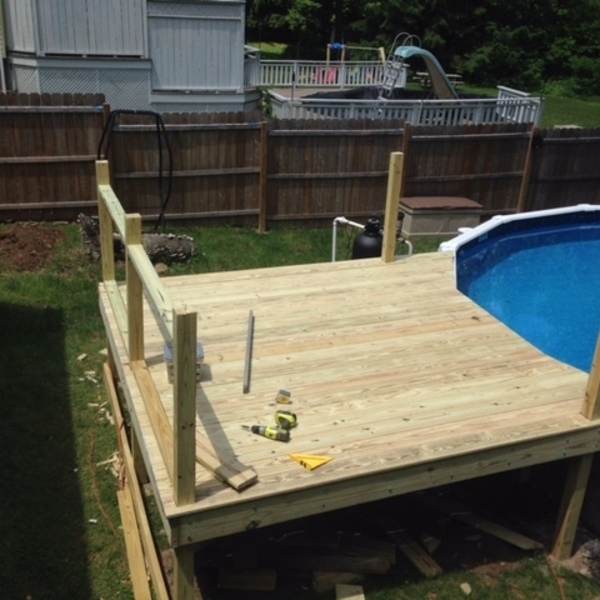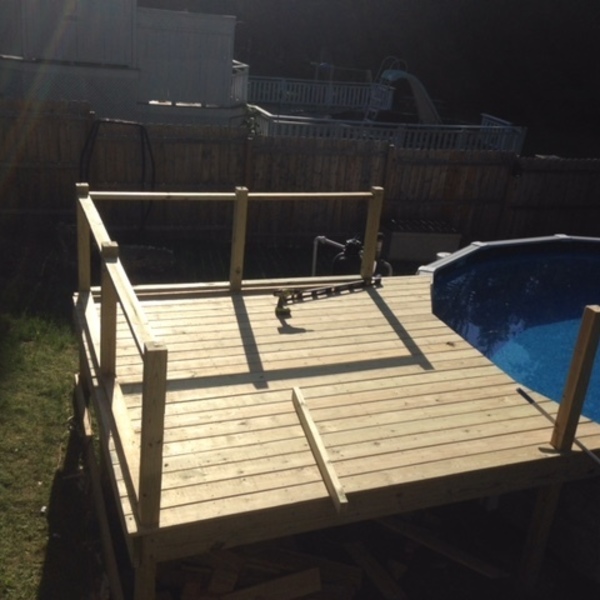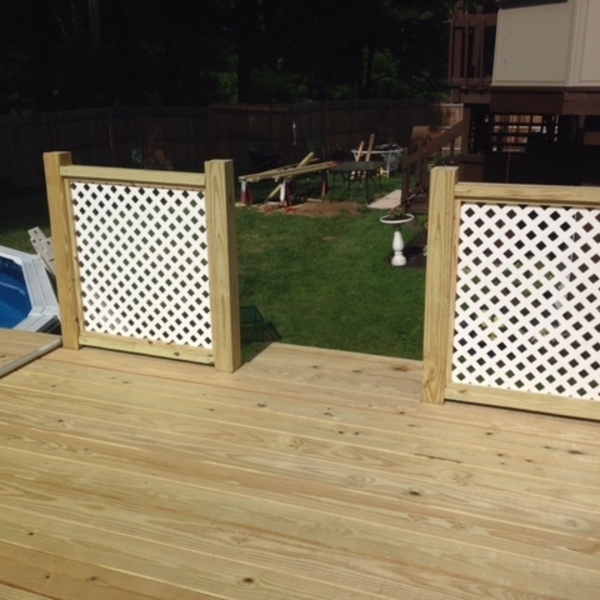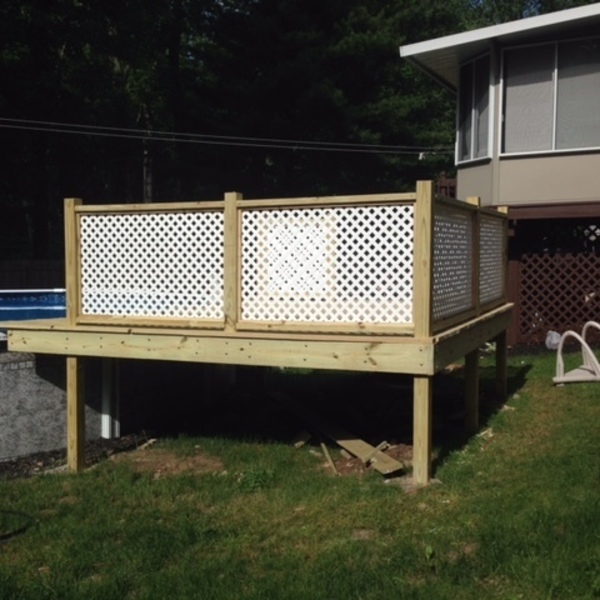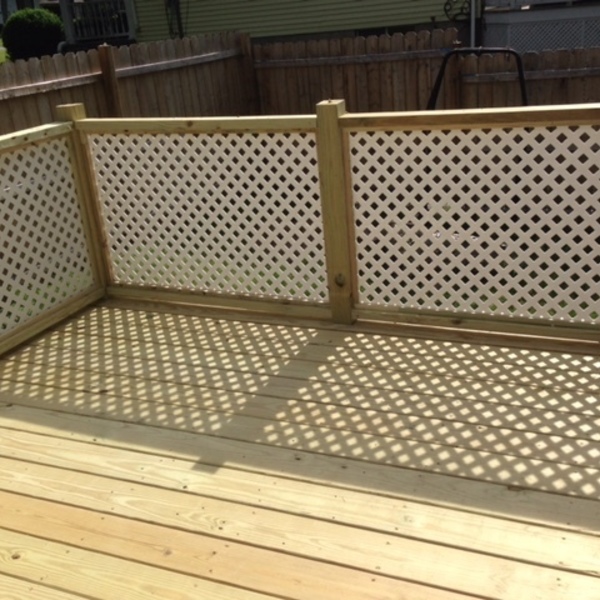 We had just purchased our pool and were in need of a deck for it, instead of buying a metal deck to go with our pool I decided to build one. It was a challenge getting the posts in with all the rock we have around digging was no easy task but we got the posts in, and with the help of my wife the concrete mixed and poured into the post holes to set. My wife helped setting the joists in place as well as with the concrete and posts.
Once the frame work was up the decking went on the most difficult part was getting the angle of the cut right ti mimic the shape of the pool. Once all the decking was on we started on the banister we went with an exposed post so we could add deck post lights later. Getting the Vinyl lattice cut and framed inside the banisters was somewhat challenging we had to rip the pieces down so that they would center the lattice inside the banisters and had to cut the lattice so that there was room for expansion as not to bow the vinyl.
Once all the banisters were done we added the steps and banisters and did the same with them for the lattice. But we weren't finished, we had to form and pour our sidewalk to get to our new deck from our back steps. Thanks to my great partner who is also my wife we constructed nearly 45 feet of cement sidewalk to go to our deck and removes to huge rocks one about 200lbs and one about 500 lbs.
Once everything was finished we added a gate so our dogs could not get on to the deck accidentally and get in to our pool. As you can see it came out wonderful.
One note we landscaped along the new sidewalk as well.
For some reason it won't let me add my materials on step two so I am adding them here
6-4x4x10 2-4x4x8 25-5/4x12 16- 2x4x8 5-6x6x8 10-2x4x8 8- 2x10x12 2 - 2x10x14 67- bags Quickcrete 2 step stringers 4 sheets vinyl privacy lattice 25 lbs Deck screws 28 - 6x3/8 lags 10 solar post lights 2 gate Hinges 1-gate Spring 1-Gate Hinge
Show More
---
---
Members Also Viewed
back to top?
Please confirm your email address.
Select some categories to pick the kinds of projects that show up on your home page:
Welcome to your RYOBI Nation quick start guide, a fast and easy way to see everything that's waiting for you!
Your feed shows the latest projects from the categories you've selected, right on your homepage!
Are you working on something awesome? Upload your DIY projects today, and share with other members.
We award monthly and annual prizes for the best projects, worth up to $2500 in RYOBI tools! That's a lot of hardware, and it could all be yours.
RYOBI Nation is a positive connection between people who are creating great things.
You can follow fellow members, like their projects, and comment to let them know they're doing a great job.
Come back to RYOBI Nation often to see what is new and to stay in touch.
If you're on a mobile device, don't forget you can add RYOBI Nation to your home screen for quick access to your project feed.
---
Pool Deck
by PensFans4Ever
Feb 10, 2017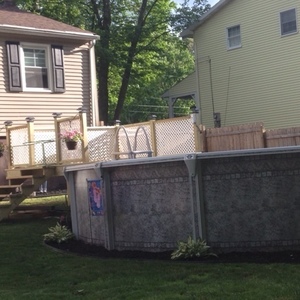 We had just purchased our pool and were in need of a deck for it, instead of buying a metal deck to go with our pool I decided to build one. It was a challenge getting the posts in with all the rock we have around digging was no easy task but we got the posts in, and with the help of my wife the concrete mixed and poured into the post holes to set. My wife helped setting the joists in place as well as with the concrete and posts. Once the frame work was up the decking went on the most difficult part was getting the angle of the cut right ti mimic the shape of the pool. Once all the decking was on we started on the banister we went with an exposed post so we could add deck post lights later. Getting the Vinyl lattice cut and framed inside the banisters was somewhat challenging we had to rip the pieces down so that they would center the lattice inside the banisters and had to cut the lattice so that there was room for expansion as not to bow the vinyl. Once all the banisters were done we added the steps and banisters and did the same with them for the lattice. But we weren't finished, we had to form and pour our sidewalk to get to our new deck from our back steps. Thanks to my great partner who is also my wife we constructed nearly 45 feet of cement sidewalk to go to our deck and removes to huge rocks one about 200lbs and one about 500 lbs. Once everything was finished we added a gate so our dogs could not get on to the deck accidentally and get in to our pool. As you can see it came out wonderful. One note we landscaped along the new sidewalk as well. For some reason it won't let me add my materials on step two so I am adding them here 6-4x4x10 2-4x4x8 25-5/4x12 16- 2x4x8 5-6x6x8 10-2x4x8 8- 2x10x12 2 - 2x10x14 67- bags Quickcrete 2 step stringers 4 sheets vinyl privacy lattice 25 lbs Deck screws 28 - 6x3/8 lags 10 solar post lights 2 gate Hinges 1-gate Spring 1-Gate Hinge
Project Information

| | |
| --- | --- |
| Difficulty: | Intermediate |
| Categories: | Exterior Spaces, Construction |

Tools Used

18V ONE+™ JOBPLUS™ WITH MULTI-TOOL ATTACHMENT
18V ONE+™ COMPACT LITHIUM-ION BATTERY
PHONE WORKS™ LASER LEVEL
18V ONE+™ LITHIUM-ION STARTER DRILL KIT
18V ONE+™ 2-PACK COMPACT LITHIUM-ION BATTERIES
18V ONE+™ 6 1/2 IN. CIRCULAR SAW
18V ONE+™ 5 IN. RANDOM ORBIT SANDER
18V ONE+ 3-SPEED 1/4" IMPACT DRIVER